Shortbread cookies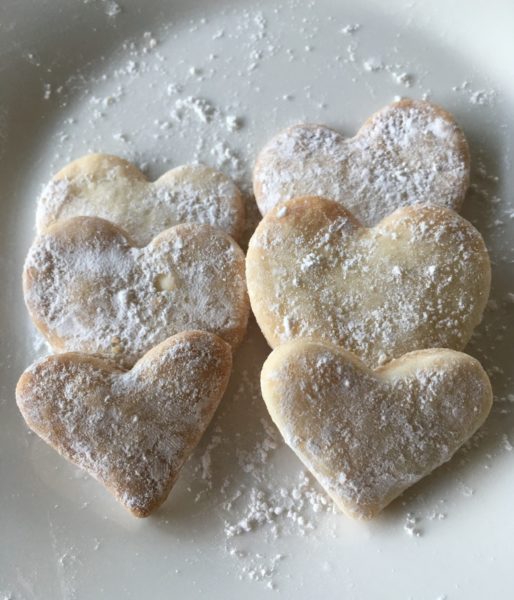 These cookies are amazing; they will literally melt in your mouths. Let say I tried out so many recipe and this one is my favorite.
These cookies are a great gift for Christmas, Easter or any other occasion. You can put them in a nice box and they last long, also if you have kids I suggest to make it with them they would love it, trust me.
Ingredients:
500 gr salted butter, softened
200 gr golden caster sugar, plus more to sprinkle
500 gr plain flour, plus more to dust
250 gr corn flour or rice flour
Directions:
Preheat the oven to 170ºC/fan 160ºC/340ºF/gas mark 31/2.
Cream together the butter and sugar, then sift in the flour and corn flour gradually, mixing briefly between each addition, until it binds together. Flour your hands and gently knead until just smooth (do not over-work).
To make the dough easier to roll – and if you have time – wrap in clingfilm and refrigerate for 30 minutes.
On a floured board, roll out the dough to 5–6mm thick, then cut into your chosen shapes. If the shortbread is to be frozen, lay the biscuits between sheets of baking parchment in a freezer container. They need to be defrosted for 1 hour before baking.
Place the shortbread on 2 baking sheets lined with baking parchment and cook for 15–20 minutes. Sprinkle with sugar, then cool for 10 minutes before carefully transferring to a wire rack.
Makes about 60 biscuits
Variations
Add any of these to the butter and sugar before adding the flour:
vanilla: seeds of 1 vanilla pod and 1/2 tsp vanilla extract
orange-cardamom: zest of 1 orange, finely grated, and ½ tsp freshly ground cardamom seeds, sifted
lemon-lavender: zest of 1 unwaxed lemon, finely grated, and 4 tsp fresh lavender flowers
cinnamon: 2 tsp ground cinnamon
coffee: 1 tbsp instant or filter coffee dissolved in 1 tsp boiling water
salt and pepper: 24 turns of a pepper mill, or to taste; also sprinkle more pepper on top with the caster sugar
Marzia's love affair with Italian cuisine was sparked at a young age – as soon as she was tall enough to reach her mother's countertops.
The Langley, B.C resident was born just outside of Naples in a small town called Sant' Antimo, which had a population of 24,000 people at the time.
Her parents would soon move her family to a small rural village in Northern Italy called Traona – a town with less than 1,500 residents, but plenty of cows, chickens, and rabbits.
Marzia's childhood in the rolling hillside was a joyous one.  She got to eat fresh local food, daily, and the best cheese in the entire world. Her mother was also happy for the extra hand in the kitchen and with helping to care for her two brothers.
Summers were spent in Southern Italy at her Nona's beach house. There were always plenty of cousins, aunts and uncles around.
Nonna made sure she did her chores and helped with cleaning up the house each morning.
Her golden rule for women was: "Man have to be happy, so all the ladies in the house have to clean up, make breakfast, get lunch ready while the men are at the beach."
Nonna instilled the virtue of hard work, but also the importance of living well.
 After lunch was eaten and all the dishes were cleaned and put away, it was time to unwind and have some fun. This meant heading to the beach, sun tanning, eating appetizers – living la dolce vita.
At the end of August it was time for the tradition of canning all those ruby-red tomatoes off the vine with Nona. 
This would leave her family with enough fresh sauce to last the winter.
The end of summer was always sad. It was never easy to say goodbye to her big funny family.  
Speaking of family…
In 1995, she'd meet Dan – a quirky Canadian traveller who would set her heart on fire and change her destiny.
He was from Vancouver, which at the time, Marzia, nor anyone in her family knew very little about.
Marzia thought he was a bit strange, especially since he seemed to enjoy the rain.
Note: If you are a true Italian, you don't like the rain one little bit!!!
Long story short, they both fell in L.O.V.E, and in 2003, Dan convinced her to move to Vancouver.
The lifestyle change was difficult in the beginning, but in the end, it proved to be the best decision for the couple. They now live happily ever after in the suburbs of Langley, B.C with their two beautiful children.
Today, Marzia enjoys teaching her passion of cooking authentic Italian cuisine and sharing her stories of growing up in Italy. Her dream is to one day soon, open a cooking school.
She hasn't stopped missing her Mom, Nona, aunt and all her large family in Italy, but she is proud of the little family and life she has made for herself on the West Coast. She knows everyone back home is proud she is bringing a little slice of Italy to Canada.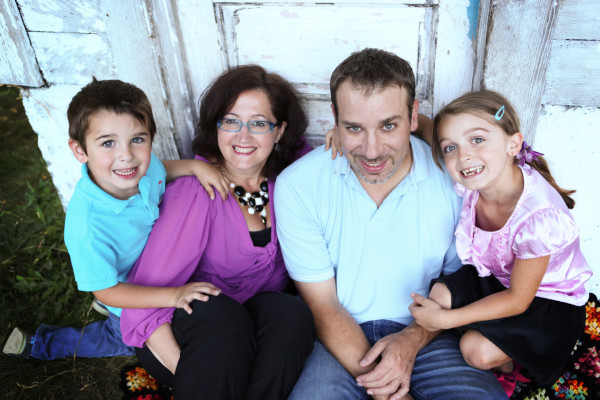 facebook  www.facebook.com/bellacibo72
Instagram www.instagram.com/bellacibo
Twitter https://twitter.com/marziabella72
Feature image: markusspiske