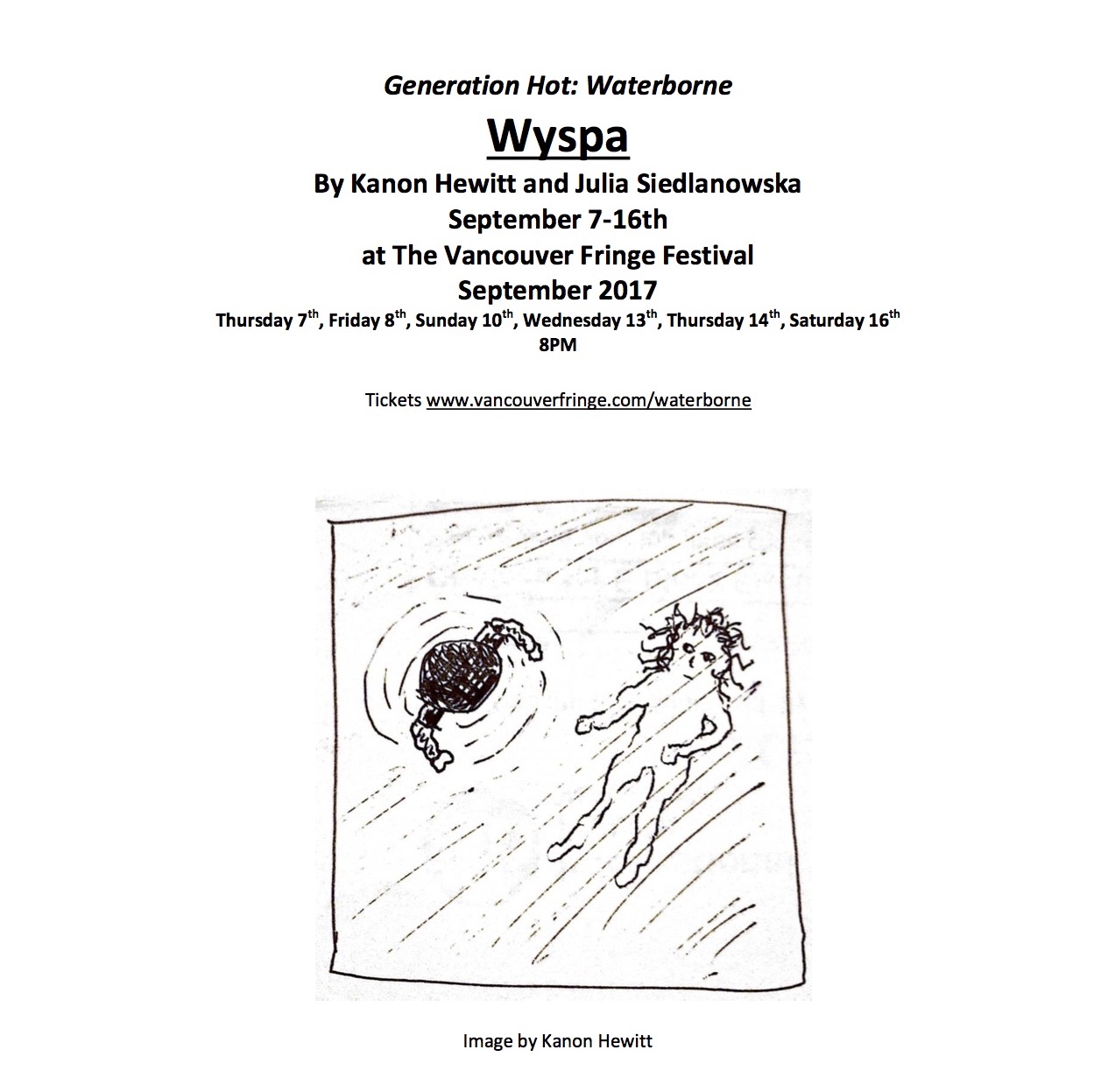 Generation Hot: Waterborne Wyspa
By Kanon Hewitt and Julia Siedlanowska in collaboration with the performers
CREATIVE TEAM:
Playwrights • Kanon Hewitt and Julia Siedlanowska Director • Julia Siedlanowska
Performers • Lily-Muna Henshaw, Daniel Russell, Isabelle Russell, Atticus Cseh, Anthony Goncharov
Sound Designer • Kanon Hewitt
Projections • Kanon Hewitt
Stage Manager • Holly Karpuik
Dramaturge • mia amir
Program Mentor • Eric Rhys Miller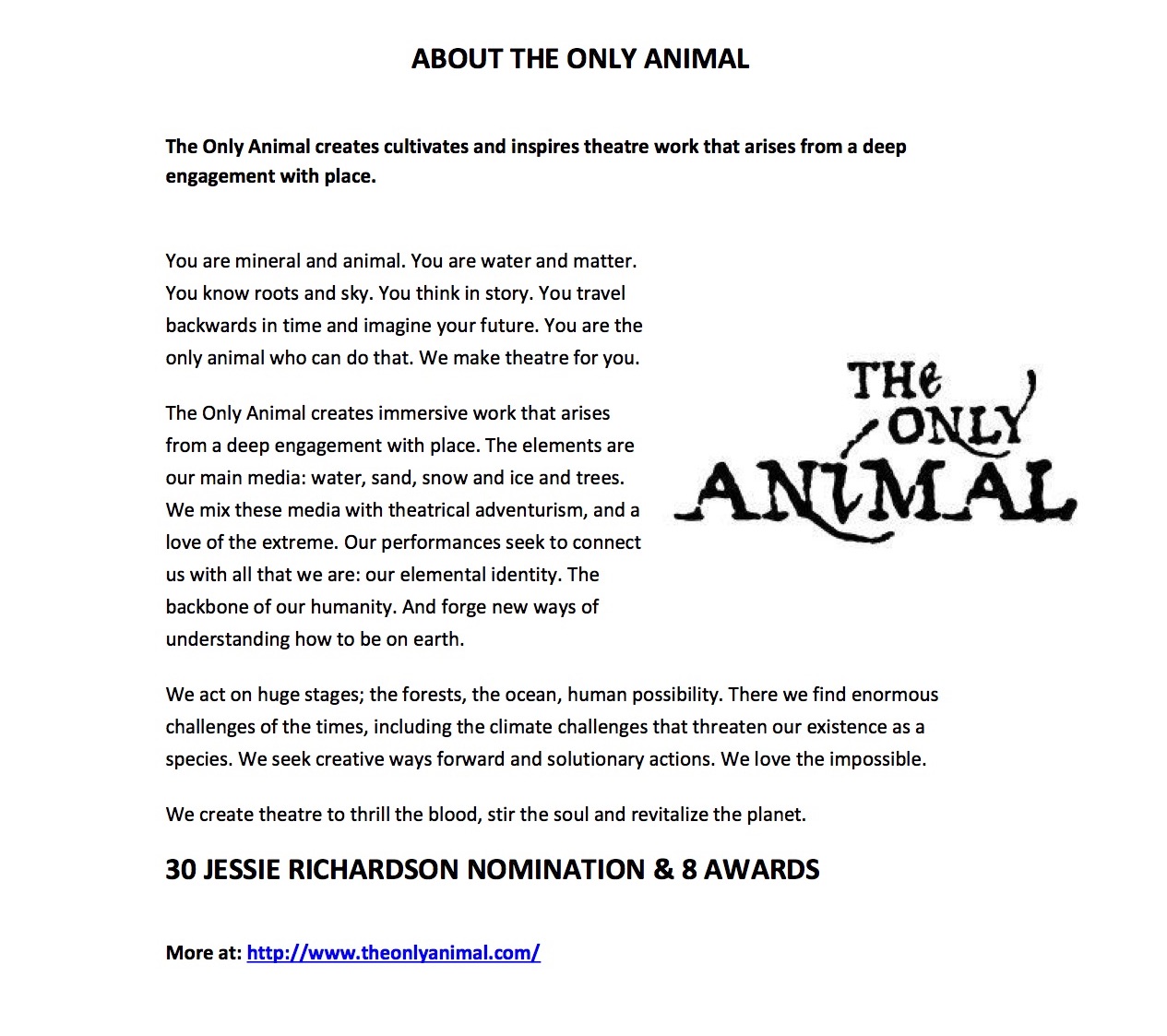 ABOUT GENERATION HOT: WATERBORNE
"Every [one] on earth born after June 23, 1988 belongs to what I call Generation Hot. This generation includes some two billion young people, all of whom have grown up under global warming and are fated to spend the rest of their lives confronting its mounting impacts." -Mark Hertsgaard
Through Generation Hot: Waterborne, a five-month mentorship program, The Only Animal and Vancouver Fringe Festival are supporting and presenting the work of seven writer-directors ages
17-24. Thanks to support from the Telus Community Foundation as well as RBC's emerging artist program, these young artists have participated in free workshops creating short works for this
year's Fringe. Each participant has found a personal response to a chosen site on Granville Island and the theme of Water. Two programs of these short works will run in rep during the 2017 Vancouver Fringe Festival from September 7-16, 2017.
The work ranges from mythic fantasy (Citlali by Brenda Muñoz) to family drama (Brothersby Sultan Owaisi) to surreal parable (O SANDADA 150M by Douglas Ennenberg), with environmental castaways (Wyspa by Kanon Hewitt and Julia Siedlanowska) and questionable business plans (Twenty Feet Away by Sara Dunn and Dayna Hoffman.)
Led by Eric Rhys Miller (Artistic Producer of The Only Animal), Generation Hot: Waterborne is the final project for the co-founder of The Only Animal.
From producer and mentor Eric Rhys Miller:
"Thanks to our dear friend David Jordan over six years of partnership with Vancouver Fringe, we've had the privilege of supporting many young artists in creating and premiering new works. In the last two years we focused the program on responding to the climate moment and a return to our site-specific roots as a company. This melding of place-based work with a critical and existential problem has been a meaningful personal challenge and a heart-opening journey with passionate young artists. It has been my privilege to work with them all. I trust audiences will connect with them as they have connected with each other and the depths of their own questions. Onwards!"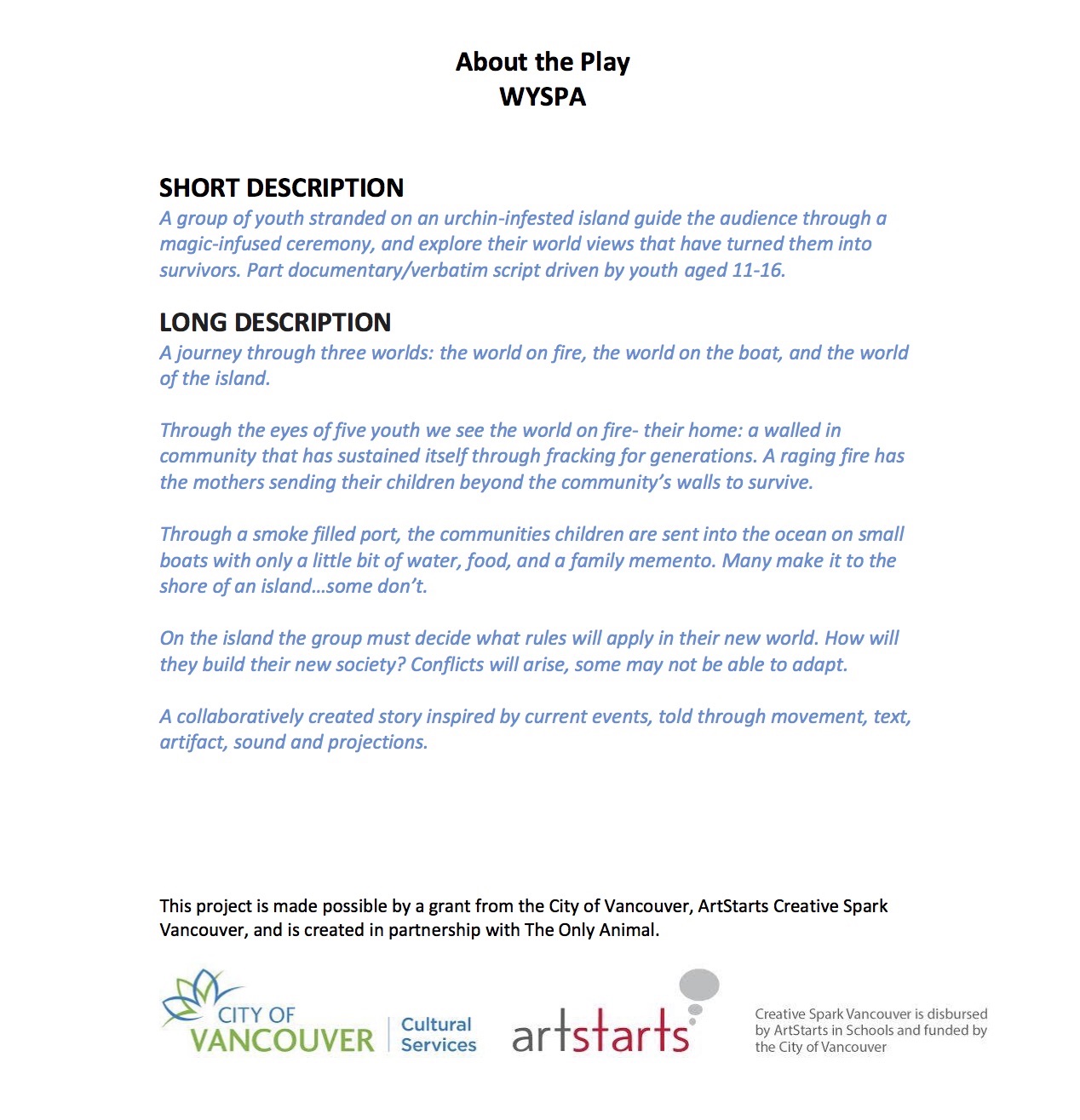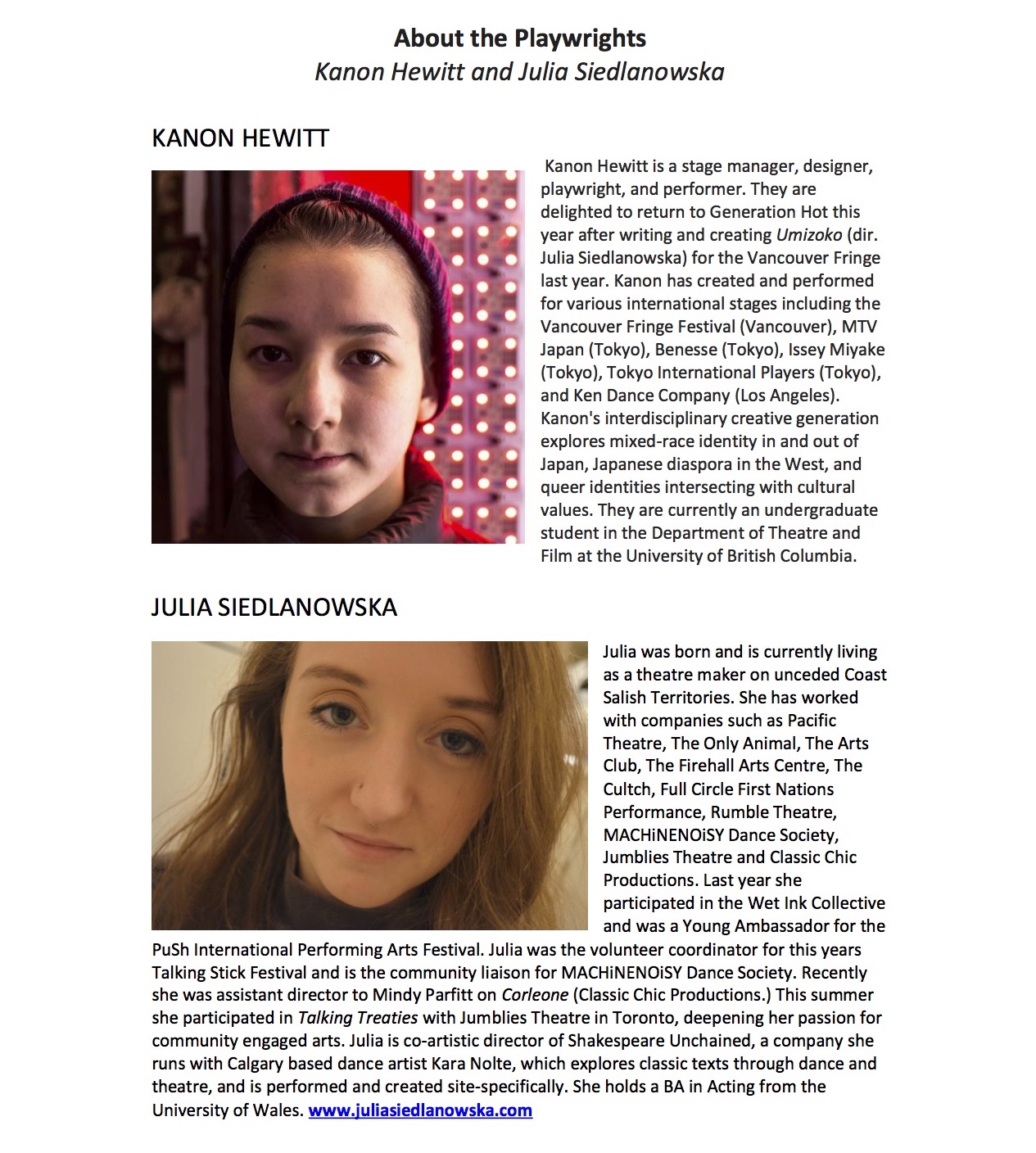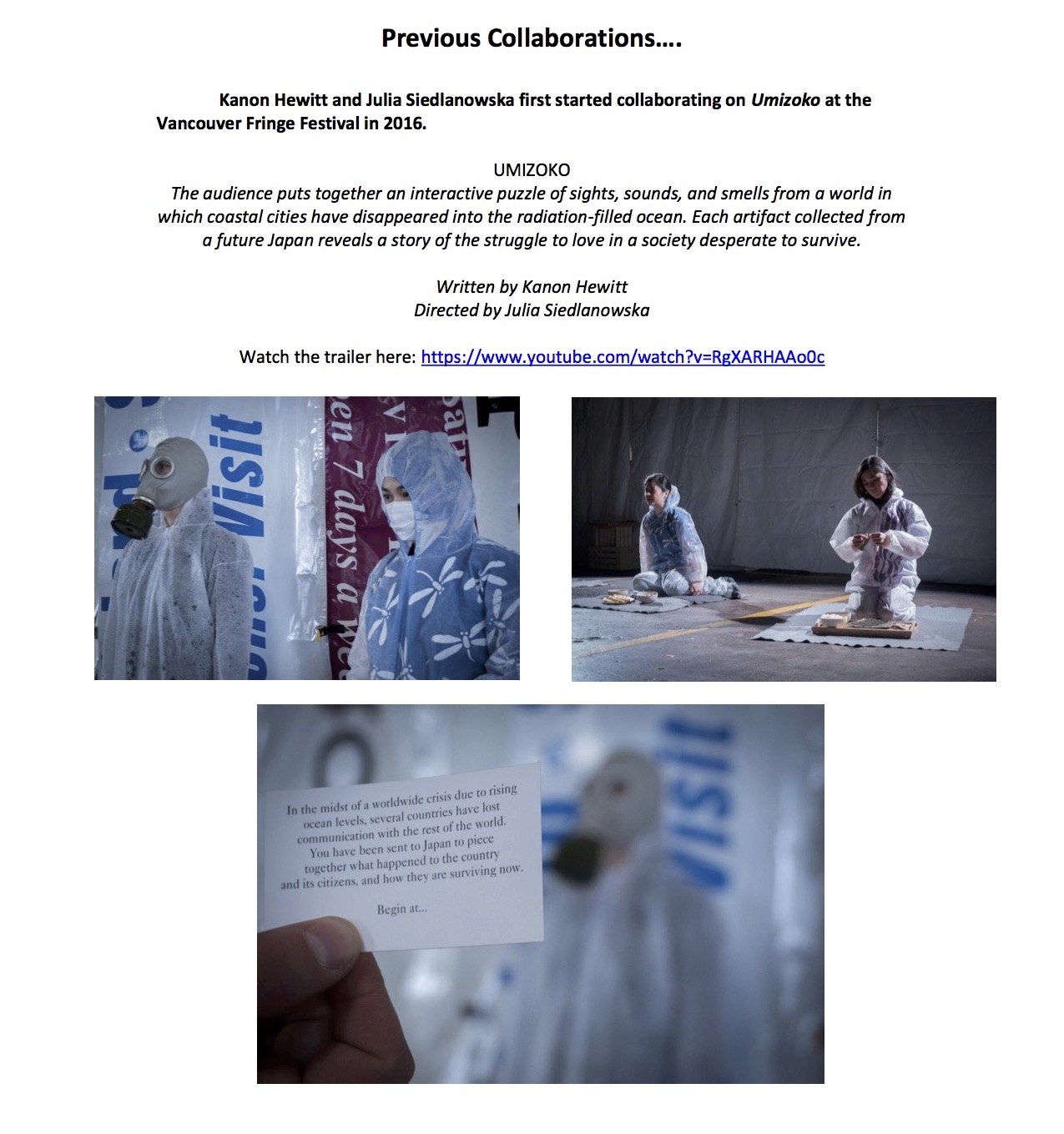 An inter-disciplinary, collaborative approach
A word with playwright and director Julia Siedlanowska
What inspired this story?
J: We started this process talking about the rise in domestic violence in Alberta since the recent economic decline that has caused the loss of thousands of jobs in the oil extraction industry. The discussion then linked to gender based violence, and then connected to how the ways in which we raise children in an enforced gender binary contributes to this. From this, the idea was spawned to engage youth in a documentary based theatre project where they would interview their parents/guardians on the topic of water and the tar sands in Alberta. We asked the question: How does the conversation about exploitive industry change when speaking directly to those who will inherit this earth and all we've left in place for them?
How has the process shifted through your collaboration with the youth?
J: As Wyspa has developed through our work together- Kanon Hewitt, youth collaborators Lily- Muna Henshaw, Anthony Goncharov, Atticus Cseh, Isabelle Russell, Daniel Russell, and myself- the story has moved further into a fantasy world. At the start of this process I really didn't know how far we could push certain conversations with the youth. We wanted to talk about these heavy subjects and have a chance for their perspectives to be heard, but we had no idea who would sign on. As the youth collaborators came on board, we adjusted the process according to their varying ages. Through setting the show in a fictional world we have been able to take a magnifying glass to some of the troublesome dynamics in our current political climate, and the participants have surprised me every single turn with the depth of their contributions.
Throughout this process we've engaged in various exercises that have generated a lot of content and the structure for this piece. As part of our research, Kanon brought up the recent case of a group of teens filing a lawsuit against the US government for not taking stronger actions in the face of the climate crisis. After sharing this research with the group we did an exercise called "Fair or Unfair." This exercise is borrowed from Toronto based Mammalian Diving Reflex, a company that creates playful, provocative, site and social-specific participatory performances with non-actors of all ages and demographics. Our group made a list of all the rules they have to follow in their life. This ranged from not being allowed to have dessert before dinner to not being allowed to drive or wear short-shorts. We then discussed whether these were fair or unfair. The discussions that sprung from this informed our rules for the island world the characters get to create in Wyspa. Another hot element of discussion has been the strict gender hierarchies that exist in the "home world" of the characters (the original sketch of which was written by Kanon and myself as a jump-off point.) The youth have engaged passionately with gender politics, and that's definitely going to be a major element in the final production.
A word with playwright and sound & projections designer Kanon Hewitt:
What drew you to this project?
K: I was excited to create a work that is so site-specific and takes place outside in the open air. I tend to gravitate towards including a lot of tech elements in my productions, so the distinctly un-stage-like venue of our little corner of Rob Basford Park is an exciting challenge to be deliberate in choosing the limited tech elements I can include. Early on, we decided on projections as a way to both tell parts of the story and to light our outdoor venue, and I'm excited to explore and incorporate all the different ways we can play with projectors with the trees, the people, and the water that make up our stage.
What has surprised you in creating this show?
K: I was initially nervous to create a show with youth from nothing more than a framework, and it was very much my faith in Julia and her artistic vision that got me on board when she initially wanted to create this story from scratch in collaboration with a youth cast. I think I had some doubt within myself about whether the content we would create was going to be "good enough", from the assumption that something made by youth was automatically going to be less than something made by adults. I admit this is a strange bias, especially because I myself technically qualify as a youth. However, my experience in the workshops and rehearsal process creating this show with the youth made me actively and intentionally place my trust in them and their capabilities. They've been so generous with their unique insights and imagination, and I've been humbled and inspired at every turn. Guiding and encouraging the youth through difficult discussions on environmental and interpersonal violence, and supporting and expanding their artistic visions in the project has been absolutely eye-opening for me.
Research
"We can't let whether or not a survivor of domestic violence is going to get help be dependent on whether the price of oil is low or high," -Justice Minister Kathleen
Domestic Violence stats in Alberta
-Around 70 per cent of YWCA counselling clients are women facing domestic violence issues. By September last year, its counsellors had surpassed the number of people they saw in all of 2015, with total appointments climbing to 3,300 from 2,700. More worryingly, the number of sessions for which clients couldn't afford to pay a cent almost tripled in 2016, to 651.
-According to justice ministry figures, the number of criminal charges for intimate partner violence in Edmonton rose to 2,336 last year from 1,955 in 2011. That reflected a trend across Alberta's seven largest urban centres, where total charges increased to 7,751 last year from 6,368 in 2011.
http://www.edmontonsun.com/2017/04/23/domestic-violence-on-the-rise-in-edmonton
"Whereas before the abuser might have been at work during the
day" now they're home, she said. Women feel more monitored
and controlled if the partner stays home, she said, making it
harder to leave or call for help."
http://www.cbc.ca/news/canada/calgary/domestic-violence-oil-patch-1.3291744