The Chan Centre presents Kate Evans: Threads Frontlines of Refugee Crisis Revealed Through Powerful Graphic Novel Images, Reportage, Music, and Discussion featuring Award-winning Author & Activist
The Chan Centre for the Performing Arts at the University of British Columbia (UBC) presents Kate Evans: Threads, an evening with Evans, the acclaimed author, cartoonist, and activist on September 29 at 7:30 pm in the Telus Studio Theatre as part of the Beyond Words series. Evans will reveal accounts of hope and hardship from France's Calais refugee camp as told in her 2017 graphic novel Threads: From the Refugee Crisis. With projected images from her book as the backdrop and musical accompaniment by Iranian-Canadian hand drummer Hamin Honari, Evans will share a reading followed by a thought-provoking panel discussion.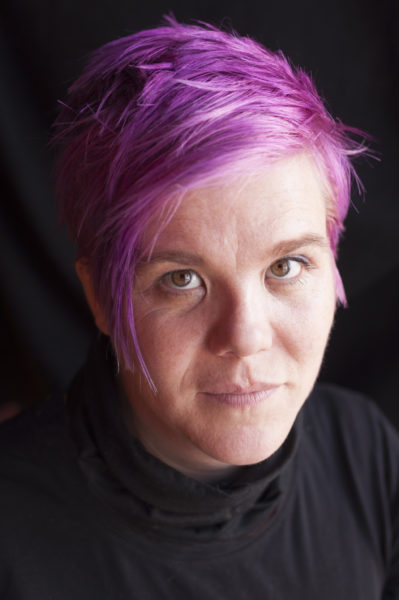 "As a format long associated with cartoons and superheroes, the graphic novel is evolving into an art form that addresses topical and challenging subjects," says Wendy Atkinson, Programming Manager of the Chan Centre and curator of the Beyond Words series. "Evans' book is a perfect example – Threads: From the Refugee Crisis is currently serving as a launch pad for important conversations about prejudice and the politics of borders. We are excited to have Evans here for this live reading and to engage our audiences in a dialogue about the vital relationship between the arts and social justice."
Winner of the 2016 John C. Laurence Award, Threads: From the Refugee Crisis depicts encounters and events during Evans' time volunteering at the Calais refugee camp. Commonly known as the "Jungle", the Calais camp was home to more than 8,000 refugees and asylum seekers, mainly from the Middle East and Africa, before it was demolished in October of 2016. Upon hearing reports of occupants living in slum conditions, Evans travelled to Calais in 2015 armed with a sketchbook and an open mind.
What Evans found in Calais was a sprawling shantytown of shipping containers and makeshift tents inhabited by thousands of people who had lost nearly everything – their homes, families, and friends. Evans' gripping graphic novel documents her sobering interactions there, combining visual art with journalism. The culture editor of VICE stated, "It's impossible to read Threads without feeling an emotional response, from outrage to tenderness to deep frustration."
Evans, who was born in Montreal but raised in Surrey, England, is a prolific cartoonist, journalist, political activist and author of numerous books. Her award-winning graphic novel collection covers an immense range of topics, including breastfeeding, as in her best-selling guide, The Food of Love, and climate change, as in her pictorial guide Funny Weather: Everything You Didn't Want to Know About Climate Change But Probably Should Find Out. Her 2015 graphic novel, Red Rosa, which follows the life and death of German revolutionary Rosa Luxemburg was described by The Guardian as "utterly brilliant."
Following Evans' reading of Threads: From the Refugee Crisis will be a moderated discussion on the power of art as a response to a crisis and a means to inspire social change. The panel will feature Kate Evans alongside other speakers including Fay Nass—a theatre artist and filmmaker who draws from her experiences growing up in war-torn Iran to create provocative works, and Shawk Alani—co-founder of the Iraqi Oral History Project who leads workshops for Syrian children in Vancouver teaching photography as a means of expression and personal narrative.
About the Beyond Words series
The Chan Centre's Beyond Words series at the Telus Studio Theatre was launched in 2012 to explore the power of storytelling through performance as an agent of change and means of igniting conversation. Previous events have included sold-out engagements with John K. Samson, Brendan McLeod, Shane Koyczan, Ivan Coyote, and Chicago-based performance collective Manual Cinema. In 2016, three pairs of distinguished BC-based writers and choreographers came together for the very first time to create new works combining words and movement. Upcoming in March of 2018, the series will present Polaris Prize-winning Inuit vocalist Tanya Tagaq alongside trailblazing Greenlandic mask dancer Laakkuluk Williamson Bathory.
About The Chan Centre for Performing Arts at UBC (chancentre.com)
Since 1997, The Chan Centre for the Performing Arts in UBC's Arts & Culture District has earned an international reputation for its striking design, stellar acoustics, and exceptional programming. Artists, critics, and patrons alike are unanimous in their praise of the facility, winning it a place among North America's premier performing arts venues. The Chan Centre boasts three unique venues: the superb Chan Shun Concert Hall, the dramatic Telus Studio Theatre, and the intimate Royal Bank Cinema. From classical, jazz, theatre, and opera to world music, the Chan Centre is a vital part of UBC campus life where artistic and academic disciplines merge to inspire new perspectives on life and culture. Past performers and guest speakers include Wynton Marsalis, His Holiness the Dalai Lama, Renée Fleming, Dan Savage, Yo-Yo Ma, Trombone Shorty, Sigur Rós, Dianne Reeves, Anoushka Shankar, Orquesta Buena Vista Social Club, Chick Corea, and Herbie Hancock.
Chan Centre Beyond Words series presents
Kate Evans: Threads  
Date:
Friday, September 29, 2017 at 7:30pm
Ticket prices:
From $20
Address:
Chan Centre for the Performing Arts
University of British Columbia
6265 Crescent Road, Vancouver, BC V6T 1Z1
Box Office:
604-822-2697 / chancentre.com
In person at the Chan Centre ticket office
Open Tue-Sat, 12pm-5pm
Website: