LEADING SOUTH AFRICAN WINE BRAND RETURNS TO W NETWORK FOR SECOND CONSECUTIVE YEAR AS A BROADCAST SPONSOR
Two Oceans Wines is once again gracing screens as a broadcast sponsor and bringing Canadians a refreshing combination by joining Chris Leroux as he searches for 'the one' in the latest installment of W Network's The Bachelor Canada.
The Bachelor Canada airs Wednesdays at 9:00 p.m. ET/PT starting on October 11. Fans will see Two Oceans on screens as the brand is integrated throughout the series. If you'd like to look up your local bachelor contestant, please visit http://www.wnetwork.com/shows/bachelor-canada/bachelorettes.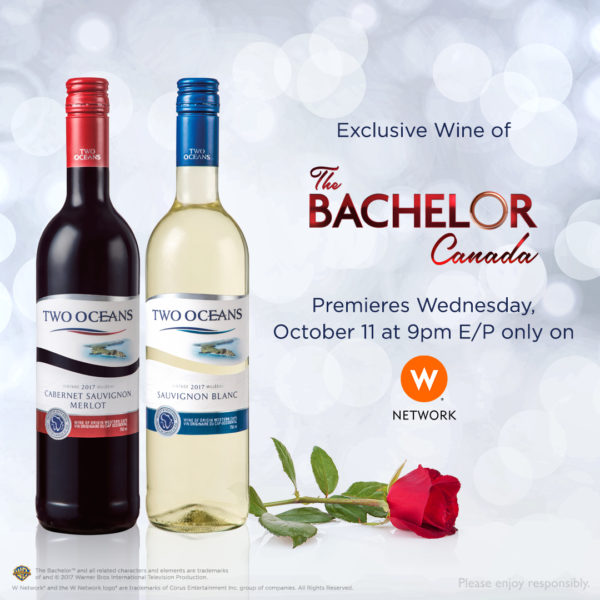 "Much like a love story, Two Oceans is the perfect combination of the cold Atlantic and the warm Indian oceans, coming together to create something exceptional," said Brenda Wylie, Country Manager, Distell Wine & Spirits (Canada). "Being part of The Bachelor franchise is such an exciting opportunity for Two Oceans. We are eagerly anticipating watching Chris' journey to find his perfect pairing unfold."
Fans of the show will have a chance to engage with Two Oceans as the brand will offer real-time social media content and engagement throughout the series. Fans are encouraged to follow @TwoOceansWineCA on Facebook, Twitter, Instagram, and Pinterest and use #BachelorCA in all related posts.
About Two Oceans Wines:
Crafted by cool fresh sea breeze and the warm African soil, the Two Oceans range of wines is a product of micro-climatic influences in the Western Cape where the cold Atlantic and the warm Indian oceans meet. This convergence greatly impacts the region's climate, coastline and areas inland, causing grapes to develop with balanced, intense and plentiful flavours. Sold in over 80 countries, the Two Oceans range of wines are made from IPW-accredited vines, are farmed according to eco-sustainable principles and carry fully-traceable sustainability seals that guarantee integrity of production. Bottled wines are sold in lightweight, fully-recyclable 750 ml bottles. Two Oceans is produced by Distell Wine & Spirits, Africa's leading producer and marketer of spirits, fine wines, ciders and ready-to-drinks (RTDs).
About Peter Mielzynski Agencies Ltd. (PMA):
Founded in 1979, PMA is one of Canada's leading wine and spirits agencies. With its head office in Oakville, Ontario, PMA maintains a sales, marketing, and support team of over 115 professionals across Canada. PMA takes pride in representing many of the world's finest wine and spirit brands, from prestigious suppliers including Distell, William Grants & Sons, Gruppo Italiano Vini, Jägermeister, Illva Saronno, Osborne, Bodega Norton, Emiliana and Burn Stewart Distillers.
About Distell Group Limited:
Distell Group Limited is Africa's leading producer and marketer of spirits, fine wines, ciders and ready-to- drinks, such as Two Oceans, Fleur Du Cap, Nederburg, Amarula Cream and Savanna Cider. Distell employs about 5,300 people worldwide and has an annual turnover of R19.6 billion.