A bold new look for Penticton's Downtown Urban Winery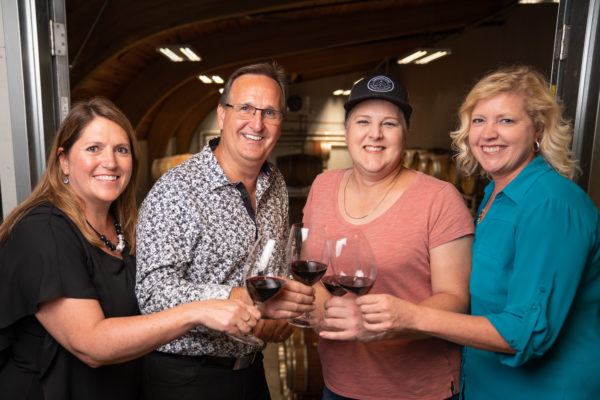 There has been a lot going on at TIME winery in Penticton.  It has been two years since we lost TIME founder, Harry McWatters, one of the icons of the BC wine industry.  Then came a sale of the winery to Ron and Shelley Mayert, a couple with a business in the Fraser Valley.  It was Ron's Summerland roots that attracted him to the opportunity to purchase TIME when it came on the market.  This brought about some internal changes, though the public saw little of these and things seemed to continue as usual.  Then the pandemic struck and the team had to have a hard look at how they did business.  Oddly enough, when so much is going on, it is often the right time to introduce more change.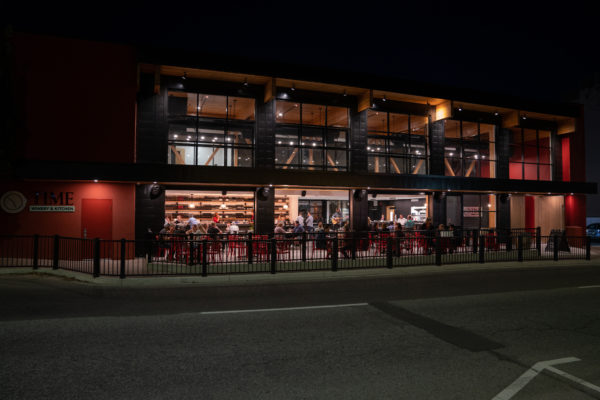 Now known as the TIME Family of Wines, they have restructured their brands as well as undertaking physical changes to their premises on Martin Street in downtown Penticton which will see a new barrel room and eventually a new rooftop patio.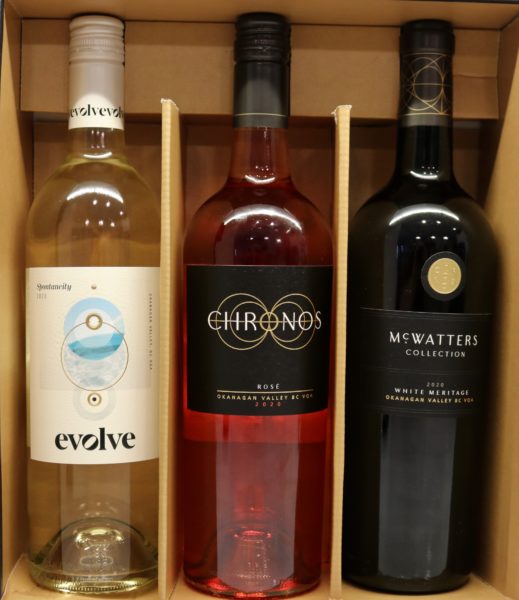 The wines underwent a label design change to more accurately reflect the connection between their three distinct tiers and the connections they feel to their team, their customers, the land, and the industry as a whole.  You will see a different look for the Evolve line with new fonts, colours, and design as well as the addition of two new wines – Spontaneity, a white blend and Momento, its red counterpart.
New to the line-up is the Chronos label which takes the place of many that previously bore the embossed red clock dial TIME series.  This label is for their wines that reflect the valley's terroir and the quality that brings to the glass.
Finally, the McWatters Collection continues as their top tier with some additions including the White Meritage, which I heartedly support.  This wine is a fine example of how good the white Bordeaux blend of Sauvignon Blanc and Semillon can truly be.  The McWatters Collection, which made its debut in 2011, will anchor Harry's legacy with the winery.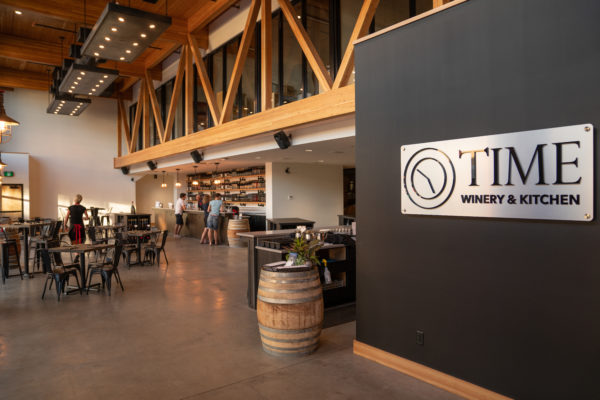 Other changes include renaming and expanding the TIME Kitchen which will now be known as Orolo.
And if all this wasn't enough, they have also embarked on a satellite tasting room at the new District Wine Village in Oliver, which opened this fall.
To my mind, the team at TIME decided that if life hands you lemons, then the best thing to do is make lemonade.
New 2021 releases include: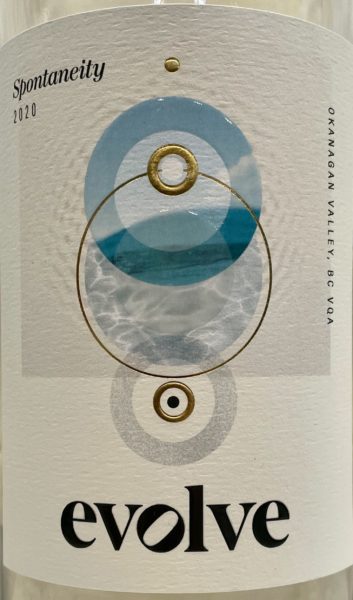 2020 Spontaneity White
Evolve Cellars
$21.99
A blend of Pinot Gris, Sauvignon Blanc, and Ortega.  Straw coloured with medium-light intensity.  The nose is a cacophony of fruit – apple, pear, peach, citrus, honeysuckle, grapefruit, and melon.  The balance is good.  There is a slight hint of sweetness on the entry but then it meets bright refreshing acidity.  Mouth-watering juicy fruit on the palate that mirrors the nose followed by a medium-plus finish.  An excellent wine to serve guests before dinner.  Also, pair with seafood, fish, and grilled or roasted chicken or turkey.  This has to be my all-time favourite wine from Evolve.  12.1% ABV
2020 Chronos Rosé
TIME
$24.99
Made from Syrah and showing white pepper, candy, watermelon, and ripe strawberry.  Pale cherry red with medium-light intensity. Inviting aromas of strawberry red licorice, watermelon, cherry, spice, menthol, and a hint of red currant on the nose.  Good balance with medium-plus body.  The flavours echo the nose followed by a medium-plus finish with red currant notes lingering.  This is no wimpy rosé.  Serve with hamburgers, kielbasa, ham or turkey.    12.4%ABV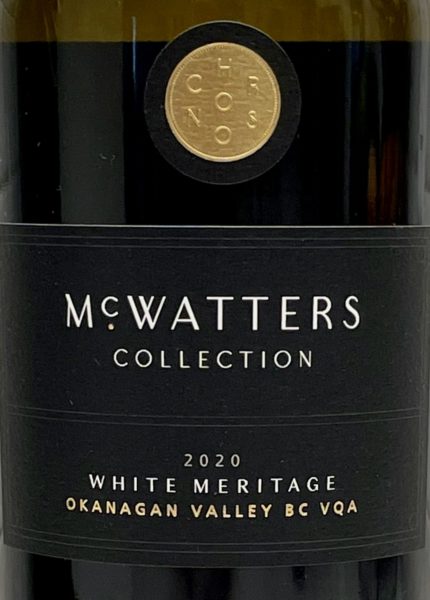 2020 McWatters Collection White Meritage
TIME
$29.99
A new look for this wine that was previously released under the TIME label.  55% Sauvignon Blanc and 45% Semillon.  Straw coloured with light intensity.  The nose opens aromas of honeydew melon, gooseberry, pear, apple, grapefruit, peach, and a touch of gunflint.  Good balance, though a tad low in acid with medium-plus body.  Noticeably different from previous vintages, this one is much rounder on the palate.  12.1% ABV
I especially like that all these wines are light in alcohol 12.1% – 12.4% ABV
All these changes reflect not just rebranding, but a noticeable improvement in quality as well.
TIME has always been about family, both old and new.  From the early days of Harry McWatters, then with his children Christa-Lee and Darrien McWatters, and now with the Mayerts joining the fold.  Check them out and try their exciting new wines.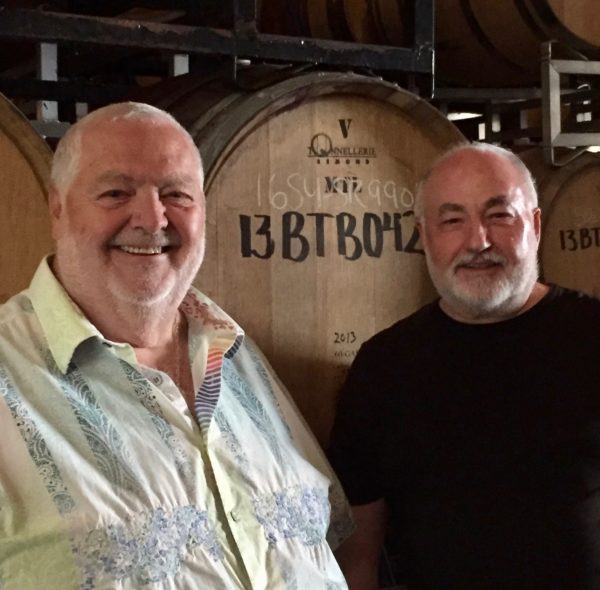 (All photos, except as noted – Sam Hauck)