After a successful Flatbread Challenge comes our 1st ever 100 Mile Cocktail Challenge featuring 7 restaurants and bars in Vancouver, Richmond and North Vancouver, that runs from July 4-27, 2014. 
 
Participating restaurants are showcasing Cocktail creations which required them to use at least 60% local ingredients that would be found in 100 mile radius. All of these cocktails entered were created just for this challenge and all will be offered in all of these restaurants/bars during the challenge period .

For our Challenges, we have 2 sets of winners. The People's Choice winners will be selected by the public who are invited to visit any of the participating restaurants and order the 100 Mile Cocktail creations and then decide on which ones they think are worthy of winning the challenge by casting their votes.

For this challenge we have 4 media judges and they are:
 
Cassandra Anderton
Writer and Broadcaster for many publications including her own http://goodlifevancouver.com/
Twitter: @goodlifevan
Dawn Chubai
Breakfast Television Host at City TV & Jazz Vocalist
Twitter: @dawnchubai
Christine McAvoy  
Photographer and Editor at Vancouver is Awesome
Twitter: @ChristineMcAvoy
Brian Webb  
Canada's award-winning and top gay blogger on North American homoculture. www.homoculture.ca
Twitter: @br_webb
These are just some of the unique 100 Mile Cocktail creations in this challenge
 
ABODE Restaurant
Boa Bite
Boa Bite
Price: $8
Description: The Boa Bite is a dry, incredibly refreshing cocktail inspired by the Snakebite and Black AKA Diesel – a popular cocktail from the UK made of lager or stout, hard cider and blackcurrant syrup. We've taken this favourite and replaced blackcurrant syrup with blackcurrant liqueur and added a fresh finish of muddled mint. Topped off with a garnish of house made caramel lacing, one sip from this cocktail will take you to the tropical climates where this exotic snake calls home.
Ingredients: Stanley Park Brewery Pilsner, Vancouver Island Merridale Traditional Craft Cider, Odd Society Spirit's Crème de Cassis Liqueur, Mint (from our rooftop garden), Caramel garnish
Created by: Tannis Smith
Offered:  Monday – Thursday 11:00am – close; Friday – Sunday 11:30am – close
ABODE Restaurant
1223 Robson Street, Vancouver
Tel: 604.688-1411
Web: http://www.aboderestaurant.ca/
Twitter: @ABODERestaurant
Blacktail Florist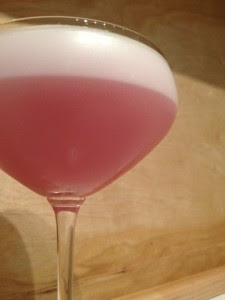 The Blacktail Sour
The Blacktail Sour
Price: $12
Description: The drink is a complex and vegital cocktail, with sour notes from the fresh pressed rhubarb and a delicate sweetness to finish
Ingredients: Long Table Distillery Gin, Odd Society Creme de cassis, Rhubarb, Local Honey Syrup, Egg Whites
Created by: Connor Gotowiec
Offered: It is available Tuesday–Sunday 5pm-1145pm
Blacktail Florist
332 Water Street, Vancouver
Tel: 604-669 -0249
Web: http://blacktailflorist.ca/
Twitter: @THEFLORISTbc
Pinnacle Pier Hotel
The Stanley Park
The Stanley Park
Price: $10.50
Description: Martini
Ingredients: Yaletown Distilling Company Gin, lemon juice, simple syrup, locally grown basil leaves, 'Twisted Bitter' Victoria Spirits, Rosemary grapefruit, Rabbit River Farms egg whites and garnish with basil leaf
Created by: Kelly Robert
Offered: All the time
Pinnacle Pier Hotel
138 Victory Ship Way, North Vancouver
Tel: 604-986-7437
Web: http://pinnaclepierhotel.com/the_lobby.html
Twitter: @PinnaclePier
The full list of participating restaurants can be found here 
http://vancouverfoodster.com/2014/07/04/vancouver-100-mile-cocktail-challenge/
 
Voting: The public is invited to order these cocktail creations ,at the participating restaurants and bars keeping in mind this criteria – originality, creativity, uniqueness, traditional, non-traditional, price, value and most importantly taste. People can vote the same day after trying the cocktail creation and they can vote once a day throughout the promotion. People will be encouraged to Vote for their favourites from July 4-27, 2014
http://vancouverfoodster.com/100-mile-cocktail-challenge/

With a smartphone, customers will be able to vote from their table in the restaurant right after they have eaten the Cocktail creation. 
 
We will announce the winning restaurants and their cocktail creations on July 28, 2014.

About Vancouver Foodster
Founded in 2009 by Richard Wolak, Vancouver Foodster is Vancouver's premier online "Essential Food & Drink Intelligence" guide. The site offers expert advice on the hottest restaurants, parties, and openings this city has to offer, as well as the most interesting dining trends and newest cuisines and food around the region. Vancouver Foodster also runs a series of food challenges with restaurants and chefs throughout the year!