This is the 25th season for Bard on the Beach.  Anyone who has attended a play there knows what a marvelous venue it is.  This year's offerings, which include A Midsummer Night's Dream, The Tempest, Equivocation and Cymbeline, run from June 11 until September 20th.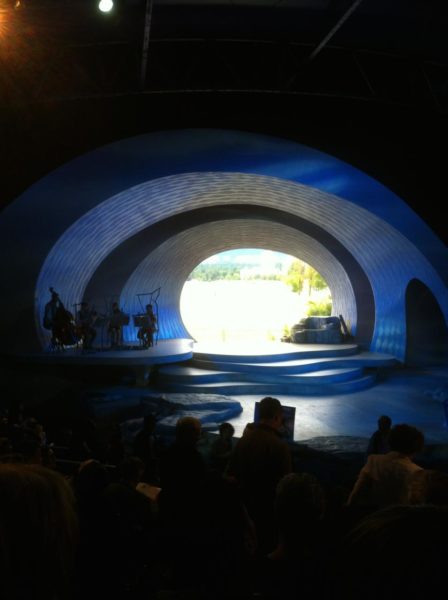 The back of the main stage is open and offers a view of the water, English Bay and Stanley Park, and the North Shore Mountains in the distance.  Waiting for the play to begin, it is easy to be distracted by the variety of watercraft moving back and forth: kayaks, paddleboards, sailboats, powerboats, water taxis, paddle wheelers and yachts, but when the lights go down, be sure to focus on the stage as the opening act sets out the premise of the story and you don't want to miss a minute of it.
The Tempest
Like all of Shakespeare's works, this story is filled with plot twists, turns and surprises. It is a testament to its intrigue that we continue to enthralled by these stories written over four hundred years ago.
Here is the brief synopsis of the play as outlined in the company's brochure:
Prospero, a magician and exiled Duke, is stranded on an enchanted island with his daughter Miranda, the spirit Ariel, and the slave Caliban.  He conjures up a storm that shipwrecks his enemies on the island's shores.  As Prospero and Ariel weave a magical web, murder plots are hatched, unlikely alliances form and romance blooms between Miranda and the son of her father's deepest enemy.  
I loved Jennifer Lines as Ariel.  Her costume and make up, thanks to costume designer Christine Reimer, were perfect and her quick 'hummingbird-like' movements made her believable as a magical sprite. The other sprites (Sereana Malani, Adele Noronha and Claire Hesselgrave) were also nimble and agile.  They certainly got a good work out during the performance.  Caliban (Todd Thomson), a savage and deformed mud-covered slave who seemed to have a bit of a foot fetish, made everyone laugh.  Another amusing scene was when some actors had to do double duty (in less-than-believable roles) as three masked men played brides dressed all in white.  The evening ended with a rousing standing ovation.
A Midsummer's Night Dream
Artistic Director Christopher Gaze asked the audience how many were first timers.  More than half of those in attendance raised their hands, a clear indication of the stellar reputation this Vancouver production.
The synopsis:
Oberon, King of the Fairies, is upset with Queen Titania.  He commands his servant Puck to produce a magical nectar that will cause love at first sight.  The mischievous sprite arranges for Queen Titania to fall for Bottom, a simple weaver (now transformed into an ass) while hilariously misdirecting the affections of four runaway lovers.
Thunder, the sound of rain, and fog opens this performance as the cast comes on stage hidden by black umbrellas.  At this point, judging by the eclectic costumes, and later interlaced with songs from the fifties, including: Silhouette, Who Wrote the Book of Love, Why Do Fools Fall in Love, it is clear that this is an adaptation.  Bottom, played by Scott Bellis hilariously reminded me of a nerdy Mike Meyers.
If you've ever wondered what goes on beneath those red and white tents near the Planetarium at Vanier Park, do yourself a favour and check them out.  It's a wonderful way to spend a summer evening.  No prior knowledge of Shakespeare is needed.  In addition to the four plays, there are many other special events being held under the tents including Chor Leoni and VSO presentations as well as a Bard-B-Q complete with fireworks.  Find out more at:  bardonthebeach.org