Award-winning Gerry Jobe joins Kelowna Winery as consulting bartender
 Like no other winery, Kelowna's Summerhill Pyramid Winery has been a gathering place for wine enthusiasts, artists, farmers, environmental advocates and progressive thought leaders to come together and share their stories and ideas, while thinking outside the bottle. This summer, Gerry Jobe, acclaimed Okanagan-based bartender, joins Summerhill Pyramid Winery as consulting bartender to create a cocktail program that puts the spirit back in spirits.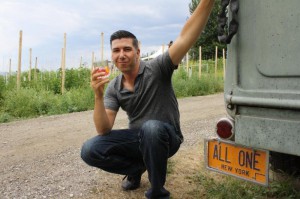 New Rules, New Offerings:
After a massive lobby (and much patience), Summerhill can now add spirits and craft beer to the wines already on the menu in its Sunset Organic Bistro. As the first BC winery in the ALR (Agricultural Land Reserve) to have this new license, they are taking advantage of this in a way that expresses the winery's unique personality.
The winery has linked up with Jobe to oversee their spirits menu, and take their cocktail program to an unparalleled level. Recognized by Western Living magazine as one of their "Top 40 under 40", Jobe is an award-winning and passionately creative bartender.
As a lifetime resident of the area, Jobe feels the need to establish a vibrant and stylish cocktail culture in Okanagan. At Summerhill, he is teaching and empowering the team to create "outside the bottle" cocktails that include a unique story as an essential ingredient.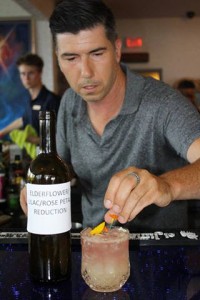 All Summerhill cocktails created by Jobe utilize speciality techniques and ingredients hand-foraged on the sweet aromatic land of Summerhill's own biodynamic permaculture gardens, including wildcrafted medicinal herbs and syrups aged in the Pyramid. Unconventional cocktail techniques are applied to the creation of each drink, including employing vibrations from Tibetan singing bowls, intentionality and biodynamic rhythms.
The winery can say with confidence that no one is making cocktails that express the Okanagan in this way.
For example, 'Unified Field' features a house-made lavender and sage blossom kombucha reduction with vodka which are influenced with vibrations from Tibetan singing bowls to bring harmony to the experience at Summerhill. It is topped with Cipes Brut and garnished with lavender.
The 'Santa Fortuna' includes foraged elderflower, lilac and wild rose petal reductions which are shaken with grapefruit and tequila and topped with Cipes Rose.
'Lithia's Rhythm'  includes foraged choke cherry blossoms which were first reduced into a simple syrup, and smoked over the fire during the summer solstice drum circle in the winery's onsite Kekuli (an earth house). Placed around the Kekuli fire, vessels of this reduction were influenced by the rhythm of the drumming and dancing, and treated with energy work and quartz. This reduction was combined with organic Pinot Gris, lemon and Woodford Reserve Bourbon.
Quotes:
"Jobe is more than a consulting bartender at Summerhill. He is a storyteller, artist, and cocktail activist recreating a rich, lively, spiritual and meaningful cocktail culture in the Okanagan. This is the start of a journey for us to celebrate the land, the history, and to create something beautiful." – Ezra Cipes, CEO, Summerhill Pyramid Winery
"Creating stories, experiences, moments and memories within spirits just happens to be my medium. I create cocktails that transport the drinker back to their childhood, their happiest moment, or the first time they heard their favourite album. When Ezra approached me about creating the cocktail program at Summerhill, I couldn't wait to get started. Summerhill is the perfect foundation for creating cocktails that are full of balanced flavour while celebrating nature and the surrounding land." – Gerry Jobe, consulting bartender, Summerhill Pyramid Winery 
Cocktails with a Sense of Place:
All cocktails and applications were conceptualized by Gerry Jobe utilizing ingredients he hand foraged on the Summerhill property with the assistance of property foragers Scott and Gabriel Cipes. Energy applications to the ingredients were inspired by the science of the effects of energy in liquid by Robert Hooke, Masaru Emoto and Emile Conrad and assisted by Daniela DeMarchi of Era Life Science. Join in celebrating the land and the spirit of Summerhill captured in these deliciously balanced cocktails.
Taste For Yourself:
The Sunset Organic Bistro, featuring Summerhill's wines and custom cocktails, will remain open daily this Fall and offers lunch (11am – 3pm), a grazing menu (3 – 5pm) and dinner (5 – 9pm). The Bistro also serves brunch on Sundays from 11am – 2pm.
About Summerhill Pyramid Winery:
Summerhill Pyramid Winery, located for more than 20 years in the Lakeshore district in Kelowna, BC, is Canada's premier certified organic winery, BC's first Demeter certified biodynamic vineyard, Canada's foremost producer of sparkling wine.
Winemaker Eric von Krosigk oversees the portfolio of BC VQA wines that suit every occasion and has earned the winery the 'Canadian Wine Producer of the Year' award at the International Wine & Spirits Competition in London, England. The winery, owned by the Cipes family, is also home to the Sunset Organic Bistro, serving food grown and raised by local organic producers, including Summerhill's own on-site permaculture-style vegetable garden. The mission of the entire Summerhill team is to produce exceptionally good-tasting wines organically, support local organic food growers, and provide unforgettable experiences for all guests.
More background reading on Summerhill Pyramid Winery's organic and biodynamic farming practices can be found here.
For more information, visit www.summerhill.bc.ca, fin