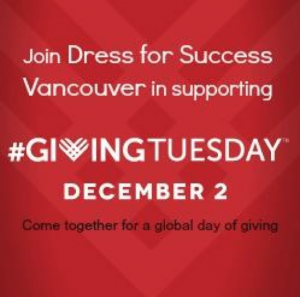 Dress for Success Vancouver is a community empowering women into the workforce by providing them with professional attire, career services and skills development programs. Please consider supporting one woman through our programs by giving on Tuesday, December 2nd, 2014. www.dfsvancouver.org
GivingTuesday is a new Canadian movement to give back, to support causes you believe in and to mark the opening day of the giving season. It is taking place each year after Cyber Monday and this year is on Tuesday, December 2, 2014.
Imagine a day dedicated to giving back… around the world, across Canada and in your own community! Dress for Success Vancouver's goal is to raise $2500 which will help:
* 15 women to get a consultation with a stylist and a complete outfit. * 10 women to have a private session with a career specialist.
* AND 3 women through our full suite of programs: a complete outfit, a session with a career specialist and access to an 18-month career development program.
In other words, your donation will help women to rebuild their confidence and thrive in their professional and personal lives. What a beautiful gift…
About the Organizers
Dress for Success Vancouver is a registered Canadian Charity that helps empower women into the workforce. By providing a professional attire, career development tools and a network of support, we acknowledge that every woman, regardless of background, deserves the opportunity to grow, develop and succeed in work and in life.