Seventh annual festival dishes up delectable oysters, alongside local beers, wines, and the joy of winter's end
Springtime in the South Okanagan marks the return of the Osoyoos Oyster Festival, which takes place April 18-22. The seventh annual festival offers the perfect opportunity to enjoy outstanding dining experiences, tastings of oysters from around the world, and glasses brimming with award-winning South Okanagan wines, ciders, beers and spirits.
"Osoyoos may not be the first place you think of when it comes to oysters," says Kelley Glazer, Executive Director at Destination Osoyoos. "But for seven years, we've been saying 'Why not?' Oysters pair perfectly with the South Okanagan's beautiful wines, ciders and beer, spring's first vegetables, and the talents of our creative local chefs. Add in the picturesque setting and you've got a winning event!"
A variety of oysters will be featured throughout the festival, supplied by Kelowna's Codfathers Seafood Market, and Vancouver Island's Out Landish Shellfish Guild and Effingham Oysters. The five-day line-up consists of three big parties organized by Destination Osoyoos, and five partner events, with plenty of time in between to explore the area.
Bundle for Savings
A ticket bundle (for all three signature events) is available for $198 (per person), a savings of 10%. Each package includes one ticket to the following events: Beach BBQ & Brews, Deep Sea Garden Party, Art of the Pearl Gala.
Osoyoos resorts, including Spirit Ridge, Walnut Beach Resort and Watermark Beach Resort, are offering special rates for the duration of the festival. Shuttle service provided by OK Wine Shuttle, departing from set Osoyoos-based locations, is available during the following Oyster Festival events: Beach BBQ & Brews, Deep Sea Garden Party and Art of the Pearl Gala.
For more information about accommodation or the events listed below, please visit: destinationosoyoos.com/ooysterfest.
Beach BBQ & Brews at Walnut Beach Resort, April 20
6pm
Tickets: $65
Held on the patio at Walnut Beach Resort, this BBQ-style buffet is a real crowd-pleaser. Hoist a few oysters and imbibe some of the South Okanagan's best brews, craft ciders and a signature Canadian Whisky cocktail. The BBQs will be manned by chefs from the following restaurants: Miradoro Restaurant, Walnut Beach Resort's Pointe 49 Kitchen & Bar, and Greenside Grill. Tickets available online, here.
Deep Sea Garden Party at Watermark Beach Resort, April 21
1pm
Tickets: $60 for adults; $25 for youth (one child under the age of 10 admitted free with each adult)
Held outside in the courtyard of Watermark Beach Resort, this informal shindig allows guests to sample culinary delights from under the sea and sip exceptional wine and beer from local wineries and craft breweries. Special guest Patrick McMurray, a former world champion oyster shucker known as "Shucker Paddy," will be shucking fresh oysters, courtesy of Codfathers Seafood Market, alongside Out Landish Shellfish Guild and Effingham Oysters. Roasted pork will also be available, courtesy of Chef Ross Derrick of The Table Café in Kelowna. A "Garden Market," will feature local vendors offering samples, as well as products for sale. Tickets available online, here.
Art of the Pearl Gala at Spirit Ridge Resort, April 21
6pm
Tickets: $95
This fun, social, grazing soirée is inspired by the ocean and its bounty. Guests will enjoy incredible oyster creations served up by local chefs, along with freshly shucked oysters and charcuterie offerings, paired with wine samples from the area's award-winning wineries. More than 10 Okanagan restaurants are participating, including: Backyard Farm, Black Sage Bistro (Desert Hills Estate Winery), Greenside Grill, Liquidity Bistro, Masala Bistro (Kismet Estate Winery), Mica Restaurant, Nk'Mip Cellars, and Watermark Beach Resort. More than 15 local wineries will be featured; with whisky and spirit samples offered as well. Guests are encouraged to come in nautical-themed costumes and vie for a "Best Dressed" trophy. Tickets available online, here.
Partner Events:
Long Table Dinner at Miradoro at Tinhorn Creek Winery, April 18
6:30pm
Tickets: $45
Enjoy a special evening, starting with freshly shucked oysters, followed by a three-course dinner dedicated to the oyster. Call 250.498.3742 for tickets.
Under the Tuscan Sea at Terrafina Restaurant at Hester Creek by Raudz, April 19
6:30pm
Tickets: $45
Terrafina Restaurant at Hester Creek by Raudz invites guests to sample pizza and oysters paired with spring releases from Hester Creek, along with tastings from the winery's "bubbly" neighbours. Call 250.498.2229 for tickets.
Tide to Table Seafood & Spirits at the Holiday Inn & Suites, April 21
3:30pm
Tickets: $62
The Holiday Inn & Suites has teamed up with Sol Grill Room & Lounge, Tumbleweed Spirits and Codfathers Seafood Market for a rustic seafood event featuring a variety of cooked and freshly shucked oysters, paired with locally sourced and made spirits, wine, and brews.
Amateur Shuck 'n Suck Competition at the Sage Pub, April 21
9pm
Registration: $15 per team
Come to compete or come to cheer as teams of two compete to win the coveted title of the Best Shuck 'n Suck Team in the Okanagan. One team member shucks while the other sucks back the oysters. Call 250.495.2322 to register.
Sunday Brunch at The Restaurant at Watermark Beach Resort, April 22
8am – 1pm
Finish off a food- and fun-filled weekend with Sunday brunch at the Restaurant at Watermark Beach Resort. Chef Adair Scott will prepare dynamic seafood-based features, including freshly shucked oysters, alongside the restaurant's regular brunch menu. Call 250.495.5508 for reservations.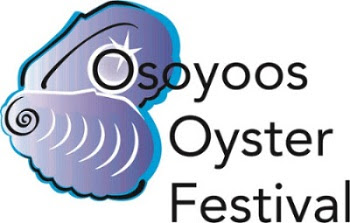 About Osoyoos
At the gateway to the Okanagan and Similkameen Valleys lies Canada's only desert, and the lakeside town of Osoyoos. A year-round destination, sunny Osoyoos offers something for everyone, including beaches, swimming, golfing, boating, fishing, wineries, fine dining and more. Visit destinationosoyoos.com.