Eve
Presents at the 61st Annual Grammy Awards
Los Angeles Sunday, February 10, 2019
Is stunning as she pairs her Ashi Couture dress with
Over 140 ct of White and Fancy Yellow Diamonds
By
Gismondi1754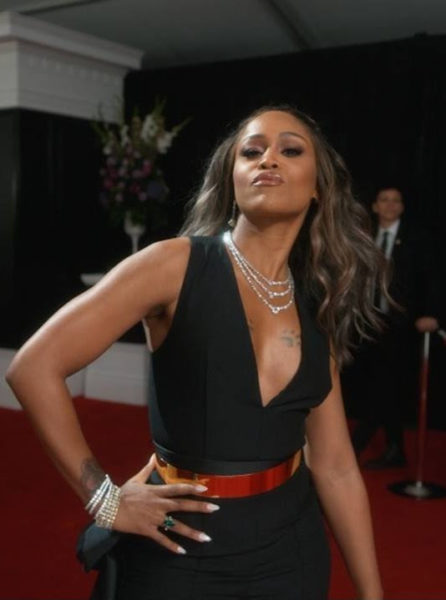 GISMONDI1754
 New Diva Collection
 Necklace, 110.2 Ct White Diamonds
Ghiaccio Collection
Three Tennis Bracelets
2 large white D color white diamonds / 1 Small D Color white diamonds
Solstizio Collection
Earrings, 20 ct Fancy Yellow Diamonds, 3.2 ct White Diamonds
Bracelet, 20 ct Fancy Yellow Diamond, 12 ct White Diamonds 
Rugiada Collection
Ring, 10 ct Emerald
Instagram: @Gismondi1754
Gown By: Ashi Couture @AshiStudio
Styled By: Jason Bolden @JasonBolden
About Gismondi 1754:
Seven Generations – One Passion. The excellence and expertise of the Genoa-based high-jewelry brand renowned for jewelry as art, Gismondi combines centuries of craftsmanship and rich history of design over seven generations. With meticulous attention to modernity and references to the artisans of the past, it is a perfect link; connecting the memory of the past and the radiant future. In Gismondi jewels, the manufacturing excellence of the family tradition combines beauty with passion and technology under the leadership of its youngest family descendent, Massimo Gismondi. Gismondi 1754 is sold in the US and globally at fine jewelers as well as in its signature stores in Portofino, Genoa, Capri, Milan, London, and St. Moritz.
http://www.gismondi1754.com
Instagram: @Gismondi1754
Twitter: @Gismondi1754
Media release and image provided by Jill Eisenstadt, bluPRint PR. credit jewelry to GISMONDI1754
Something is wrong.

Instagram token error.