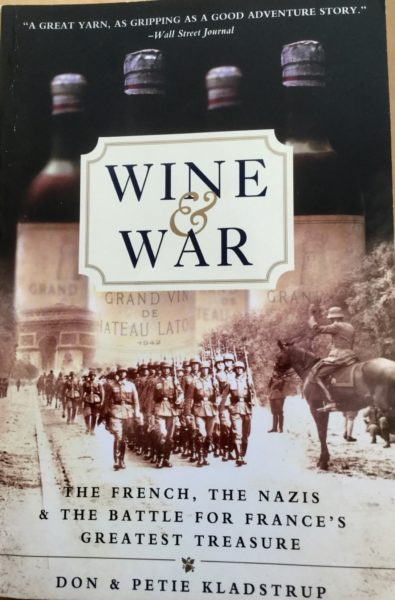 Wine and War
Don & Petie Kladstrup
2002
Broadway Books
290 pages
I received this book as a gift some time ago and only recently picked it up. I have some friends who are history buffs and would certainly have a deeper appreciation of the events in this book, but even with my somewhat adequate knowledge of World War Two, I really enjoyed this book.
Wine and War, as the title would suggest, shows the many ways the two were intertwined. In some cases, people who were acquaintances and business colleagues before the war, found themselves on opposite sides and torn in their loyalties. It would be fair to say that a love of wine and a desire that this commodity should not become a casualty simply for political reasons, played a major role in some people's decisions, which in many cases, could have cost them their lives.
Wine was seen both as a staple to be supplied to the fighting men on both sides and as a national treasure to be protected from plundering. This prompted those left behind to come up with ingenious ways to protect their wines, which in many cases was equated with the heart of French identity.
Some of the workers believed that there was a connection between war and the quality of the vintages. They adhered to the dictum that, "The Good Lord sends a poor wine crop when war starts and a fine, festive one to mark its end." That was certainly the case with WWII, as the 1939 and 1945 vintages can attest.
There were Frenchmen, who could, begrudgingly, accept when Germany took their country over and tried to live as normally as possible under the sometimes harsh, circumstances. But when the enemy messed with their wines, well, that was another matter, leading many of them into the Resistance. Others, such as poor families along the eastern border ended up with one son in the French army and another fighting for the Germans.
The book is really far more about wine and the many roles it played, directly and indirectly than it is about war, so virtually anyone will enjoy reading it. And as horrible and tragic as war is, it is fair to say that woven into it there are also funny stories as well as examples of comradeship and great compassion. It is common for those who return from fighting to remain silent about their experiences. For the interviews they conducted and for encouraging many to tell their stories before it was too late and the details lost forever, the Kladstrups are to be commended. Many of today's well-known French wine names have now had their stories told.
The book is well researched by husband and wife writing team of Don and Petie Kladstrup. It includes a glossary, notes and bibliography that can extend the study of interested readers.
(Photo – Sam Hauck)