After a long day at the office, there is nothing like a "miniature scavenger" to taste the delights of a few of Central Richmond's hidden gems. This event was mainly situated between Westminster Highway and River Rock Casino. Not everyone knows this but Richmond is food central. Sure, there isn't a large variety but some of my guilty pleasures are at it's best in Richmond.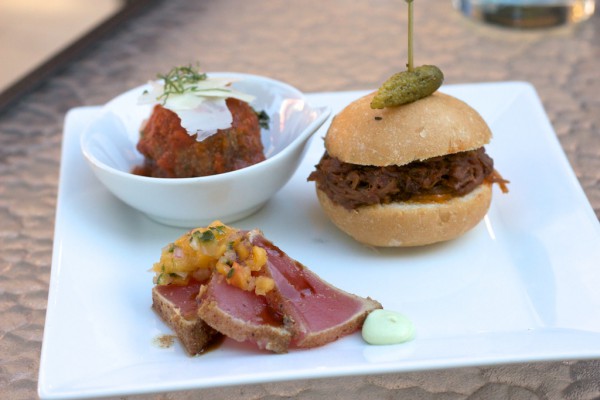 Being the first in line, my partner and I waited patiently at Harold's Bistro & Bar to be seated at the patio. With the extremely warm weather, we were greeted with a refreshing cup of on-tap Somersby Cider followed by speedy service of food. From the top: an Italian meatball topped with asiago cheese: dense with a great mix of fat and lean meat broken up by the strong asiago cheese. I'm not a major carnivore but if this meatball was part of a classic pasta dish, I'd be sold. To the right of the meatball we have a classic pulled pork slider. Smothered in a sweet and tangy BBQ sauce, the slider would satisfy your cravings. Although the bun and meat ratio was slightly off, I would have preferred a pulled pork that was smoked instead of braised. Needs more smoke rings. Finally we have a clean and fresh five-spice rubbed tuna tataki with papaya relish to round off the Harold's experience. The natural sweetness from the tuna brought out the spice combination while the papaya relish added a little bit of tanginess.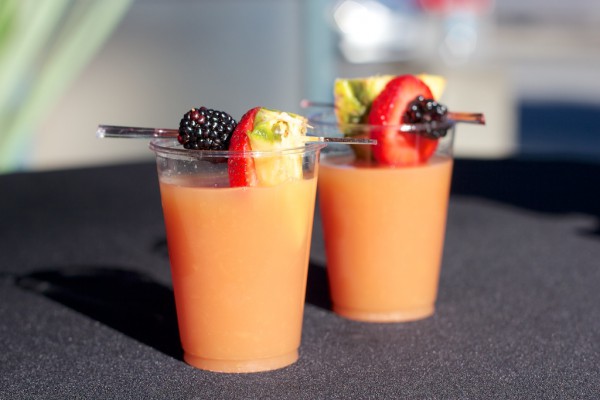 Finishing our plates, we decided to clear out quicker than usual so we made our way across the street to American Grille. Out on their patio, we were handed one of their summer drinks, Peach Breeze", where we opted the sans-alcohol version. As we sipped out candy-sweet peach-pineapple concoction, we picked up our plates at the serving table and took a seat. Personally, perfecting fish is not an easy task. American Grille's on the other hand was superb! Roasted BC halibut with a touch of salt and pepper along with a poached anjou pear and house-cured salmon gravlax on a stilton crumble savoury tart. Beside the fish there was a spaetzle corn succotash and a dollop of pea puree. Simple dish but fantastic results. The sweet texture of the corn along with the soft spaetzle accompanied the fish well. The tart was bold in flavour because of the stilton but had a hint of pear. I would've loved less stilton or a less powerful cheese but delicious to say the least.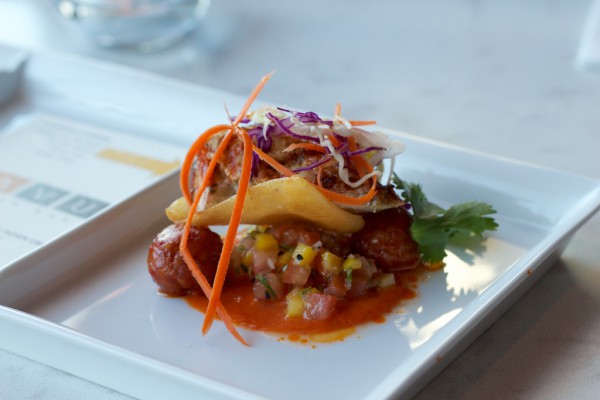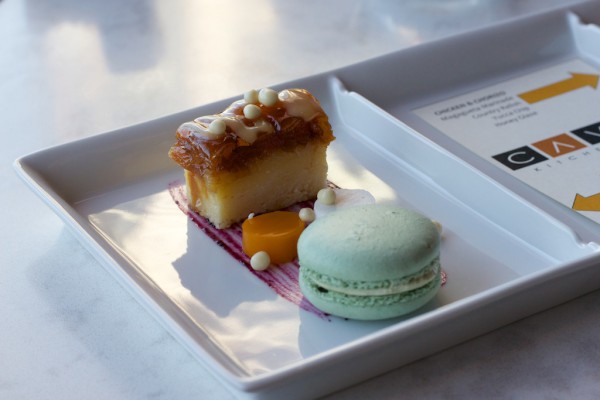 Turning the corner behind Harolds was Cavu, where the wait staff and manager greeted us with a palate cleanser and caesars. We opted to not take any alcohol but took our seat near the window. With electronic dance music pumping a little too loud, the venue filled up with quicker than expected. We were missed by the servers and saw others after us served before us. Simple mistake but a little disappointed. On our plate was a chicken and chorizo with malagueta country relish topped with yucca and honey glaze. For dessert on the other side, we were offered a pineapple upside down cake with dulce du leche and crispy pearls along with coconut and mango gels and a macaroon.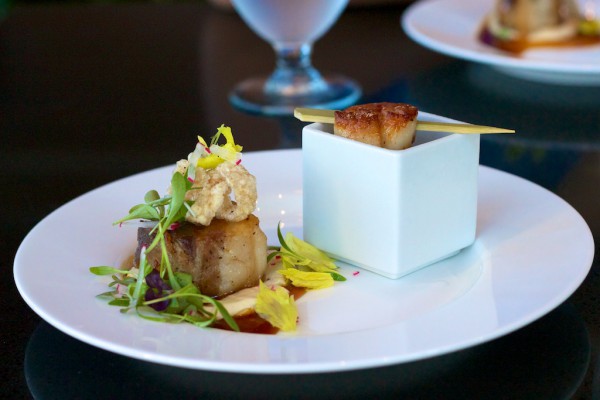 Since my partner and I didn't drive we decided to walk to the Westin, which was 30 minutes away, to allow our bodies to digest what we already had. Sunny and with a cool breeze we made our way to The Apron. It was a little confusing to get there but we made it and it was fantastic. The head chef was serving up two fantastic dishes. The tamarind seared scallop was fresh and the amazingly refreshing honeydew and calamansi gazpacho was like a dessert soup (in a great way). For the "main" a perfect sous vide pork belly with the right amount of fat and meat ratio along with parsnip and white chocolate whip and cider jus. I've never thought of white chocolate with parsnips before but it added the right amount of sweetness and didn't feel to heavy unlike its cream only counterpart. We had a chance to speak with the chef briefly and learned the process of the Gelderman Farms organic pork belly. What is fantastic about The Apron was their commitment to locally sourcing their produce and having it organic whenever possible. Their usual menus is all seasonal, based on local ingredients and has intrigued me to return for a regular meal.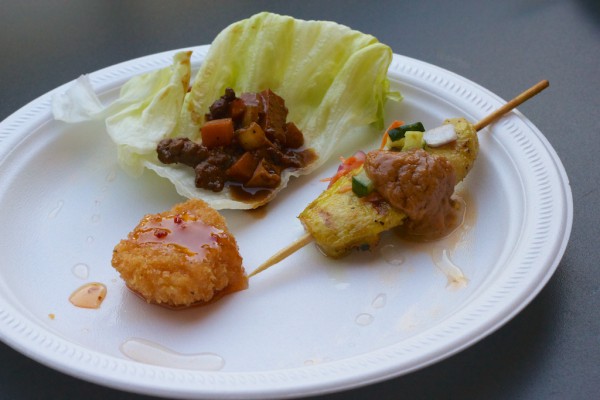 On the brink of being full and enjoying the beautiful Richmond sunset, we had a lovely 30 minute stroll towards our final locations. Thai House was the next stop and were offering small bites of chicken satay, shrimp cake, and beef lettuce wrap. It was sweet that some of their staff were dressed in traditional outfits from Thailand.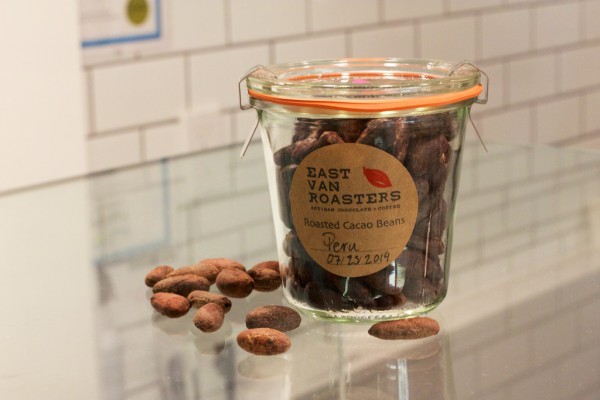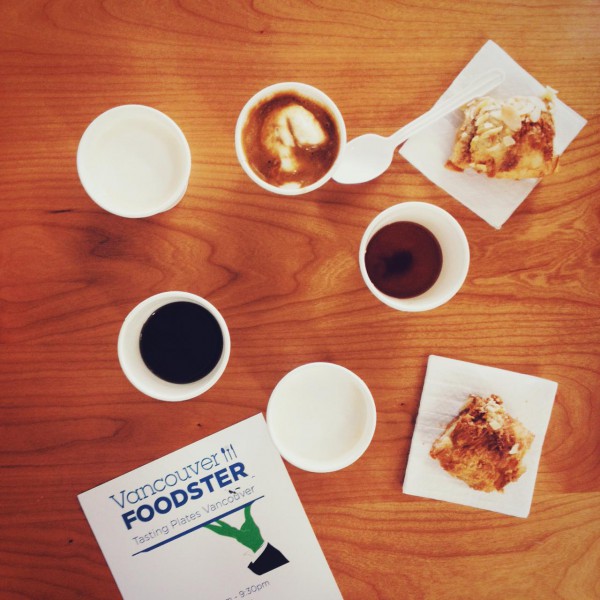 For dessert we took a few steps and reached Fresh Press Coffee. What used to be a small convenience store, the owner transformed it into a clean and elegant space serving up delicious East Van Roasters coffee and tea from responsibly sourced Justea. Fuelling a late night, there were samples of dark and medium pour over shots, fantastic affogato, a perfect london fog that wasn't too sweet or too watered down, and an almond croissant. This quaint little coffee shop is very much hidden but seems like a quiet enough spot to work away from the desk.
In comparison to the last Tasting Plates event I attended (Fraser edition), I found that variety wasn't quite the emphasis. I'm all for Canadian/americana cuisine but I like an authentic place rather than a hotel restaurant. Each restaurant had its variety but great food will always be great food.