Just as Vancouver slowly creeps out of winter, the sun remains just a little longer to show us that spring is near. As about 50 people queued in front of Graze on a cool Wednesday night, all of us were buzzing with excitement to begin our mini food adventure around the Kensington-Cedar Cottage neighbourhood (specifically centered on Fraser street from 28th Avenue Northbound to Kingsway).
Vancouver Foodster hosted yet another successful Tasting Plates Vancouver event that introduces foodies to local eateries that may fly past our radar. It was a great chance to meet new friends, chefs and take the evening to leisurely stroll through the neighbourhood to each participating restaurant.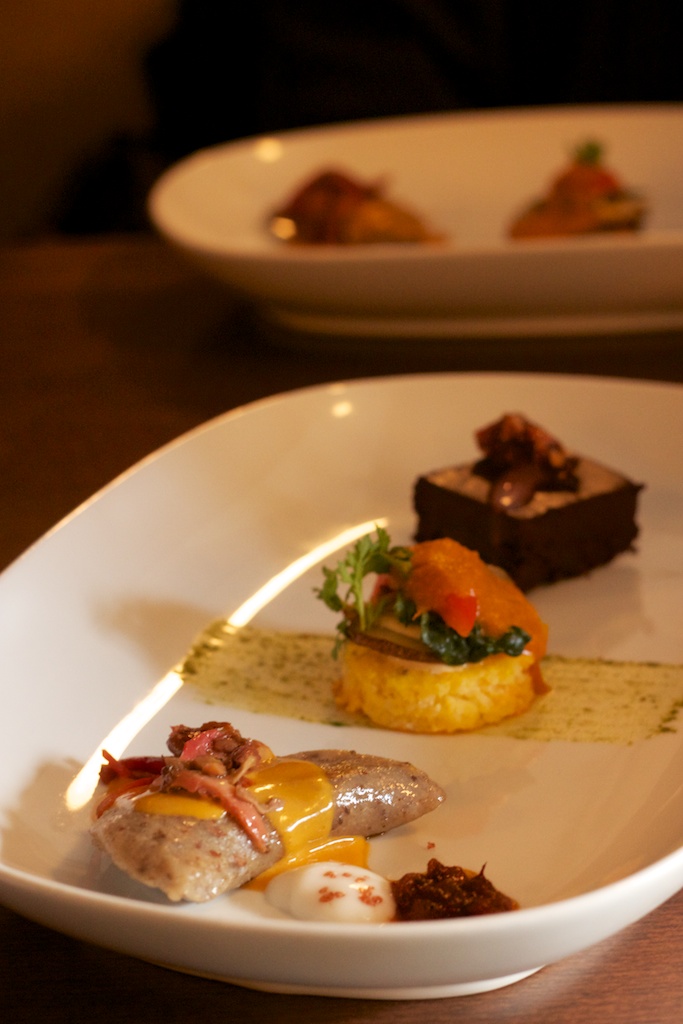 My evening began at Graze where my partner and I were served a beautifully arranged trio of vegetarian bites. From the bottom: their gluten free yam and eggplant perogy with coconut cheddar sauce, shallot confit, oyster mushroom, and pickled beet shred was creamy and had an amazing smoky flavour to it, which felt very homey and traditional. In the middle there was a very clean flavoured roasted vegetable strata with cashew cream and a tomato sauce that provided a little bit of a kick to the bite. Ending with their own dessert, there was a gluten free chocolate torte with raspberry rose cream that was decadent and provided a nice crunch at the base of the little torte. As I gleefully nibbled on my food I glanced over at my partner, the dedicated carnivore, who seemed to enjoy each bite Graze had to offer. That's when you know they've done an amazing job and shows us there doesn't have to be meat in every bite.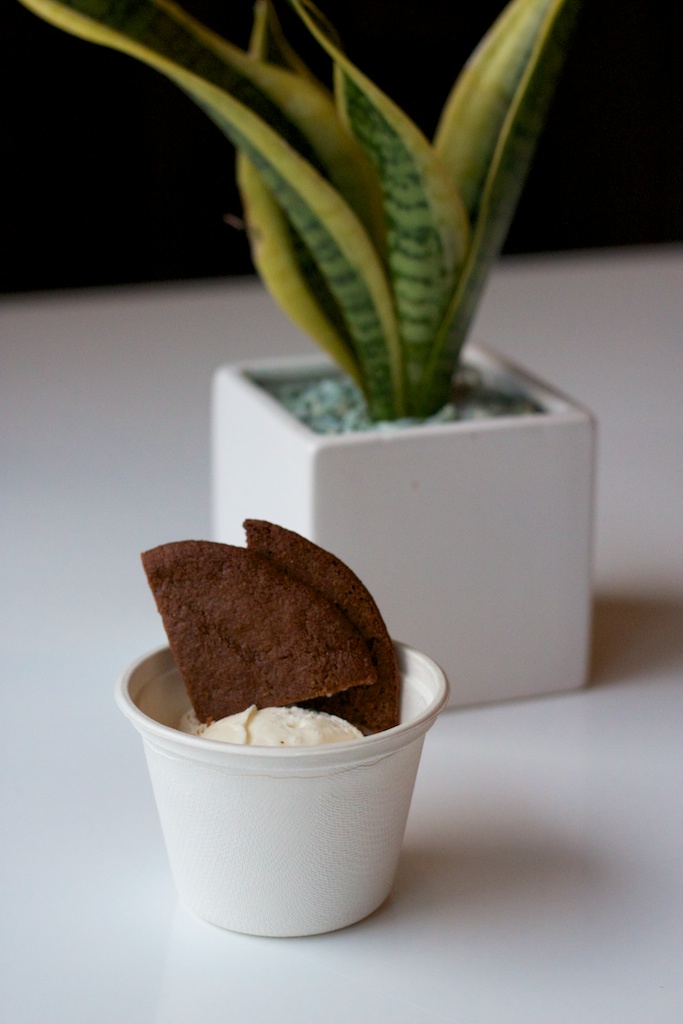 As more people began to trickle in, we ventured next door to Earnest Ice Cream for a spot of their delicious Tahitian vanilla ice cream that was topped with their house made gluten free ginger snaps. This may sound a little vanilla but it is one of my favourite flavours that Earnest offers (yes, awful pun intended). First seen at the local summer farmers market, Earnest has come a long way from being sold at Woodland Smoke House to having their own store front. How can you resist house made gourmet ice cream like London Fog or Whiskey Hazelnut that comes in reusable jars?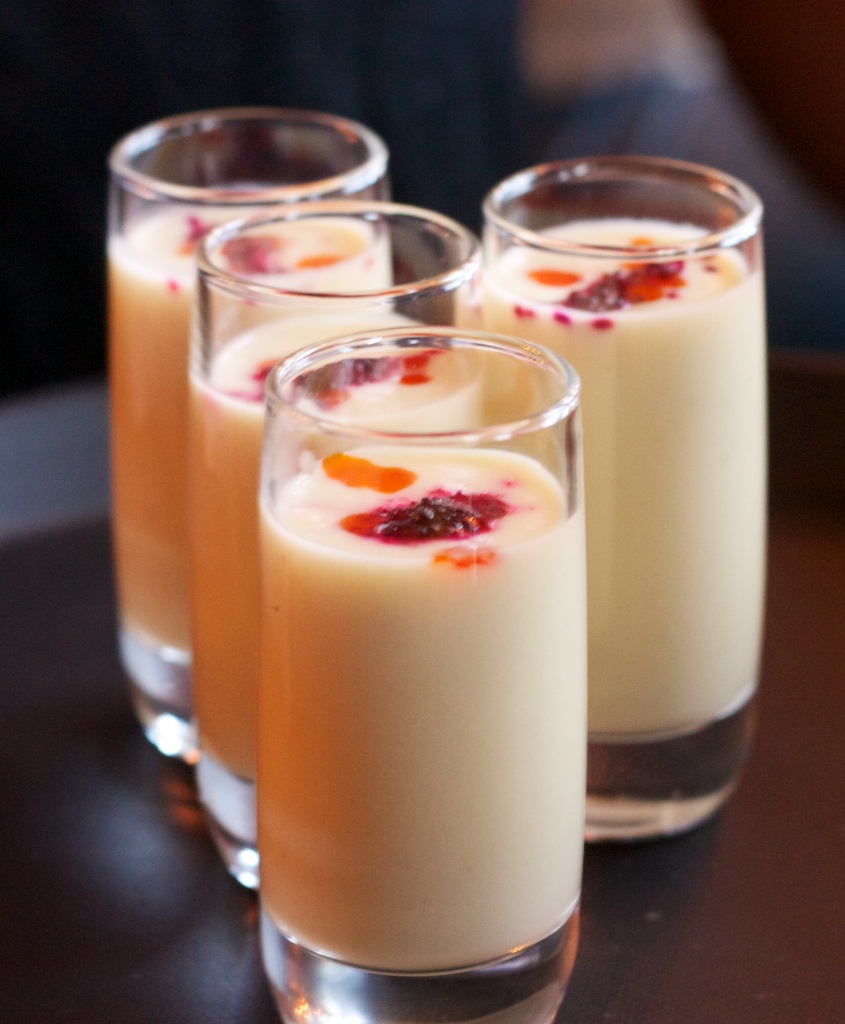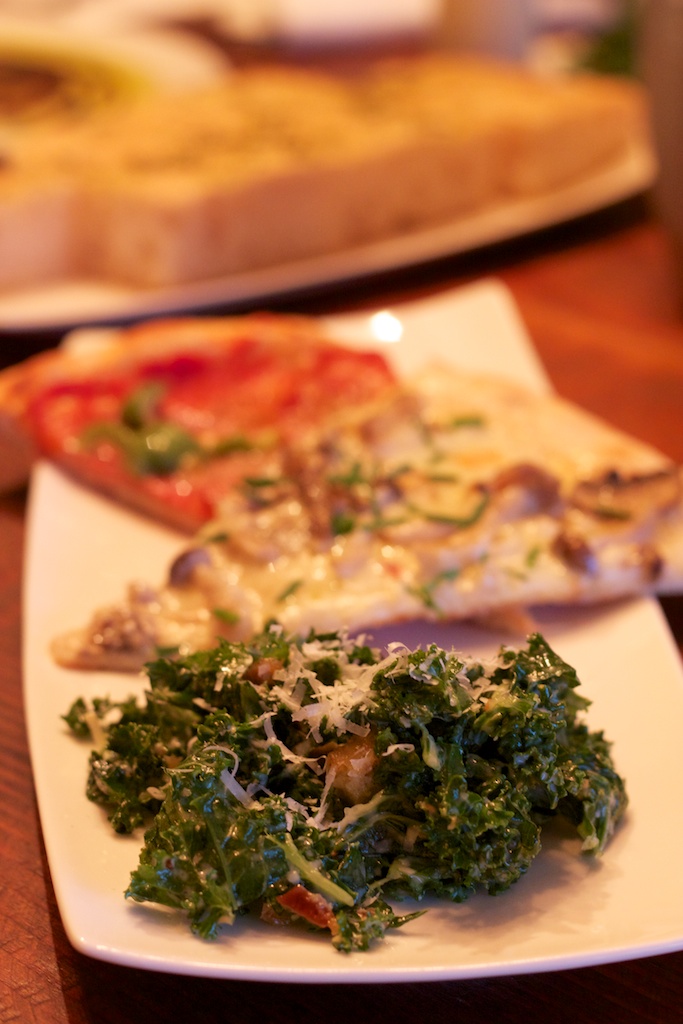 Taking our ice cream to go, we wandered 4 blocks to the cozy hole in the wall that is Pizza Carano. Instantly we are greeted by a gentleman who served us a warm shot of cauliflower soup that had a dash of chilli. On top of that, as we waited in line for the slices of pizza, strategically placed throughout the restaurant were plates of rosemary rock salt foccacia and your traditional Italian mix of olive oil and balsamic vinegar. As we neared the counter, the staff we hard at work making fresh non-traditional neopolitan-style pizza for the guests. We were given a plate with a funghi pizza slice, a smoked sopressata slice, and a side of kale caesar salad. I have always been a huge fan of funghi pizza and Carano's was exceptional. The thin crust held up very well with the mix of earthy mushrooms while their smoked sopressata was mild and had a lovely finish with the smoked green castelvetrano olives.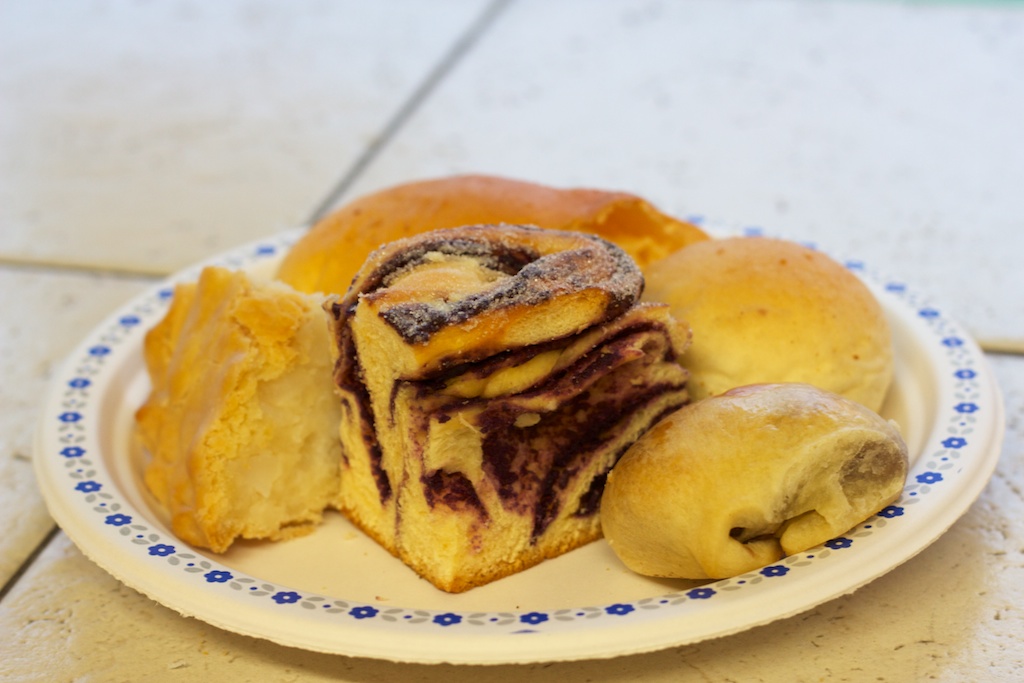 Not wanting to take up what little space Carano's had, we took 5 steps next door and took our treats to go from Merienda Bakeshop. Don't let their florescent lights and old school drink cooler fool you because if you've grown up with any kind of asian bakery, you can tell they're amazing with just how their bakery smells. I'm a sucker for Pan de Sal, the sweet Filipino sister of the common dinner roll, and buko pie (coconut cream pie). On top of that we also had hopis mongo (red bean pastry), ube loaf (purple yam loaf), and Spanish bread. We couldn't eat all of it but it's going to be the highlight of today's tea time!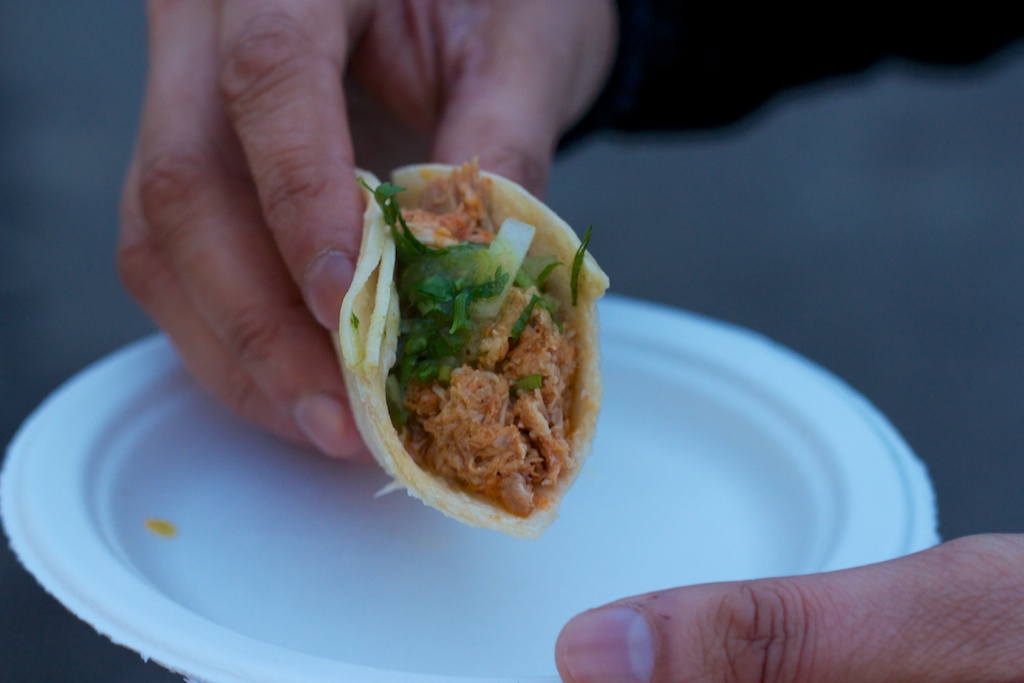 Surprisingly, my partner and I were stuffed but we still had 3 stops left on our adventure. We ventured to Sal y Limon, where were greeted with jolly staff who offered us a taco. We had to go for the meat options, which were pulled pork and chicken pibli. Tender, spicy and delectable, definitely a fantastic taco shop in my neighbourhood.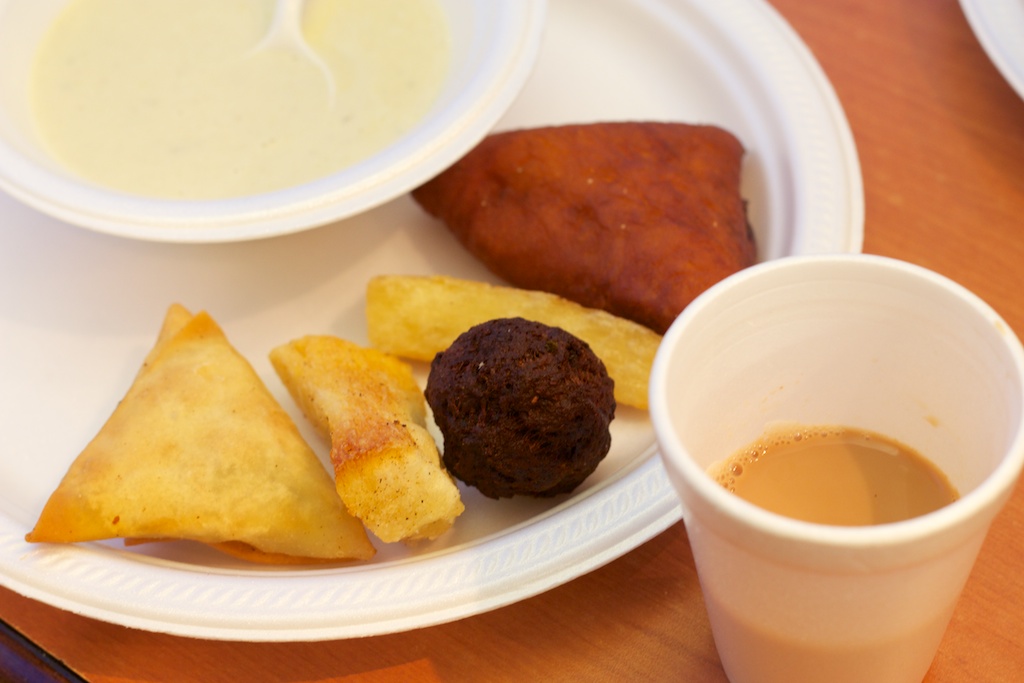 3 blocks away was Kilimanjaro Snack House where Bollywood was playing on their television and people were waiting for their East African and Indian treats.With our hot chai in hand, we were given a plate that consisted of something called Barazi and Mandazi (East African Pigeon Pea curry with coconut milk) served with a deliciously fried cardamom doughnut, fried beef kebab, small beef samosa, and fried cassava. These are definitely very foreign flavours to me because I grew up not liking spices and never had a chance to eat Indian food let alone East African cuisine. Thank goodness for my partner's expertise because he grew up with similar foods and according to him, it is very homey and authentic. The cardamom in the doughnut, the mild sweetness in the cassava and the mix of herbs in the beef kebabs had flavours like nothing else I've had before. Thanks to this event, I was able to experience something I wouldn't usually have chosen.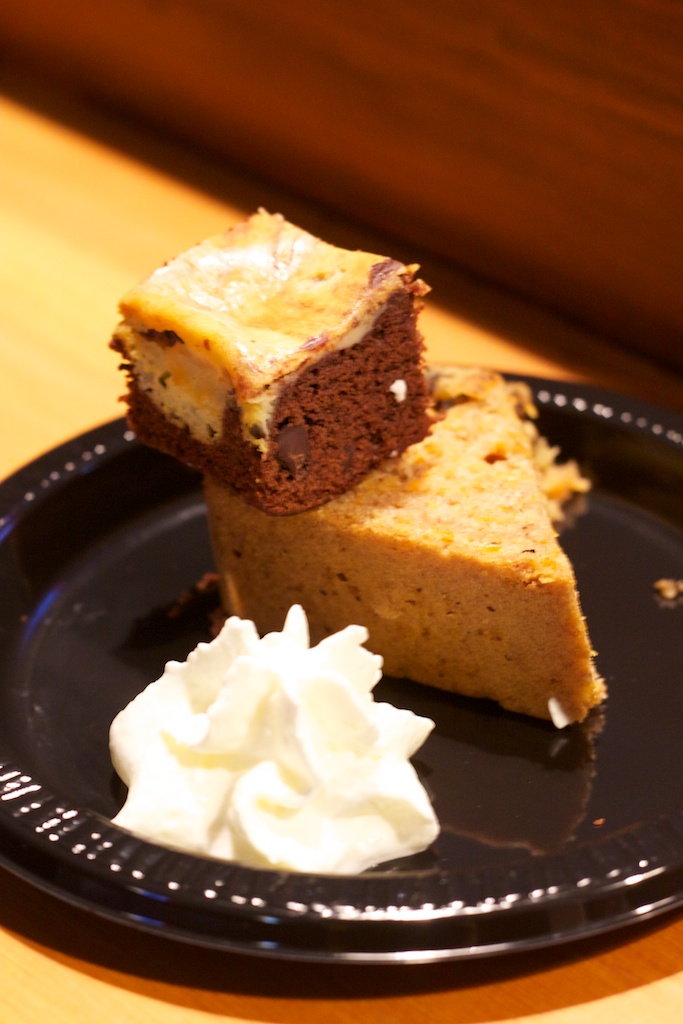 Finally we ended our night with a hot cup of Elysian Rio Chiquito coffee and more dessert from the newly opened Tiger Drink House. A small cafe with a great atmosphere, it would be the idea location for an evening cup of joe with great company. Accompanying our coffee were two delicious cakes: cream cheese brownie and a light piece of their famous carrot walnut cinnamon loaf. Neither one too sweet and a perfect match for the bold coffee that Tigers offered.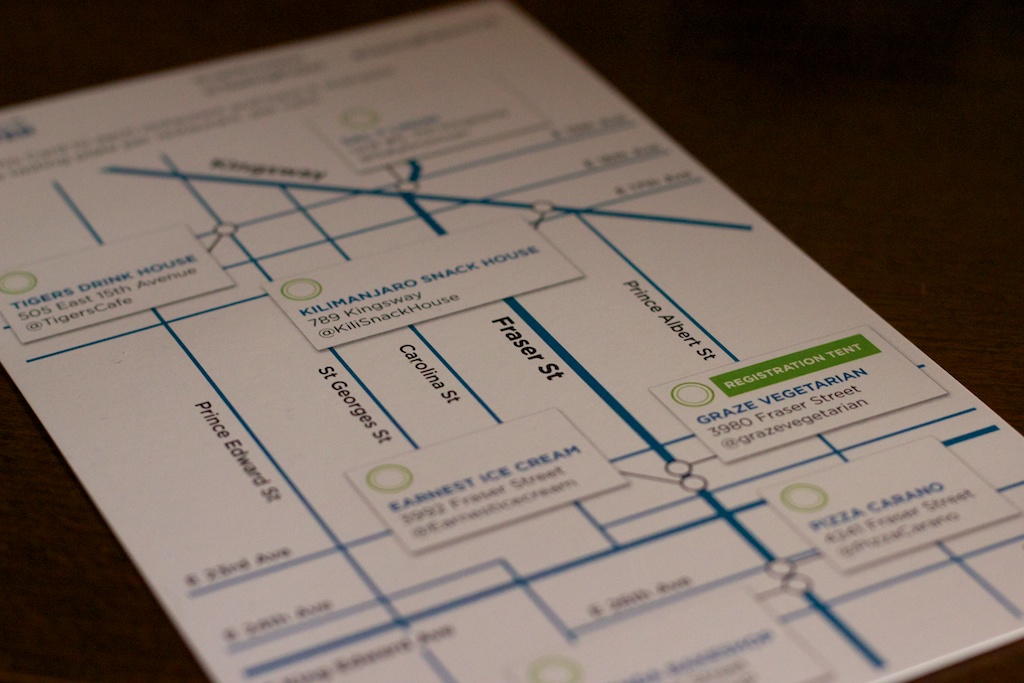 As this was my first time taking part in Tasting Plates YVR, it is the perfect way to experience new locations without taking too much commitment to a full meal.