The sun was shining for us on this beautiful early autumn evening and it set the perfect backdrop for Vancouver Foodster's Tasting Plates Vegetarian Edition event.  This was the first time an all vegetarian Tasting Plates tour had been offered.
The event participants met outside the first venue, Living Produce Aisle, which is conveniently located just meters from the Yaletown-Brighouse station on the SkyTrain's Canada Line.  The mood was festive and friendly as those of us who arrived early socialized with one another.  Richard Wolak, the man behind the Tasting Plates events, invited us in to receive our passports and participating restaurant sample menus.
The staff at Living Produce Aisle escorted us past the kitchen and through a hall lined with fridges full of different types of sprouts and trays of wheatgrass.  Hidden in the back of the venue there is a small seating area with benches and tables.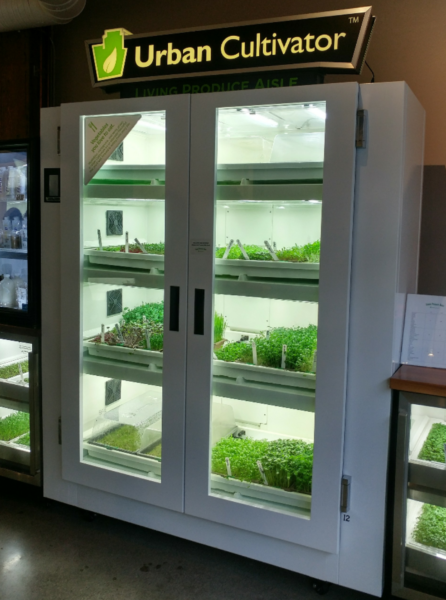 The samples were beautifully laid out for us, like food art.  These samples included a shot of wheatgrass, a microgreens salad, and a peanut butter and jam smoothie bowl.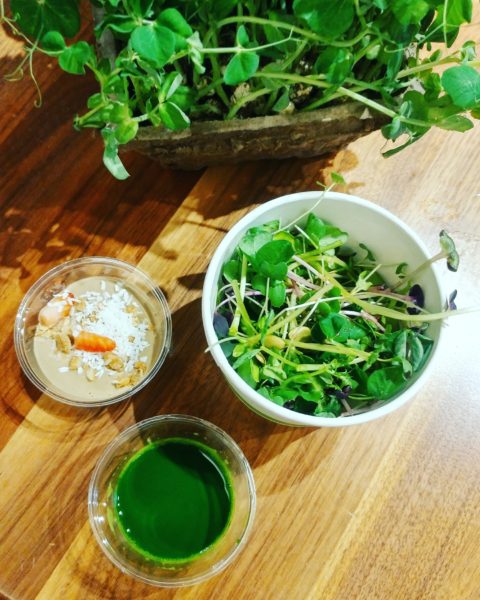 Wheatgrass is an acquired taste, but having some experience with it, I quite enjoyed the fresh earthy flavour.  The microgreens salad included a mix of pea shoots, sunflower sprouts, purple radish and broccoli microgreens with pumpkin seeds and cranberries.  It was dressed with a balsamic, honey and olive vinaigrette.  Everyone in the room commented how much they enjoyed the salad as it was delicate on the taste buds and had just the right amount of dressing.  The sweet ending to our time at Living Produce Aisle was the smoothie bowl sample.  It tasted like a cookie, or a peanut butter and jam sandwich.  You would never guess it was made with pea shoots and broccoli microgreens.  With the use of chocolate protein powder, almond milk and Erin Ireland's powerball crumble topping along with fresh strawberry slices, and coconut flakes, it left the tasters unaware of the sprouts and microgreens inside.
Next, we decided to head to the farthest point on the map.  After a fifteen minute walk along Davie Street, we arrived at Davie Dosa Company.  Their retractable wall in the front gives an open air quality to the restaurant located at 1235 Davie Street.
Here we were treated to a South Indian plate that was vegan, gluten free and nut free! The plate was a full meal, rather than just a sampling of their delicious food.  It included an Idly, which is a mild tasting rice and lentil steamed cake; Medhu Vada, which looked like a donut, only it is savoury, not sweet, with a hint of star anise.  The texture was crispy on the outside with a soft center.  Next we tried the traditional Masala Dosa which is a spiced potato filled rice and lentil crepe.  The crepe was crispier than expected but balanced well with the smooth spicy potato filling.  The Sambhar, or vegetable and lentil soup, was piping hot, spicy and full of flavour.  On the side were samples of their coconut chutney and tomato ginger chutney.  The coconut chutney was the milder of the two with a texture not unlike fresh horseradish.  The tomato ginger chutney was spicier and had a smoother consistency.  The staff at Davie Dosa Company were very attentive and passionate about their food.  We enjoyed the ambience as well with the ornate décor and traditional music playing.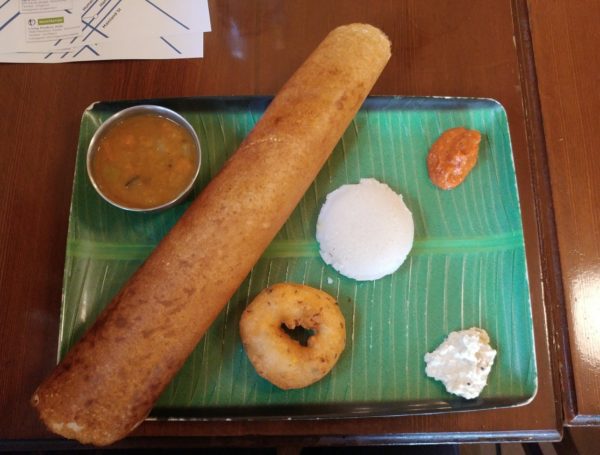 We then made our way back to Saj & Co. located at 813 Davie Street.  It is a smaller venue with seating for about fifteen inside and six outside.  The staff was extremely busy, but polite and attentive.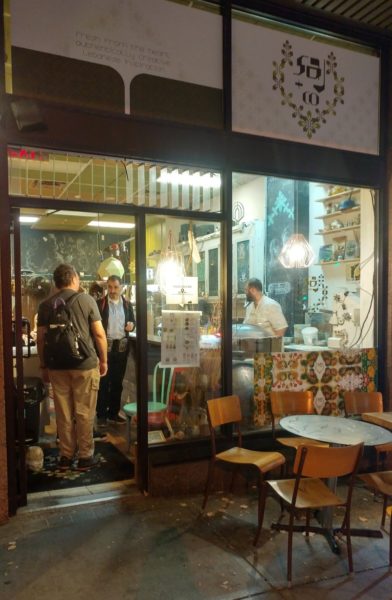 Their Middle Eastern food plate was an entire dinner and full of so many different flavours.  The bright orange ginger squash hummus tasted incredible.  The ginger was not overpowering and the texture was smooth on the tongue.  The traditional hummus has forever ruined me to any store bought equivalent, it had the perfect consistency and flavour with tahini undertones and lemony chickpeas.  Inside the whole wheat wrap was a tasty salad of wilted greens, cucumber, tomato, sesame seeds and spices with a light dressing.  Finally the chickpea labneh with wilted greens would fill even the hungriest of customers.  Two more restaurants to go on our tour and we weren't sure how we could eat any more!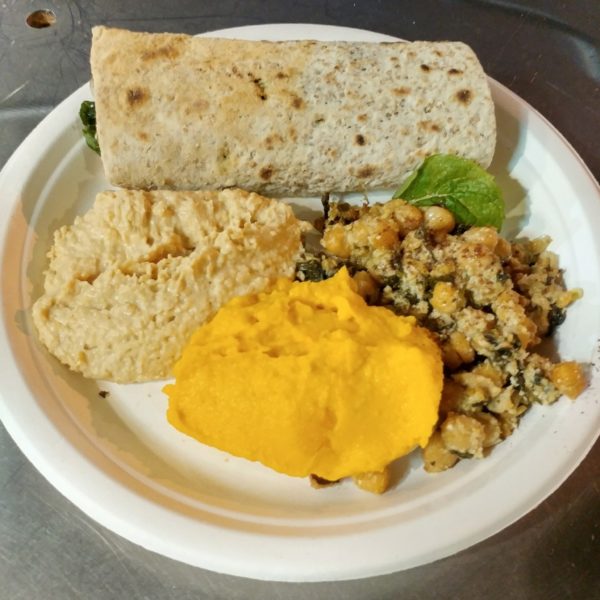 On to La Cantina Tacos, and the venue was not what I expected at all.  Located on Nelson Street, between Howe and Granville, it stands out with its bright neon lights and décor.  When you walk in, it feels like you're late to the party, and it's already in full swing.  The festive music played loudly, the staff helped customers with plenty of enthusiasm, and did I mention the décor?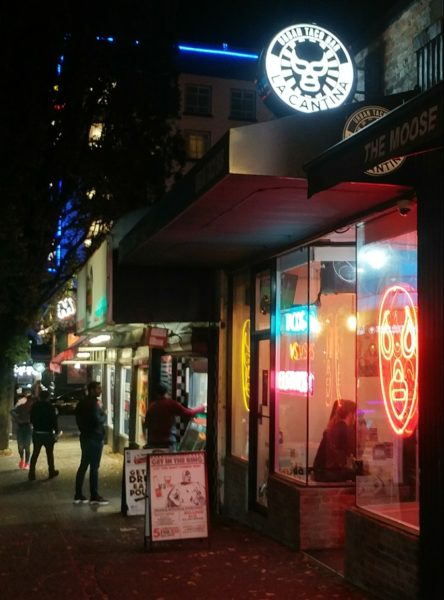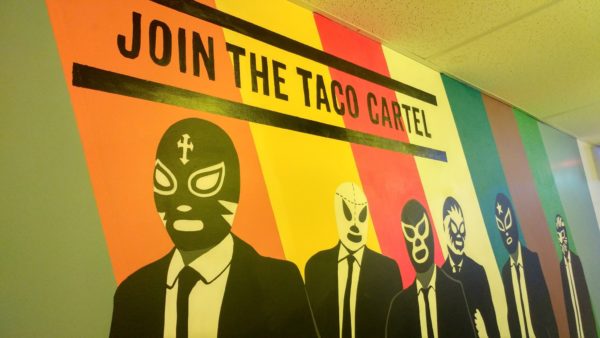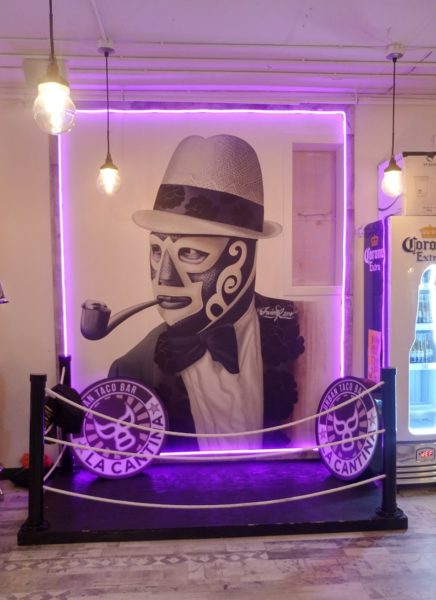 The food matched the energy we felt walking into the place; it was full of flavour and there were many options to choose from including vegetarian and vegan.  I tried the Jackfruit mole and tofu tacos.  The traditional corn tacos were doubled up so they could hold all the filling inside of them! The jackfruit mole taco had a spicy chocolate flavour and the jackfruit texture was almost meat-like in its consistency.  The tofu taco had a slightly cheesy taste as it was fried with nutritional yeast, along with fresh toppings of tomato and celery to add crunch, flavour and texture.  I loved how they plated their food with a newspaper-like page underneath the tacos.
We chose to visit Firecrust Neapolitan Pizzeria last on our tour and we were thankful they had pizza boxes so we could take our pizzas to go.  This was the largest venue on our tour and it is quite popular with the downtown crowd.  The welcoming staff makes your pizza to order.
Gluten free, vegetarian and even vegan cheese and "meats" are offered along with other pizza topping staples. They beat and roll out the dough, then slather on the sauce and toppings you request, and pop it into the forno where it cooks in only two minutes.  The Firecrust oven is a whopping 900 degrees fahrenheit!  It all makes for a delicious final product that has a crisp crust and perfectly cooked toppings.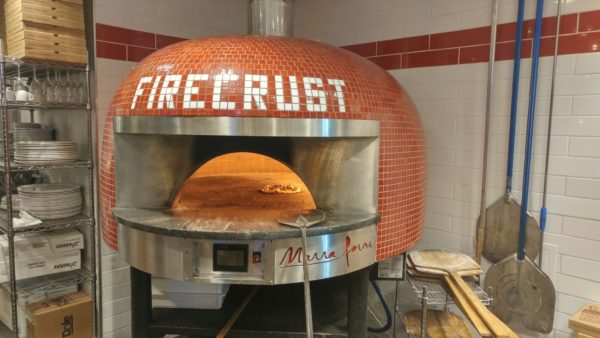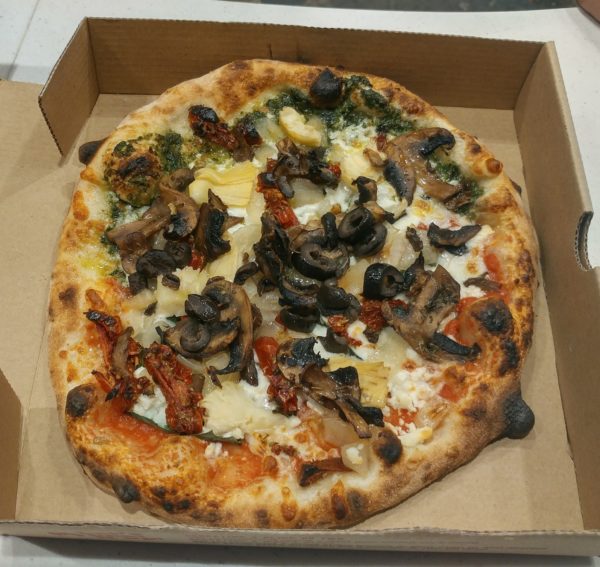 Four hours was the perfect amount of time to walk to, and truly enjoy each of the participating restaurants.  Once we had our pizza boxes to go, we headed to the SkyTrain to make our way home.  Our friends' take home from Saj & Co. along with our pizza smells wafting in the air made for great conversation with others on the train.  I am sure they are now all interested in joining the next Tasting Plates adventure, will you?
Vancouver Foodster, a.k.a. Richard Wolak's next Tasting Plates event is Tasting Plates Gastown on October 24th, you can get your tickets here. Be sure to pick them up soon, as early bird pricing is in effect until October 14th.