OHANA EATS, ISLAND VIBES
Hawaiian-inspired Greasy Spoon Vol. 38 features Royal Dinette's Eva Chin, Claire Saksun, and Savio Volpe's Melanie Witt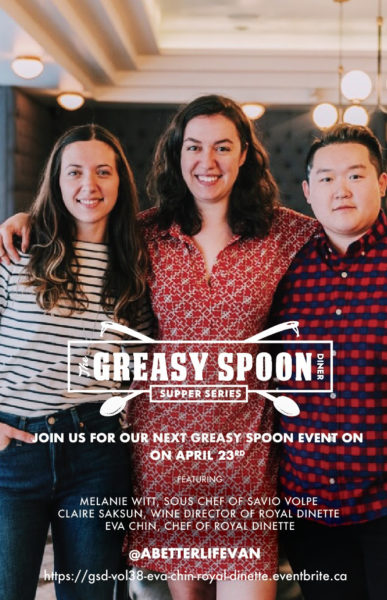 Get ready for a Hawaiian lūʻau feast on Monday, April 23, 2018 as Royal Dinette's executive chef Eva Chin, wine director Claire Saksun, and Savio Volpe's sous chef Melanie Witt team up to present an island vibes-inspired volume 38 of The Greasy Spoon Supper Series Diner (43 West Hastings Street), benefiting A Better Life Foundation. The four-course, family-style menu features Hawaiian dishes based on Chin's childhood memories interpreted with Witt.
"Greasy Spoon is a wonderful concept, and I'm thrilled we can participate with this meaningful collaboration," says Chin, who is originally from Hawaii. "I love the communal ohanafeel of these dinners. The reason we are bringing the lūʻau concept to Greasy Spoon is because lūʻau parties were originally created to celebrate the first time women were allowed to eat at the same table as men back in historical Hawaii. It was a momentous occasion and definitely fitting for our dinner. The Hawaiian spirit really does complement Vancouver's laid-back West Coast energy. We can't wait for guests to rejoice and enjoy with us."
aha
'
aina
(to gather for a meal)
Lomi sweet onion salad, smoked salmon roe, pão doce
Bella 'Orchard House' Pet Nat Chardonnay, Naramata, BC
Kona Coast Kanpachi, fermented pineapple, tonnato, fresh herbs
Strange Fellows Tepache Shandy Cocktail
Poi bravas, aioli, 'inamona
Blue Hawaiian Cocktail
Laulau Pork, mochi rice, coconut shrub
SOAHC Biodynamic Riesling, Fruitvale, BC
Shaved Ice, liliko'i, lime leaf jelly, salted haupia ice cream
Kauai Coffee Cocktail
"We're excited to have Eva, Melanie, and Claire to lead the fourth Greasy Spoon of 2018. This year we're focused on featuring chefs who happen to be female and Eva is one of the best. We have yet to have a Hawaiian-theme at the Greasy Spoon and who better to bring this than Eva from her hometown to ours,"
says Ash MacLeod, Managing Director of Save On Meats and A Better Life Foundation.
Ingredients are generously donated by Blue Ocean Mariculture, Cioffi's Meat Market & Deli, Cropthorne Farm, and Fresh Ideas Start Here. Beverage pairings are generously provided by Bella Wines, SOAHC Estate Wines, and Strange Fellows Brewing.
Guests can choose either an early or late seating – 5 p.m. to 7:30 p.m. or 8 p.m. to 10 p.m.Limited tickets are available for $95 per person, plus tax and Eventbrite service fees. To pre-book a seat, please visit greasyspoondiner.com or EventBrite.
For more information about Royal Dinette, please visit www.royaldinette.ca.
About The Greasy Spoon Supper Series Diner
Inviting some the best chefs in the world to cook at Save On Meats, we collaborate to create a monthly four-course fine dining, diner experience. Chefs trade in their tweezers for tongs, creating four courses inspired by diner food. The meal is paired with cocktails made and serviced by award-winning bartenders, as well as craft beer and wine.
In partnership with A Better Life Foundation, Greasy Spoon events take an innovative and sustainable approach to reducing the barriers of food accessibility and security for women and children fleeing violence, street-entrenched youth and those on assisted living. Every time you buy a ticket, every time you make a donation, it employs and supplies hot, nutritious meals to members of our community. www.greasyspoondiner.com
About Royal Dinette
Located in the heart of downtown Vancouver, Royal Dinette focuses on bringing together the best fresh, locally sourced ingredients for a true farm-to-table feast for the senses. Executive chef Eva Chin practices mindful cooking and her inventive-style with a modern American flare pairs well with wine director Claire Saksun's ever-evolving wine list and bar manager Kaitlyn Stewart's handcrafted cocktails.
905 Dunsmuir Street | 604-974-8077 | www.royaldinette.ca
Instagram: @royaldinette | Twitter: @royaldinette | Facebook: /royaldinette
About A Better Life Foundation
A Better Life Foundation operates in Vancouver's Downtown Eastside to increase food security for women and children fleeing violence, street entrenched youth and folks living well below the poverty line by providing meals, training and employment opportunities. At its core, ABLF funds a daily meal program that provides a nutritious, delicious and hot meal to approximately 1,000 Vancouverites, 365 days a year. www.abetterlifefoundation.ca