Root Vegetable Torte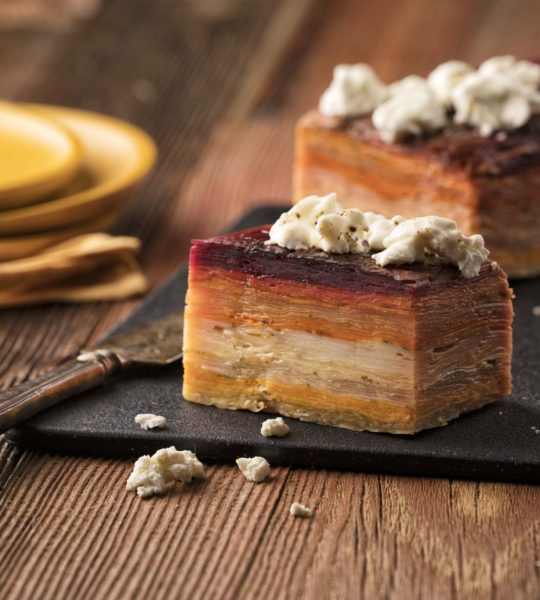 Serves 4 to 6
Ingredients
Cooking spray
2 large carrots, thinly sliced
3 cloves garlic, finely chopped
3 large shallots, thinly sliced
1/2 cup shredded Parmigiano-Reggiano or cheese of your choice
1 cup whipping (35%) cream or vegetable stock
1/4 chopped mixed herbs
Sea salt and coarsely ground black pepper
1 medium rutabaga, thinly sliced
2 medium white turnips, thinly sliced
6 medium sunchokes, thinly sliced (optional)
1 small celery root, thinly sliced
2 medium parsnips, thinly sliced
2 medium russet potatoes, thinly sliced
2 large red and/or gold beets, thinly sliced
3 oz mild chèvre (I like Happy Days Dairy's chèvre), crumbled, or ricotta cheese
First – Preheat oven to 400 F. Spray an 8 inch square casserole dish (or tart pan) with cooking spray. (Alternatively, line it with parchment paper)
Layer the carrots in the bottom of the dish. Sprinkle with a little garlic, shallots, Parmigiano-Reggiano, cream (or stock), herbs, salt, and pepper. Repeat with the rutabaga, turnips, sunchokes, and all the remaining vegetables.
Sprinkle the goat cheese (or ricotta) on top and cover loosely with fhoil. Put the dish on a baking sheet and back for 50 to 60 minutes or until the centre of the torte feels tender when a fork is inserted. Remove from oven and let stand.
To Serve – Serve the torte directly from the pan.
Note: This torte can be prepared the day before and chilled – simply reheat at 350 F or you can slice off individual portions and reheat.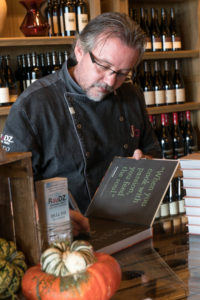 "This dish goes all the way back to my days working at the Chateau Whistler. It's a delicious way to pack all those winter root veggies into a single dish, and it's a long-time signature dish of mine. Alternating different colours of vegetables produces the greatest effect – a mandolin is an essential tool for making thin slices." Chef Rod Butters
For more wonderful recipes just like this one we recommend one of our #FavouriteThings: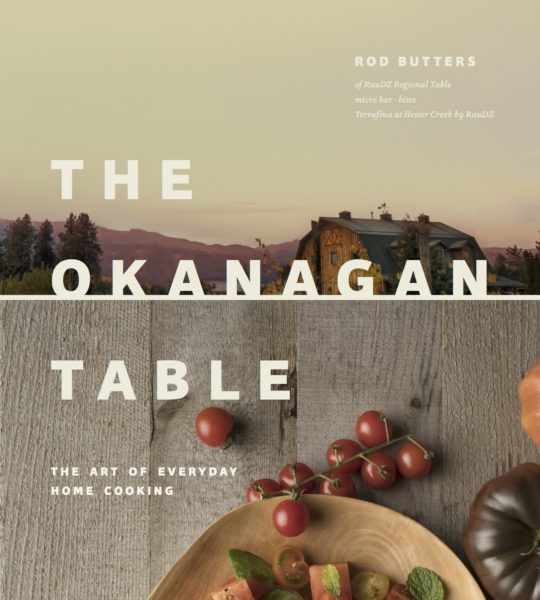 Pick up your signed copy of 'The Okanagan Table – The Art of Everyday Home Cooking' from Chef Rod Butters at RauDZ Regional Table, micro bar • bites and Terrafina at Hester Creek by RauDZ.  Tuck in a gift certificate for a night out at any of these restaurants or a bottle of the Blackberry Ketchup served at RauDZ or a house made mustard.  All our preserves are handmade by the culinary team at RauDZ Regional Table.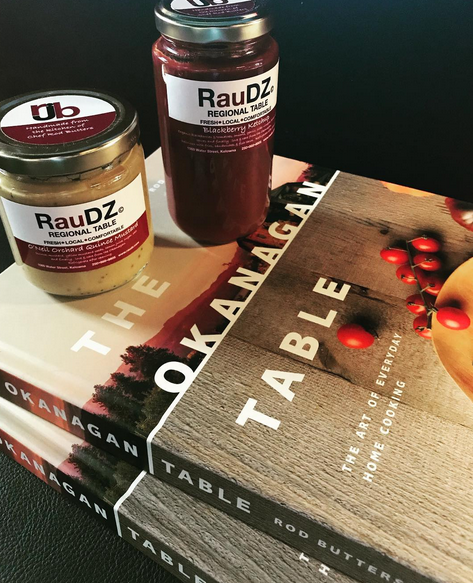 You can also order signed copies of the book from the cookbook website www.chefrodbutters.com
In case you missed it here is a link to the Oat Crusted Arctic Char recipe and the Braised Beets and Crumbled Chèvre recipe courtesy of Chef Rod Butters and featured in The Okanagan Table cookbook.