When you're camping and you catch a fish, chances are good you've got
oats or corn flakes or some kind of crunchy cereal on hand. I call this a red neck camp  dish. My customers think there's a big secret to making this dish, but it's one of my simplest menu items and our number-one seller.
Oat-Crusted Arctic Char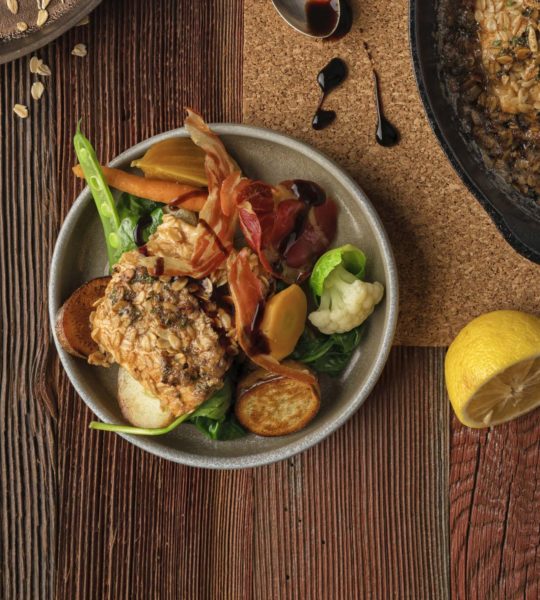 Serves 2
INGREDIENTS
2 slices of pancetta
1 tbsp grapeseed oil
2 (5 to 6 oz) pieces skinless Arctic char (see note)
Sea salt and coarsely ground black pepper
1/3 cup steel-cut or rolled oats
2 tbsp olive oil
4 tbsp unsalted butter
Juice of 1 lemon
2 tbsp maple syrup
1 tbsp chopped parsley
1 tsp chopped chives
Balsamic reduction, for drizzling
Cooked nugget potatoes, wilted spinach and season vegetables to serve
First Heat a small skillet over medium heat, add the pancetta, and cook for 5 minutes. Flip over and cook for another 5 minutes until browned and crispy. Set aside.
Heat a skillet over medium-high heat. Rub the grapeseed oil on the char and season with set and pepper. Press the oats onto both sides of the fish, until coated. Add the olive oil and butter to the hot pan, add the char, and cook for 3 to 4 minutes, until golden brown. Flip over and cook for another 2 to 4 minutes, or until cooked through. Transfer the char to w plates.
Continue to heat the butter mixture in the pan over medium-high heat until it begins to brown. Add the lemon juice, maple syrup parsley, and chives and mix well.
To Serve Pour the sauce over the cooked char. Garchis with pancetta,, drizzle with balsamic reduction, and serve with potatoes, wilted spinach, and seasonal vegetables.
Note: This recipe can be adapted to use thinly pounded chicken breast or boneless pork loin instead of Arctic char.
Liquidity Wines 2015 Viognier Okanagan Falls – Earthy spice with fresh acidity and savoury notes
For more wonderful recipes just like this one we recommend one of our #FavouriteThings: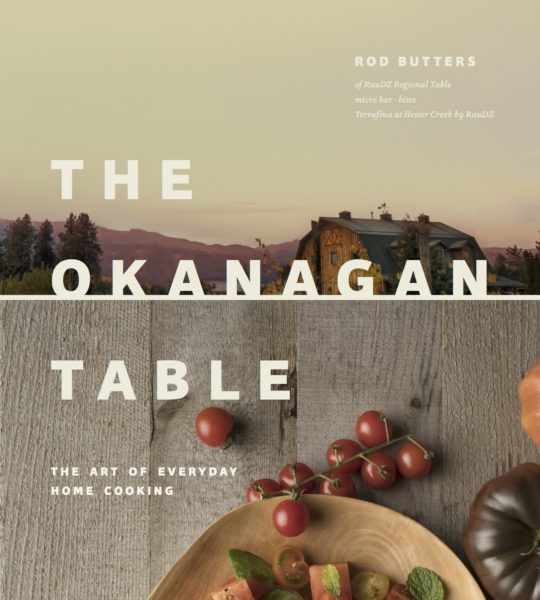 Pick up your signed copy of 'The Okanagan Table – The Art of Everyday Home Cooking' from Chef Rod Butters at RauDZ Regional Table, micro bar • bites and Terrafina at Hester Creek by RauDZ.  Tuck in a gift certificate for a night out at any of these restaurants or a bottle of the Blackberry Ketchup served at RauDZ or a house made mustard.  All our preserves are handmade by the culinary team at RauDZ Regional Table.
You can also order signed copies of the book from the cookbook website www.chefrodbutters.com