With special thanks to Chef Rod Butters who has kindly provided a selection of his restaurant's favourite recipes that are featured in his Cookbook The Okanagan Table. Highly in demand and another of our #FavouriteThings Holiday Gift Suggestions.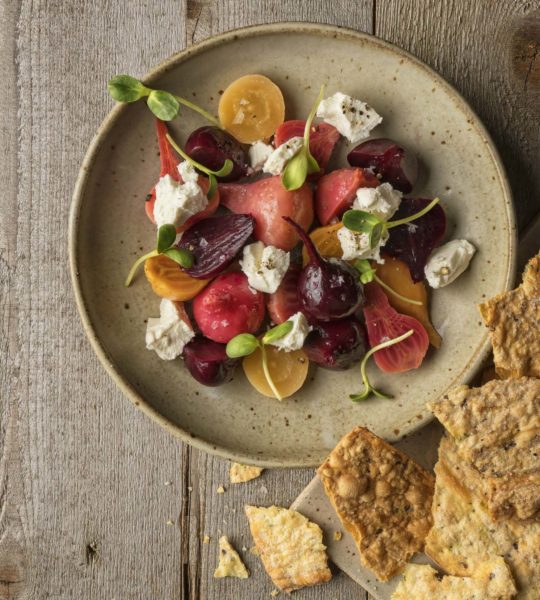 Braised Beets and Crumbled Chèvre
serves 4
Whether slow roasted in an oven to enhance their natural sweetness, puréed into a soup, or thinly sliced and served raw in a fresh salad, beets are incredibly versatile. I particularly enjoy them braised, when they take on the flavours of the aromatics, and their colour and flavour intensify.
Ingredients:
2 lbs small mixed beets, such as red, gold and striped, skin on
6 oz chèvre (fresh goat cheese), crumbled
Sunflower sprouts, for garnish (optional)
Sea salt and coarsely ground black pepper
Any type of crackers
Braising
5 cloves garlic
2 sprigs rosemary
1 bunch thyme
6 juniper berries
6 whole cloves
1 cinnamon stick
1 Tbsp coriander seed
1 tsp black peppercorns
1 tsp salt
3 cups water
1/2 cup raspberry vinegar (can be found at specialty grocery stores, I like the Vinegar Lady's)
First
Preheat oven to 375 degrees F. Place beets n an overproof casserole dish, add the braising ingredients, and mix well. Cover with foil or a lid and braise in the oven for 1/2 to 2 hours, or until beets are tender. Remove the dish from the oven and set aside to cool.
Peel the beets and discard the braising liquid. Cut the larger beets not wedges or slices and transfer to a large serving platter or 4 individual plates.
To Serve
Top the beets with the crumbled chèvre, garnish with sunflower sprouts, if using, and season with salt and pepper. Serve with crackers on the side.
Chef Rod Butters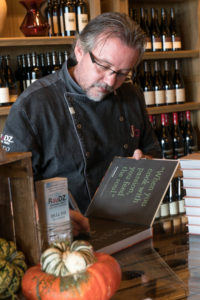 Great gift ideas!  Pick up your signed copy of 'The Okanagan Table – The Art of Everyday Home Cooking' from Chef Rod Butters at RauDZ Regional Table, micro bar • bites and Terrafina at Hester Creek by RauDZ.  Tuck in a gift certificate for a night out at any of these restaurants or a bottle of the Blackberry Ketchup served at RauDZ or a house made mustard.  All our preserves are handmade by the culinary team at RauDZ Regional Table.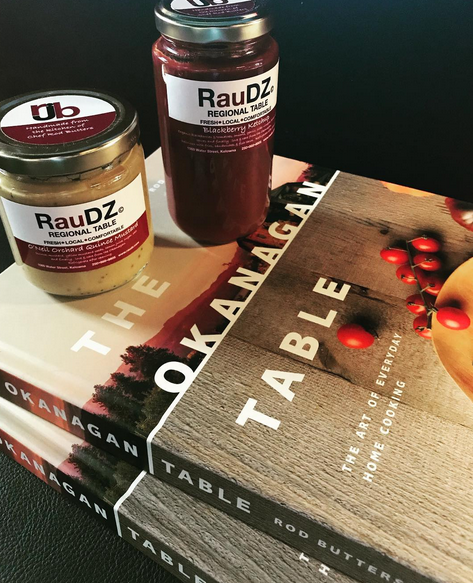 <title="Page 1″>You can also order signed copies of the book from the cookbook website www.chefrodbutters.com
Images and recipe courtesy of Chef Butters. I received a complimentary copy of the cookbook to facilitate this feature.