When Aburi Restaurants' Miku (70-200 Granville Street) first introduced its aburi "flame-seared" technique to Vancouver in 2008, guests were curious and became enamoured with the new sushi concept through word-of-mouth. Now, aburi is a word synonymous with Miku, and aburi oshi "pressed" sushi is a ubiquitous part of Vancouver's Japanese restaurant scene. On December 6, 2017, Miku further paves the future of aburi sushi with its Aburi Prime – a combination of carefully selected premium ingredients, purposeful presentation, and fine-dining service to emote a nigiri-forward omakase experience on one plate.
"When I opened Miku almost 10 years ago, I knew I wanted to create a new way of enjoying sushi," explains Seigo Nakamura, owner of Aburi Restaurants Group, which includes Miku, Minami, Gyoza Bar, and Miku Toronto. "Today, when people think of Aburi, they think Miku. We are always pushing ourselves to give our guests an exceptional experience with the quality of food, service and atmosphere. With the introduction of Aburi Prime, we are taking aburi (flame-seared) sushi to the next level."
The Aburi Prime experience features nine pieces of premium aburi "flame-seared" nigiri meticulously paired with garnishes to enhance the flavour of each piece, plated on handmade ceramics from Japan. Guests can choose to order a plate of Aburi Prime for $55 or an $88 set menu complete with an amuse bouche, a starter trio, the Aburi Prime, and dessert. A $44 wine, sake, and spirits pairing are optional.
Aburi Prime
Fukuoka Miyabi-dai (tai)
monkfish liver, sweet soy reduction, shiso flower
Akami Maguro (red tuna)
seared Brome Lake foie gras, soy reduction, pickled wasabi, kiku flower
Salted Cured Japanese Saba (mackerel)
pickled ume, bonito flakes, green onion, ginger, konbu dashi gelée
Wild BC Sockeye Salmon
jalapeno miso aioli, micro red ruby mustard leaf
Kelp Cured Japanese Hirame (flounder)
ikura caviar, negishio, yuzu zest, microgreens
Otoro (fatty tuna belly)
yuzu daikon oroshi, baby arugula
Hokkaido Hotate (scallop)
yuzu orange salsa, micro red shiso
Atlantic Lobster
herbed jalapeno dashi coulis, shiraga negi
A5 Japanese Wagyu
uni and micro dianthus
For guests that choose the set menu beverage pairing, they will enjoy five glasses including Bailly Lapierre Cremant de Bourgogne, Gold Omachi sake, Joseph Drouhin Chablis, Hakkaisan Kijoshu sake, and Mars Iwai whisky digestif.
"We want people to feel the extra care and love it takes to create our Aburi Prime and be wowed by the presentation," adds Nakamura. "There is a special connection between the sushi chef and guest that is conveyed through food. We want our diners to experience the emotion nigiri omakase brings at every table in the restaurant."
Miku's Aburi Prime officially launches on Wednesday, December 6, 2017.
For more information about Miku, please visit www.mikurestaurant.com.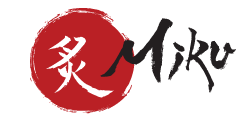 About Aburi Restaurants Canada Ltd.
"I don't just want a business, but want to create a culture and a community." – Seigo Nakamura
Seigo Nakamura, owner of the Tora Corporation in Japan, is the visionary behind Aburi Restaurants' Miku, Minami and Gyoza Bar. His unique concepts and business strategies have led to the creation of Aburi style cuisine and the Ningenmi philosophy. A trendsetter in all aspects, Seigo is never happy with settling for the norm. His unique twist on Aburi cuisine was created over a decade ago, by fusing the idea of traditional Japanese flame-searing with the decadent and creamy sauces of French cuisine. With a new cuisine in mind, he set out to introduce Ningenmi and the idea of Omotonashi service in the western world.
Literally translated 'the human flavour,' Ningenmi is a Japanese term used to refer a person with outstanding human qualities: sincere, thoughtful and passionate.