Inspired by the intense heat of summer's colourful and warm palette
Redfish Kids Clothing unveils its new Summer 2017 collection, now available both in-store and online. Designed and made in Vancouver, the brand's new seasonal collection features stylish yet durable fashion that lets kids enjoy summer adventures.
Inspired by the promise of summer's heat and warmth, the collection's rich hues take a cue from the intense green grass and lavender fields of Provence, the shimmering blue oceans and cloudless blue skies of the Côte d'Azur, and the arid dry deep purple shades of desert flowers from fuchsia and violet to iris and indigo. Designs also take inspiration from artist Cy Twombly's large-scale, freely-scribbled works that feature calligraphic and graffiti-like designs.
"Summer is the time to rock bright, bold designs and have fun with fashion," says Kristy Brinkley, co-founder of Redfish Kids. "Our summer bottoms can be mixed and matched with colourful tops or dresses to encourage kids to be courageous with their fashion choices this season."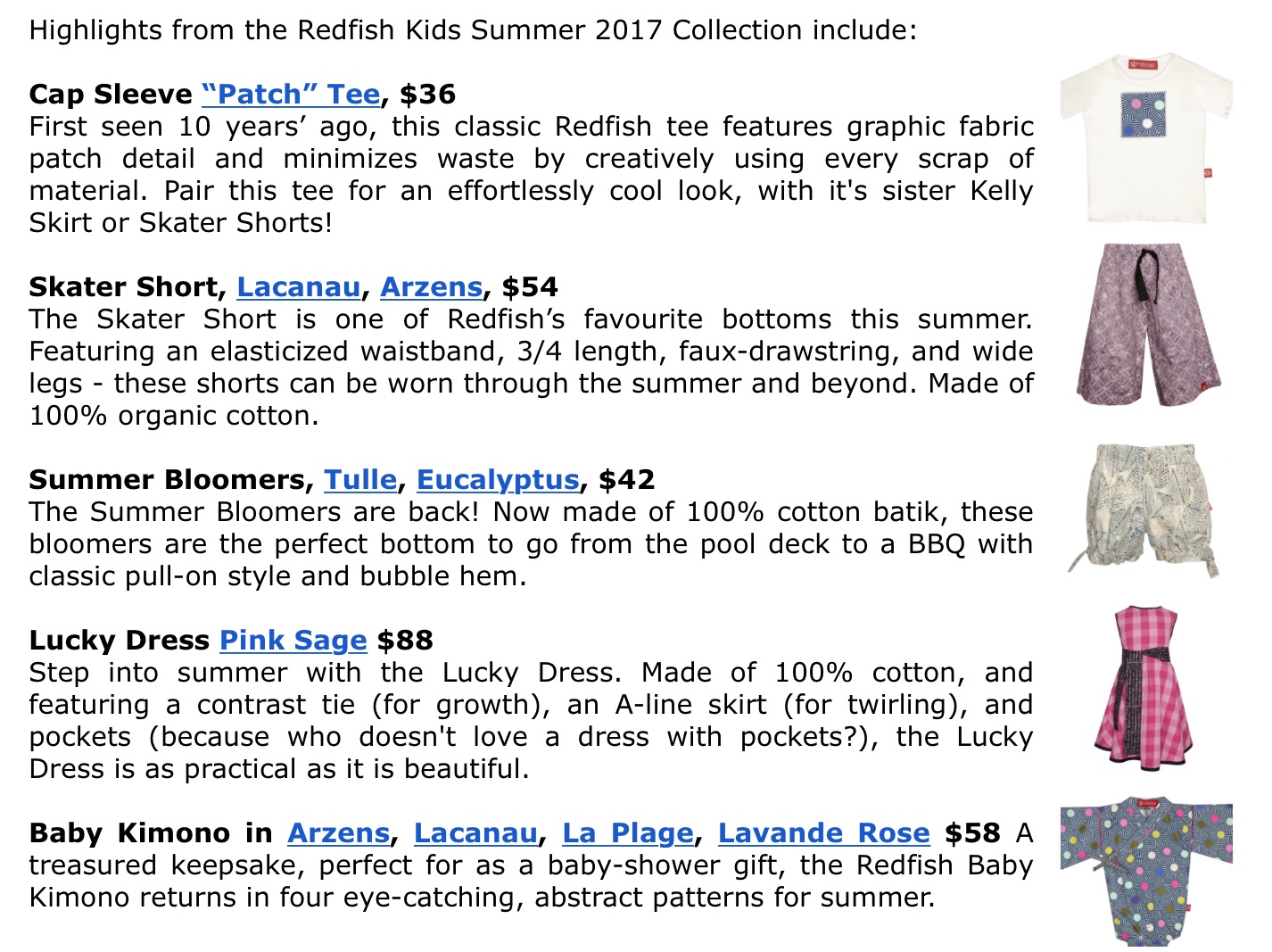 Assertively stylish with a focus on durability, Redfish Kids is one of the country's leading children's clothing brands, designed and made in Vancouver, BC, using organic fabrics sourced from around the world.
Redfish Kids Clothing has two Vancouver flagship locations – 851 Hornby Street and 2474 Marine Drive in Dundarave – are both open 10am to 6pm Monday to Saturday and 12noon to 5pm on Sundays. Redfish Kids ships worldwide via their online store: www.redfishkids.com.
About Redfish Kids 
Locally made in Vancouver, Canada and 100% sweatshop free, Redfish Kids Clothing was co-founded by Lorraine Kitsos and Kristy Brinkley. Born of a desire to create clothing with "heart", Redfish Kids Clothing is committed to quality materials, handpicked from around the world, to local craftsmanship and zero in-house waste. Redfish Kids' "Clothing for the Courageous" motto reflects the brand's commitment to children and serves as a celebration of their courage, creativity and unlimited potential to shape the future. Designs are versatile and durable, allowing freedom of movement for fun and play.
Twitter @RedfishKids | Facebook.com/RedfishKids | Instagram: @RedfishKids