The Main Street Bike Expo readies for

June 10

celebration at The Ellis Building 
Get tuned up for the inaugural Main Street Bike Expo taking place at the Ellis Building (1024 Main Street) on

Saturday, June 10, 2017 from 11am to 6pm

. Celebrating creativity in the cycling world, this exhibition integrates cycling/lifestyle brands, community networks and new technology providers in celebration of bike month.
From workshops to free tune-ups, a bike valet, food trucks and a stationary Gold Sprints racing competition, the Main Street Bike Expo offers a unique opportunity to interact with cycling enthusiasts of all kinds.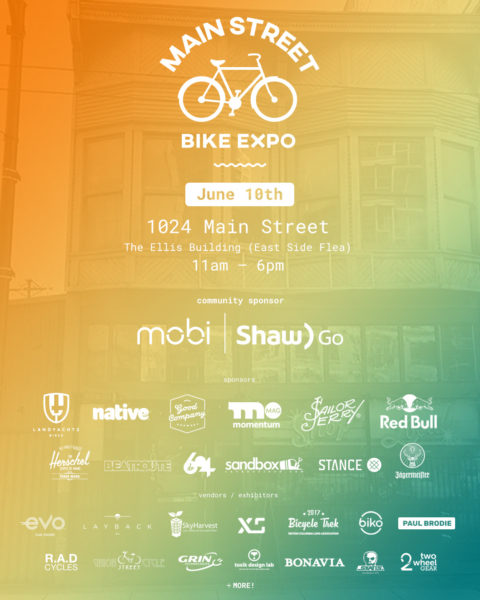 FEATURED EXHIBITORS: Mobi by Shaw Go, Landyachtz, Union Street Cycle, RAD Cycle, Paul Brodie book signing (of Brodie Bikes), Layback Co, Sky Harvest, EVO Car Share, Grin Technologies, Bonavia Cycles, BC Lung Association's Bicycle Trek for Life & Breath, XS Helmets, Two Wheel Gear, Skull Skates, Biko, Toxic Design Lab & MORE
FEATURED MUSICAL GUESTS: Rodney Decroo, Nashlyn, James Green and Alex Little 
Sponsored by Landyachtz, Mobi by Shaw Go, Native Shoes, Stance, Sandboxland Helmets, Herschel Supply Co, Do604, Good Company Lager, Jaegermeister, Sailor Jerry, Red Bull, Momentum, BeatRoute and Velopalooza
PLUS: History Lesson + presentation by Gordon "The Bike Guy" Hobbis of Cap's Bicycle Shop & The Bike Museum (

11AM

); Show & Shine Bicycle Beauty Pageant hosted by comedian Kathleen McGee (

4PM

); Still Frames: A Bicycle Photography Show curated by David Nidri (All Day); Mark Mills Bicycle Brewery Tour (

6PM to 8PM

) 
Meet at the Ellis Building at

6PM

sharp and follow this wonderful man as he takes you on a musical bicycle journey sampling four magical beers at four different breweries before you end up at the MSBE Landyachtz afterparty!
The Main Street Bike Expo will provide a platform specifically tailored to the world we know and love on two wheels. Immerse yourself in the world of cycling as it comes together under one roof in the beautiful historical space of the Ellis Building, home of the legendary Eastside Flea. 
The Ellis Building (1024 Main Street)
COVER // $3 
EVENT RUN TIME //

11AM to 6PM
---
For more information, please contact: 
Glenn Alderson or Randy Gibson 
Feature image: Contributor Roslyne Buchanan checks out the seawall by bike