Top reasons to visit the FESTIVAL OF TREES
1. Admission is free
2. The trees are beautiful
3. It's indoors where it's warm
4. It will put you in the Holiday spirit
5. You can vote for your favourite tree
6. Donations benefit B.C. Children's Hospital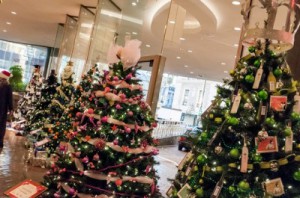 Vancouver Festival of Trees
Enjoy the seasonal beauty of the 27th annual Festival of Trees Vancouver now until January 2, 2014. Be sure to visit the hallways of the Four Seasons Hotel Vancouver and upper level of Pacific Centre Mall to check out the incredible display of creativity.
Visitors can vote for their favourite tree onlineor on site. All voters will be entered to win a trip for two with WestJet Airlines!
The winner of the People's Choice Award will be announced in early January 2014.
Check out the winning trees:
Best Corporate Expression: Turnabout 
Best Team Spirit: Coastal FC
Most Child-Like: Teekay Shipping's "Despicable Tree" 
Most Creative: Tracey Jackson's "Alimony Tree" 
Most Traditional: TRG 
Best Rookie: Edmonds Appliances 
Most Green Tree: Kids for Kids
To vote go to https://secure.bcchf.ca/SuperheroPages/search.cfm?Event=23&href=vancouver