Bringing joy of the season to hundreds of kids
Celebration of seasonal giving takes place December 8th at Republic Nightclub
What began 14 years ago with a small group of Donnelly Group managers getting together a few weeks before Christmas to donate to those in need has grown into a Toy Drive which annually gathers over $40,000 worth of annual donations, a mountain of gifts for Vancouver kids, and a legendarily spirited holiday gala which is set to take place at 11pm Tuesday, December 8th at Republic Night Club.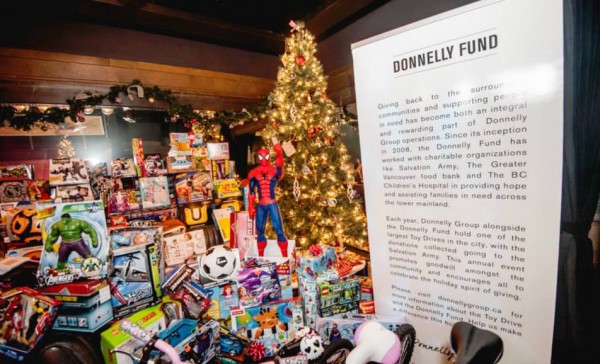 Over the course of more than a dozen years of Toy Drives, Donnelly Group has collected almost half a million dollars in toys, hundreds of pounds of non perishable food items and has helped thousands of people get into the Christmas spirit by being part of Donnelly Group's largest annual signature event.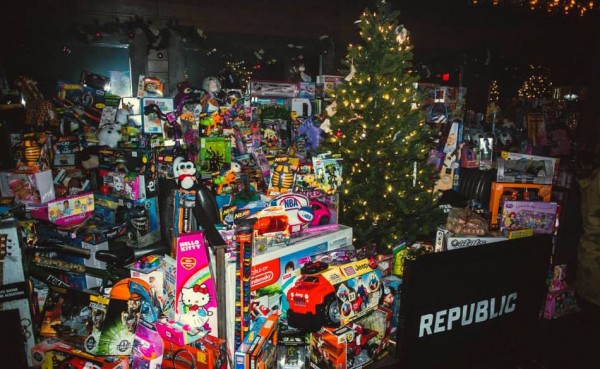 It would be simple enough for Donnelly Group to write a cheque to the Salvation Army, but the Toy Drive is also builds holiday spirit and community by involving every one of the Donnelly Group's more than 600 employees, each of whom is each gifted a $50 Toys-R-Us gift card. The GC is to be redeemed at the West Broadway Toys-R-Us location anytime from Saturday December 5th to Tuesday December 8th (until 7pm) so that the presents can be brought to the big party at Republic.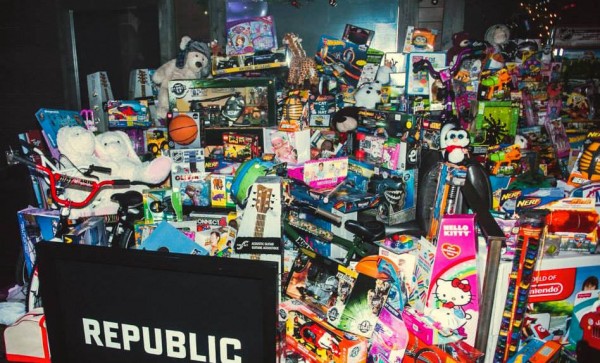 After their shopping trip, they bring their new, unwrapped toys to Republic Nightclub and enjoy some complimentary beverages, canapés and our favourite holiday soiree. The holiday season is about sharing and building community, so the Toy Drive has always been open to members of the public who want to be part of one of the biggest single donations that the Salvation Army receives each holiday season.
They are invited to purchase their own gifts and bring them (unwrapped) or to bring food items for the Greater Vancouver Food Bank which will be part of the event for the second year. Mark the calendar for December 8th and plan to be part of the 14th Annual Donnelly Group Toy Drive at Republic Nightclub at 958 Granville Street.