First annual Yaletown Kissmas helps local revelers feel the love this holiday season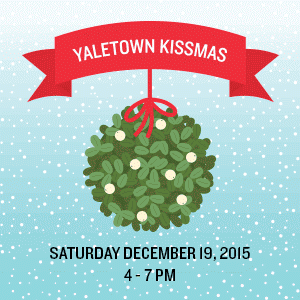 'Tis the season to catch the Kissmas spirit. With the holidays in full swing, locals can join the Yaletown Business Improvement Association for a one-night Christmas pop-up, in the heart of Yaletown. On Saturday, December 19, head down to Bill Curtis Square for Yaletown Kissmas, an early evening of holiday-themed goodwill as the Yaletown BIA animates the area with a giant mistletoe, music and games.
It's the most beautiful time of the year, and Yaletown Kissmas is the perfect place for revelers to show their love under the mistletoe. The corner of Mainland and Davie Street (just behind the Canada Line station) will be alive with public displays of affection as attendees get their smooch on in front of the Kiss Camera (and of course, selfies are welcome). Guests can also try their luck in the Yaletown Kissmas Money Booth for a chance to walk away with a variety of great prizes.
Holiday-makers can groove along to the tunes mixed by a live DJ from KiSS Radio as they stroll through this twinkling outdoor pop-up, complete with sparkling lights. Check some items off your holiday gift list as you #buylocal from the bevy of Yaletown merchants. Warm up with hot apple cider or cocoa and enjoy the fun and festive atmosphere. As a special gift, the first 100 guests who participate in the kiss-in will receive a special Kissmas swag bag full of free vouchers and gift cards for select Yaletown businesses.
"We're happy to offer Vancouverites the chance to show their love for the season with our first annual Yaletown Kissmas event," says Annette O'Shea, executive director of the Yaletown BIA. "It's fun to see the community catch the Christmas spirit and spread their cheer with their friends, family and neighbours, all right in the heart of Yaletown."
Don't forget to take a photo with loved ones under the mistletoe. Pets, kids, pals and even your mom deserve a smooch. The best kiss will win an overnight stay at Yaletown's renowned OPUS Hotel Vancouver and a romantic Italian dinner for two at La Pentola. Post your photo on Twitter, Instagram or Facebook with the hashtags #YaletownKissmas #getaroom for a chance to win.
The Yaletown Kissmas outdoor event is free to attend and is hosted for one night only. Join in on Saturday, December 19 from 4-7pm to celebrate the season and share your love with those near and dear. For more information visit Yaletowninfo.com.
About Yaletown
Yaletown is Vancouver's trendy and upscale renovated warehouse district. This fresh urban neighbourhood is just an easy walk from the centre of downtown Vancouver or a quick ferry ride from Granville Island. Yaletown's converted heritage buildings are home to some of the city's top fashion and design shops, as well as cutting edge restaurants and bars. Old loading docks act as giant sidewalks and create a unique setting for wandering, shopping, or lounging at one of the many outdoor patios.
About Yaletown Business Improvement Association 
The Yaletown BIA is an independent non-profit association of commercial property owners and business tenants who join together to promote and improve the economic vitality of the Yaletown neighbourhood. Today the Yaletown BIA is an organization capable of handling top-tier international opportunities such as the 2010 Olympics, hosting well-heeled travel writers from around the world and producing outstanding public events that attract thousands of shoppers and diners annually. Yaletowninfo.com.