Summerhill Leads the Way for Low Sulphite Wines in BC
Summerhill Pyramid Winery, Canada's premier family-owned certified organic and biodynamic winery, is pleased to present their 2013 Ehrenfelser, the first BC wine made with the use of a nitrogen generator for the purpose of reducing unnecessary sulphite addition in winemaking.
According to Summerhill winemaker Eric von Krosigk, the Ehrenfelser is "a beautifully expressive wine that is the essence of freshness and terroir due to minimal sulphite addition. The wine is crisp and bright with a gentle fizz from the natural CO2 preserved from the fermentation. It's perfect for al fresco dining and for sharing with friends.

The wine, $19.95 CDN per bottle, can be found at the winery, purchased online, or wherever fine VQA wines are sold.
"We are on a no-sulphite program at Summerhill, which means we use little or no sulphur wherever we can," von Krosigk continues. "However, we will not sacrifice a wine to oxidation if it does need some. We have adjusted everything to make this work, and continue to research new and old techniques to reach the goal of zero added sulphites. While sulphur has been used for 5000 years in winemaking, it has its own taste and smell that takes away from the wine, so we are very focused on making improvements at every stage from bud to bottle. We hope at some point to put an ingredients list on the bottle with a single entry: grapes. That is our goal.
Pilot Program Paves the Way for BC Wineries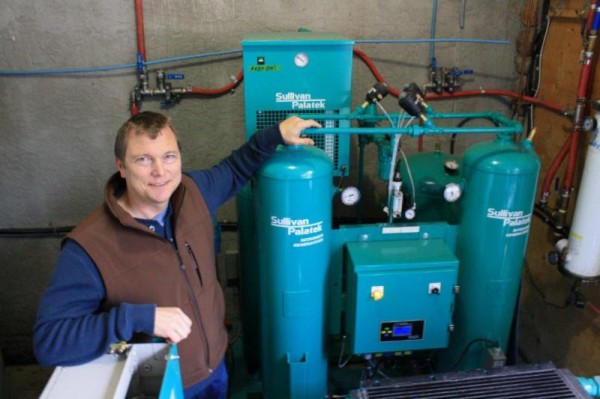 The innovative generator was added to Summerhill's winemaking program in time for the 2012 harvest. In a pilot project supported and funded by Agriculture and Agri-Food Canada and the BC Ministry of Agriculture through the Canada-BC Agri-Innovation Program under Growing Forward, a federal-provincial-territorial initiative, and delivered by the Investment Agriculture Foundation of BC, the winery plumbed the nitrogen directly into the headspace of its tanks, with the goal of reducing or eliminating preservatives/allergens (SO2) used in winemaking, while reducing the carbon footprint from transporting nitrogen tanks.
Additionally, the winery is now able to use nitrogen liberally in various other winemaking processes to eliminate oxygen pickup at every step that they desire. Although use of inert gasses to cap tanks and prevent oxidation is common in the wine industry, plumbing a renewable nitrogen generating system directly into the headspace of tanks and applying constant low pressure will be, as far as the winery is aware, a first for a BC winery. This system's demonstrated success will pave the way for improvement in all BC winemaking, both in terms of wine quality and in environmental sustainability, and enable possible production of no-sulphite-added wines.
Summerhill, along with global trendsetters in France such as Gerard Bertrand and Michel Chapoutier, have adopted a more natural approach to winemaking and vineyard management, primarily in response to consumer demand for more sustainable practices and lower sulphites.
Michel Chapoutier, one of the most highly regarded winemakers in France, spoke recently at the Vancouver International Wine Festival on the topic of consumers seeking no sulphites, and said to an audience of wine trade: "The people who are making wine without sulphites are pioneers and should be celebrated for their innovation."
Ezra Cipes, CEO of Summerhill says, "We are committed to share our data and knowledge from the pilot testing with our provincial industry, and at the same time continue to encourage the wine industry in BC overall to work towards producing quality wines of provenance with sensitivity to healthfulness and to the environment. In 2012 the project was pilot tested and troubleshooted," he shares, "and in 2013 the results are evident in the resulting wine quality. The first wine that is being released from the innovative program is the 2013 Ehrenfelser. I am very proud of this wine."
Von Krosigk notes, "We were already making low sulphite wines compared to industry averages. With this technology, our use has dropped an additional 25-90% depending on the wine."
For more information, visit www.summerhill.bc.ca, find Summerhill on Facebook or follow the winery on Twitter @summerhillwine.