Known for creating jewelled masterpieces, exclusive Tiffany designer Paloma Picasso adds to her vibrant ring collection, Paloma's Sugar Stacks, with pavé gemstones that are as big and luscious as the cabochon gems that launched the collection.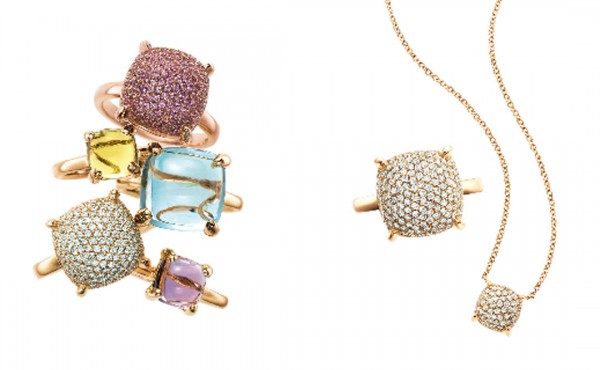 Paloma's Sugar Stacks include her favourite gemstones: amethyst, blue and pink sapphires, rose quartz and blue topaz. Tiffany artisans hand cut the square-shaped and pavé stones and set them in 18 karat yellow, white and rose gold. According to the designer, the stylized setting "highlights each gem's brilliant natural colour and allows the contoured stones to nestle comfortably together.
"After the popularity of the first Sugar Stacks collection I wanted to design more options for playing with colour and combining the stones," she says. "The rings can be worn alone or stacked in cool or high-contrast colours that delight the eye and lift the spirit like sugar candies."
The radiant gems, in two sizes, invite experimentation with the dazzling dimension stacking brings to rings. Subtle colours mix beautifully. Lavish-size stones in vivid colors create stunning 'big ring' looks. Playing favourites with more and more stones builds colour intensity and pushes the limits of how many rings can be worn at once.
The possibilities for these delectable rings are endless. However they come together, Paloma's Sugar Stacks reflect the designer's unerring eye for glamour and sophistication.
Paloma Picasso introduced her first collection of jewels for Tiffany & Co. in 1980. Her use of colourful gemstones, along with such signature creations as Graffiti and X instantly established her as jewellery design's newest star. Her more recent collections, including Marrakesh, Venezia and Olive Leaf, incorporate the art and culture of exotic places and the beauty of gardens. These distinctive jewellery designs share a chic exuberance that is favoured by the world's most stylish women.
Paloma's Sugar Stacks are available at Tiffany & Co. Vancouver locations: downtown (723 Burrard Street), Oakridge Centre (650 W. 41st Avenue) and Holt Renfrew (737 Dunsmuir Street), from the Tiffany website at www.tiffany.ca or by calling 1-800-265-1251.
TIFFANY & CO., T&CO. and TIFFANY are trademarks of Tiffany and Company and its affiliates. PALOMA PICASSO is a trademark of Paloma Picasso.