B33R, BANDS, FOOD & FLEA
Join us all day August 16th for our biggest event ever!
We have over 100 vendors, a massive lineup bands playing all day, DJ sets, The Eastside Flea and FOOD..glorious glorious FOOD!
EAST SIDE FLEA 10am – 4pm
HWKRS MRKT 6 pm until LATE!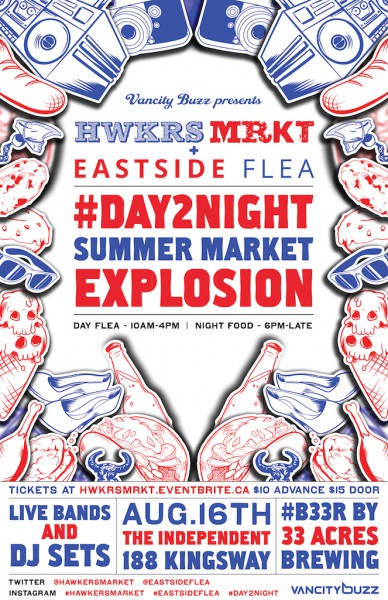 FOOD LINEUP
33 Acres Brewing
Timber Train Coffee
Hawktails
Apothecary Bitters
Moonshine Tastings
OXTALE
Fried Stream Buns
K&J Food Truck
Disco Cheetah
Saucy Pops
The Lemon Square
CHOCO TACO
Fiasco Gelato
Livias Sweets
Nuez Milk
Float On
Mama's Fish N Chips
Sweet Petite Confectioner
O5 TEA – Kombucha
Bumble & Oak
Vitae Juice
Urban Digs Fresh Cart
Meet 2 Eat
Tri Shaw Foods
The Pepper Pot
Community Pizzeria
MOOOS
NOTCH
Futrepreneur
The Reef Runner
The Wonton Girl
Johnnys Pops
Tealicious
The Candymeister
The Salty Cookie Co.
Forte Whole Foods
J&S Reclaimed Wood 40′ Long Table Dining!
&MORE!!!!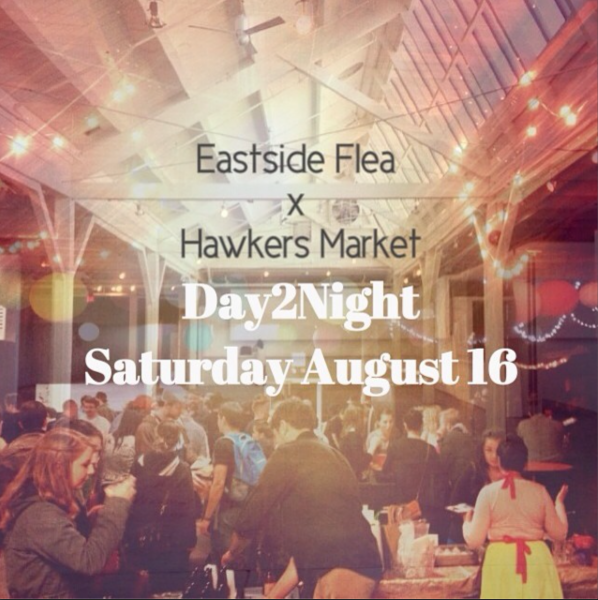 Live Music Sets – More to be announced
10am-12pm 
Glory Days DJ Set – All local Vancouver Music
Noon Live Set
Malcolm Jack 
12:30-2pm
Darcy from Ladyhawk DJ Set
2-4pm
Malcolm Jack and friends DJ set
http://malcolmjack.bandcamp.com/album/im-my-own-bewitchment
4-6pm CLOSED
*EVENING DJ LIST TO COME TONIGHT*
11pm
Sunshine Live Music
http://sunshinesucks.bandcamp.com/
Midnight
The Ballantynes Live Music
http://theballantynes.bandcamp.com/
FLEA
Featuring:
*50+ Curated ESF vendors selling collectibles, vintage clothing, plants, curios, handmade & more!
*Hawkers Market trucks, tents & pop-up food
*Outdoor STREAT Food Truck Meet
*18′ bar serving up delicious craft beer, wine & cocktails all day
*Central location (1 block off of Main & Broadway)
*Stunning venue
** TICKETS **
BEST DEAL!  Advance all-day event tickets $10.00
At the door:
Daytime – $5.00
Nighttime – $15.00
**There is a possibility that this event will sell out, please plan ahead & purchase your tickets in advance!**
Copyright © *|2014|* *|HAWKERS MARKET HWKRS MRKT|*, All rights reserved.
*|hawkersmarket.com|* *|Invigorating Local Food Culture|*