Bard on the Beach Shakespeare Festival presents its annual Opera & Arias concerts with highlights from operas by Verdi, Handel, Gounod, and Bellini. Celebrate Shakespeare and the 25th anniversary of Bard on the Beach by attending a live performance of some of most beautiful and popular arias and ensembles from Romeo and Juliet, Hamlet, The Merry Wives of Windsor and more.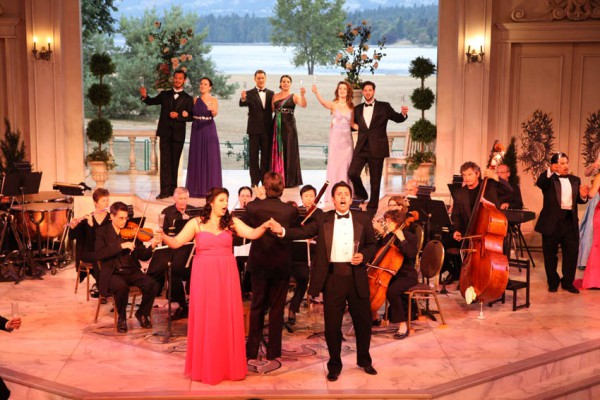 The gifted young stars of the UBC Opera Ensemble and members of the Vancouver Opera Orchestra bring Shakespeare's operas to life. Thrill to one of Baroque opera's greatest masterpieces, George Friedrich Handel's Giulio Cesare. Experience the conqueror's victory in Cesare's aria, the grief, anguish, torment and desire for revenge of Cornelia and her son, Sesto, the unrequited love of Achilla, the changing personality of that eternal femme fatale, Cleopatra and the ultimate union of two of the most powerful personalities in history, Cleopatra and Cesare. Witness Mrs. Ford and Mrs. Page take sweet revenge on that wily rascal Falstaff, in the beautiful selections from Otto Nicolai's The Merry Wives of Windsor. Delight in the operatic renditions of Shakespeare's tale of Romeo and Juliet, as the story of these ill-fated lovers is recounted first in French through the beautiful music of Gounod's Romeo and Juliet and then in Italian through Bellini's account in I Capuletti e Montecchi. Wash away those sorrows with Hamlet's drinking song by Ambroise Thomas and return to another interpretation of one of Shakespeare's favourite characters, Falstaff, brought to life by Giuseppe Verdi. The selections have been chosen to show why William Shakespeare was revered and admired by so many of the world's most famous composers. UBC's Nancy Hermiston directs the in-concert staging with conductor Leslie Dala leading the musicians. "It will be such a pleasure to present these tragic and comic works by composers who were all inspired by Shakespeare, and chose to adapt his greatest masterpieces for the operatic stage," says Dala. All performances are hosted by Bard Artistic Director Christopher Gaze.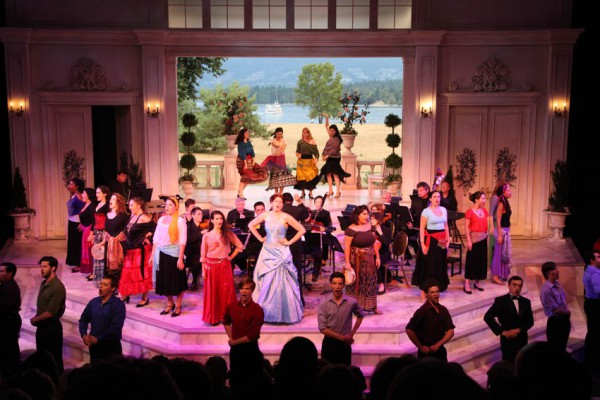 UBC Opera Ensemble was created in 1995 by Professor Hermiston and draws from advanced students in the UBC School of Music. For Shakespeare's Opera, the talented cast features both familiar and debut soloists. In Handel's Giulio Cesare, countertenor Shane Hanson and mezzo soprano Yeeun Lee will alternate in the title role. Laura Widgett, Natascia Dell'erba, Tamar Simon and Chelsi Walsh will share portrayal of Cleopatra, the eternal femme fatale, while Francesca Corrado and Rachel Stewart portray the long suffering Cornelia and Katie Miller will sing the role of her son, the young hero Sesto. Peter Monaghan will sing Achilla. Nicole Brooks, Eden Tremayne, Natascia Dell'erba and Laura Widgett take turns singing the various versions of Juliet in either the Gounod or Bellini version of the famous Shakespeare play Romeo and Juliet. From Gounod's version of this famous love story we hear baritones Micah Schroeder and Sheldon Baxter singing Mercutio's aria about Mab, and Katie Miller and Courtney Bridge sing Stephanos'  Que fait tu blanche tourterelle. Alireza Mojibian and Brent MacKenzie join their soprano colleagues in the duet, Ange adorable and in the famous Wedding Quartet these singers are joined by Francesca Corrado and Rachel Stewart as Juliet's nurse Gertrude, and Peter Monaghan and Duncan Watts-Grant as Friar Laurence. Geoffrey Schellenberg sings Hamlet's famous drinking song. The fugue from Verdi's Falstaff will be the closing tribute to Shakespeare's inspiring impact on the world's greatest operatic composer, featuring the characters of Alice (Eden Tremayne and Natascia Dell'erba), Meg Page (Katie Miller), Quickly (Courtney Bridge and Francesca Corrado), Nanetta (Chelsi Walsh and Elizabeth Harris), Ford (Micah Shroeder and Sheldon Baxter), Fenton (Brent MacKenzie), Pistola (Duncan Watts-Grant), Bardolfo (William Grossman and Alireza Mojibian) Dr. Caius (Ian McCloy and Ian Bannerman) and Falstaff (Peter Monaghan).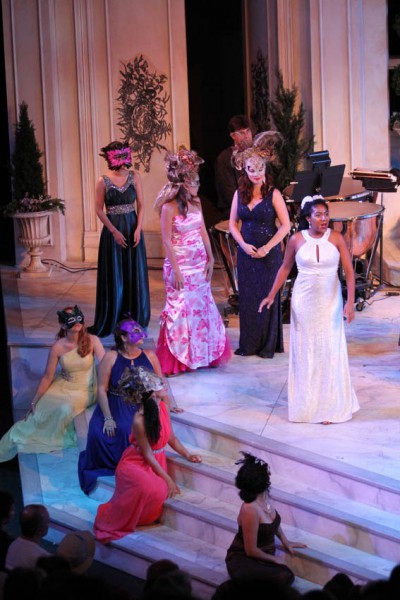 Matinee performances (2pm) and evening performances (7:30pm) are on Monday, August 25 and Labour Day Monday, September 1. The concerts are on Bard's BMO Mainstage, backed by a spectacular vista of mountains, sea and sky.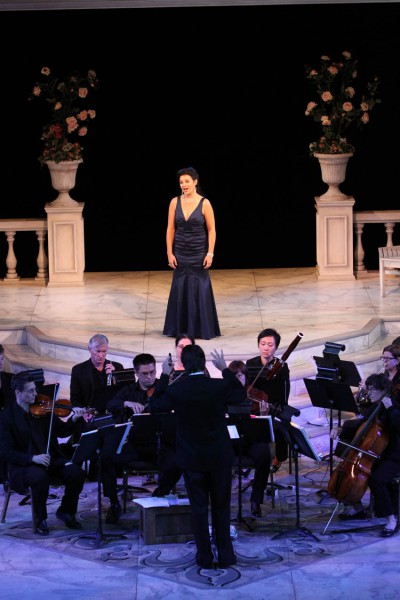 Opera & Arias: Shakespeare's Opera – Reserved seats $47 (evenings) and $35 (matinees) for adults; Global BC Youth Price $27 (ages 6–25). Call 604-739-0559 or buy online at bardonthebeach.org. Sponsored by Primacorp Ventures Inc.