Yes, there's a new restaurant in town and what a place it is.  The media launch for the Boulevard Kitchen and Oyster Bar was held earlier this month and a lavish event it was. We were greeted outside by a string trio and welcomed with a glass of Taittinger Brut Reserve Champagne.
Inside, David Scholefield was pouring his Haywire sparkling wine The Bub, as well as his Pinot Gris and Pinot Noir (all favourites of mine).  The music continued on inside too, with a piano and string bass jazz duet.  Very attentive servers travelled through the various areas serving bite-sized nibbles.  My first, and favourite, was a Parmesan crisp with truffle flavoured crème fraiche.  There were many other bite-sized tidbits, but the ones that stood out for me were the short rib grilled cheese and the smoked salmon with cream cheese and caviar.
This was certainly the place to be.  Many well-known Vancouverites were in attendance, including radio and television personalities along with the who's who of the Vancouver hospitality scene.  Women were dressed to the nines and a photographer was there to document the night.
There were servers pouring wines that are featured on the Boulevard's menu including Haywire, Kris, Nespoli, and Cannonball.  As a wine reviewer, I couldn't help but jot down some short tasting notes on the wines being poured.  See the end of the article for some brief remarks on these wines.
I sat in a booth near the buffet table that was laid out with an impressive selection of local and imported cheese (lots of blue and creamy ones) fruit and crackers.  Lisa, the wine manager, worked the crowd making sure their champagne was always topped up.
Then it was on up to the oyster bar.  Fresh jumbo prawns, oysters and champagne; does it get any better?  In a side room there was an excellent selection of bite-sized desserts including a wide variety of handmade chocolates and truffles.
In another side room, more music; this time it was DJ Leanne of Girl on Wax Events with sax player, Buddha.  I really enjoyed their jazzy renditions.
The restaurant is quite new, having just opened its doors just weeks ago.
Alex Chen runs the back-of-house and Steve Edwards is responsible for the front-of-house.  Chef de Cuisine is Roger Ma, Brian Hopkins is the Maître D' and Jason Pitschke is their pastry chef.  Lisa Haley serves as the Wine Director.
The Boulevard is a very well designed restaurant, open and spacious with great ambiance and unique lighting fixtures.  It offers rooms off the main restaurant for luncheon meetings and private events.  The Boulevard is housed in the Sutton Place Hotel at 845 Burrard Street.   The place has undergone an impressive transformation.  Be sure to put this on your list of 'must do' Vancouver restaurants to visit, especially for the oysters.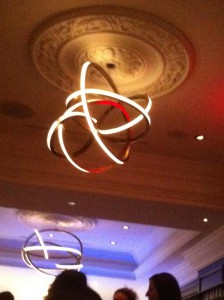 You can see more photos and check out their menus at:  http://boulevardvancouver.ca/
Notes on the wines tasted
Haywire Pinot Gris
This is not a typical Pinot Gris.  Being fermented and aged in a concrete egg, gives it a special character.  It is very pale straw in colour with light intensity.  Delicate citrus aromas on the nose.  Crisp and clean balance.  Citrus and mineral flavours and a medium-long finish.  A good wine to serve with oysters, seafood, or grilled chicken.
Haywire Pinot Noir
Cherry red with medium intensity.  Ripe cherry and earthy aromas on the nose.  Well balanced.  The flavours echo the nose.  A medium-long finish.  An impressive BC Pinot.
Haywire The Bub
This BC bubbly has a creamy yeasty nose with good mousse.  Apple and citrus on the palate with a medium-long finish.
Kris 2013 Pinot Grigio
Dry apple on the nose with good balance and tree fruit on the palate.  A medium-long finish with lingering minerality.
2011 Nespoli
Garnet black in colour with deep intensity.  Dried red fruit and herbs on the nose and the palate with a medium finish.
2011 Cannonball
This California Cabernet Sauvignon is sourced from a variety of regions.  Garner black in colour with deep intensity.  The nose shows aromas of ripe plum, cherry, forest floor and spice.  Very good balance.  The flavours follow the nose with a medium finish.