To paraphrase Shakespeare – 'would a roast turkey by any other name taste so good?' It does when it's called 'le dindon' – the French name for our iconic celebratory bird.  With the Thanksgiving holiday just around the corner, people are starting to think about the annual groaning board of turkey with all the fixin's.
Not everyone has the time, or the kitchen space, to prepare the full traditional feast. That's where L'Epicerie Gourmande comes to the rescue. Located in the Granville Island Market, L'Epicerie is an authentic French rotisseur and gourmet shop – just like the ones along the Rue de Rivoli in Paris. Under the ownership of Chef David Izquierdo, a native of Marseilles and alumni of the kitchens at Provence Restaurants and Salade des Fruits, L'Epicerie specializes in succulent meats cooked on a Doregrill Neoflame Rotisserie imported from France.  The shop also features many other prepared-foods-to-go along with premium EVOO, balsamic vinegars and gourmet condiments.
L'Epicerie is offering a very special three-course prix fixe Thanksgiving Dinner-To-Go value-priced at $24.99 per person. If you want only the turkey main course, that is available for $14.99.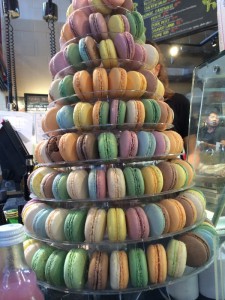 Thanksgiving Prix-Fixe Menu
Appetizer
Duck Confit Tartlet
Porcini Mushroom Custard,
Organic Mixed Greens with Raspberry Vinaigrette
***
Main Course
Rotisserie-Roasted Boneless Turkey Leg
Thyme Demi-Glace, Citrus Cranberry Sauce,
Truffled Mashed Potatoes,
Maple Butter Roasted Squash,
Autumn Vegetables
***
Dessert
choose one
Mixed Berry Charlotte
or
White Chocolate Mango Mousse
L'Epicerie also is offering other seasonal entrees, side dishes, condiments and desserts – enough to satisfy the individual preferences of everyone around your dinner table. It will be posted in the next day or so to their Facebook page.
The prix-fixe Thanksgiving Menu and seasonal features are available fromOctober 10th through 13th. It's easy to order Thanksgiving-To-Go by calling 604-653-7317. 24 hours minimum advance notice is required.
When placing your order, state the day and time you wish to pick up your dinner. You'll also be asked for a deposit – L'Epicerie Gourmande accepts Visa, Mastercard and debit cards. Then, on the appointed day and time, pop into L'Epicerie and take Thanksgiving home with you. The shop is open seven days a week from 9 a.m. to 7 p.m. Très simple, n'est-ce pas?
Granville Island Public Market,
NE Corner
1689 Johnston Street
Vancouver, BC  Canada
Hours
Open 7 days a week:
9 a.m. – 7 p.m.
Contact
Phone: 604-653-7317
T: @LepicerieGourm
Email / Website / Facebook