This is our first Curry Challenge featuring 11 restaurants in Vancouver, Langley and Richmond, that runs from October 28 – November 20, 2014. The interpretation of curry takes on different meanings in many cultures and you will find several variations in the curry creations the chefs have entered into this challenge. Many cultures are represented including Indian, Thai, Vietnamese, North African, Moroccan, Goa, and Guyana.
Participating restaurants are showcasing Curry creations that were created just for this challenge and all will be offered in all of these restaurants during the challenge period .
For our Challenges, we have 2 sets of winners. The People's Choice winners will be selected by the public who are invited to visit any of the participating restaurants and order the Curry creations and then decide on which ones they think are worthy of winning the challenge by casting their votes.
For this challenge we have 3 media judges and they are:
Tara Lee
Freelance journalist and broadcaster. Writer for Georgia Straight
Twitter: @VanGlutton
Sherman Chan
Food Blogger for his own shermansfoodadventures.com
twitter: @Sherman38
Zahra Alani
Radio & Television personality. Weather Anchor at CTV News.
Twitter: @ZahraAlani
These are just some of the unique Curry creations in this challenge
U & I Thai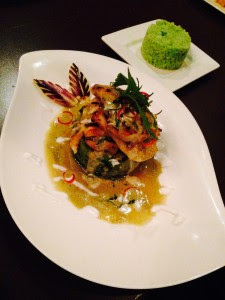 U and I Thai Green Queen Curry
Price: $18.95
Description: Halibut fish with coconut milk, green curry paste, fish sauce, spinach, red bell pepper and eggplant thai basil.
Created by: Chef A-guan Phutyeam and Mr. Kittipoj  Chidjarean
Offered: All the time
U & I Thai
3364 Cambie St, Vancouver
Tel: (604) 875-6999
Twitter: @uratomjit
Hai Phong Vietnamese Kitchen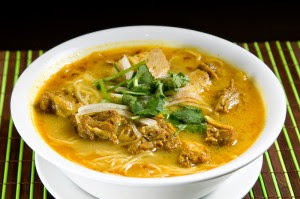 Chicken Curry Noodle Soup
Price: $9.50
Created by: Chef Kieu Ong
Description: Boneless Chicken and taro simmered in a light curry broth infused with lemongrass and coconut milk. Served with vermicelli, bean sprouts, chives, vietnamese coriander, white and green onions and finely sliced chilli peppers.
Offered: All the time
Hai Phong Vietnamese Kitchen
186 Keefer Place, Vancouver
Tel: 604-559-8897
Web: http://haiphongrestaurant.com/
Twitter: n/a
Morocco West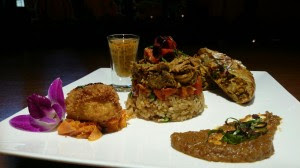 Trio of Moroccan Curry
Price: $24
Description: Lamb Curry with Farro Rice, Seafood Vermicelli Curry Puff, Masala Curry Scotch Egg
Created by: Chef Nourdine Majdoubi
Offered: All the time
Morocco West
795 Jervis Street, Vancouver
Tel: 604-563-8466
Twitter:  @MoroccoWest
The Copper Chimney
Goa Spicy Pork Vindaloo
Price: $15
Created by: Executive Chef Jaroslaw Faryna & CDP David Joseph
Description: Traditional Indian spicy Pork Vindaloo from Goa region. Acute Ghost Pepper flavored, served with Basmati Rice and Garlic Noon.
Offered: Lunch and dinner daily
The Copper Chimney
567 Hornby Street, Vancouver
Tel: 604-689-8862
Web: http://www.copperchimney.ca/
Twitter: @CopperChimney_1
The full list of participating restaurants can be found here
http://vancouverfoodster.com/2014/10/28/vancouver-curry-challenge/
Voting: The public is invited to order these Curry creations ,at the participating restaurants keeping in mind this criteria – originality, creativity, uniqueness,  traditional, non-traditional, price, value and most importantly taste. People can vote the same day after trying the Curry creation and they can vote once a day throughout the promotion. People will be encouraged to Vote for their favourites from October 28 – November 20, 2014
http://vancouverfoodster.com/curry-challenge/
With a smartphone, customers will be able to vote from their table in the restaurant right after they have eaten the Curry creation.
We will announce the winning restaurants and their Curry creations on November 21, 2014.
About Vancouver Foodster
Founded in 2009 by Richard Wolak, Vancouver Foodster is Vancouver's premier online "Essential Food & Drink Intelligence" guide. The site offers expert advice on the hottest restaurants, parties, and openings this city has to offer, as well as the most interesting dining trends and newest cuisines and food around the region. Vancouver Foodster also runs a series of food challenges with restaurants and chefs throughout the year!
Curry spice image – Wikipedia