There is nothing like walking among thousands of little Christmas lights adorned on small wooden huts accompanied by your friends and family, on a chilly day with a glass of traditional Glühwein to keep you warm, listening to live Christmas carols in the back ground and, the aroma of cinnamon and cloves filling the night air. Vancouver's Christmas market is slowly becoming an urban tradition in the city and once again it is sure to thrill visitors on its fifth anniversary this year.
This authentic German Christmas Market has it all- from live band to unique handmade gift shops, nutcrackers, food and beverages from all over the world, a photo booth, ginger-making activities, even gluten free candy, and of course the famous Christmas Carousel.
Here are 5 things you must do to complete your Christmas market experience this year:
Traditional Glühwein- The authentic Glühwein is the first on our list due to the rich taste of this old German beverage. The hot drink is only offered during the holiday season, prepared with blue & red wine and filled with spices such as cinnamon, cloves, citrus zest and vanilla pods. I would recommend visiting the 'Traditional Glühwein' hut to have a taste of this delicious beverage. It is sure to keep you warm and cozy as you enjoy the festivities of the market. You will not encounter anyone without a glass of piping Glühwein in their hand while the whole market is filled with the aroma of spicy mulled wine. The kiosk offers cherry Glühwein, apple Glühwein and if you prefer a non-alcoholic beverage, you can also try the cinnamon Apple Spice Cider for only $4. Your Christmas market experience is incomplete without sipping on some hot traditional Glühwein.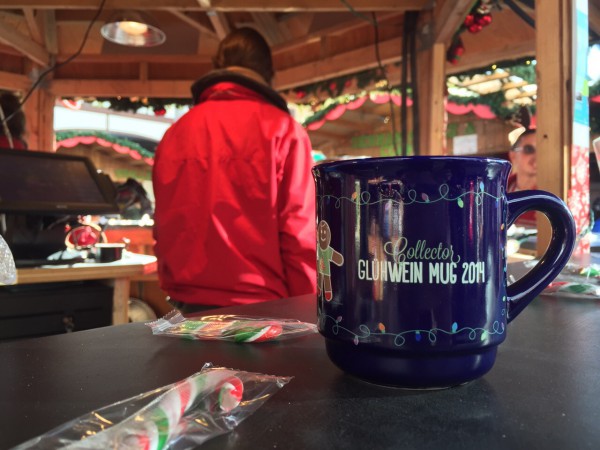 Unique Hand-Made Gifts and Toys- If you are unsure of what presents to buy your friends and family for Christmas, Vancouver's Christmas market is the place to go! Since most of the toys and decorations are custom-made, they are unique and made with intricate attention to detail. I was blown away with the handy-craft of the vendors that came from all over the world selling Christmas decorations and presents.
I would recommend definitely visiting the Nutcracker house to buy an authentic Christmas present for your loved ones especially if they like to collect little wooden toys. Although a bit expensive, these German hand-made wooden toys accurately represent the Christmas spirit and its traditions.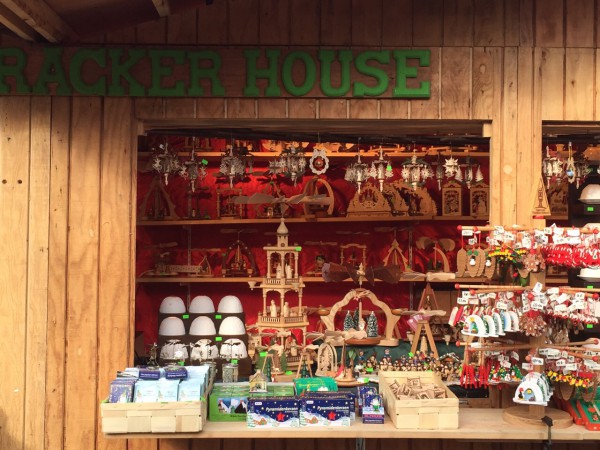 Make sure to also visit a gift kiosk called Arreola Designs if you are into Boleslawiec Pottery and stoneware all the way from Eastern Europe. Their products looked very fancy, super creative and were reasonably priced. Some of the other Gift Vendors to visit are Thyme of your Life, Art of Soap and Toy Wonderland, for unique Christmas present ideas if you are on a budget!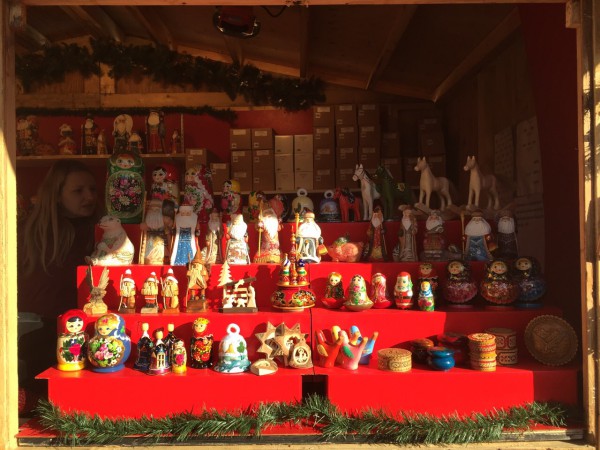 Food and Beverages- The Christmas market is a foodie's paradise especially if you get excited (like me) to try anything new that smells delicious. From Crepes to waffles, Haxn Haus , chocolate fondues , freshly baked pastries & bread,  mouth watering sausages and much more!. You have more than 15 food vendors to choose from!
I would recommend taking a peek at Zotters's Chocolate Factory for their muy delicioso chocolate beverages. They have more than 10 different types of hot chocolates, chocolate cocktails and you can also purchase their hand scooped vegan dark chocolate made with 5 layers of different ingredients. This is a small family owned business with more than 380 products. The chocolates are for truly savoring rather than indulging- like fine wine.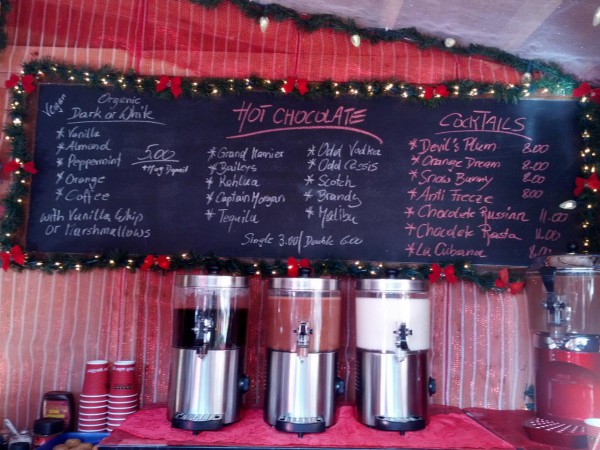 The award winning sausages from Black Forest Delicatessen is easy to spot due to the long line-ups even on a Saturday afternoon where you can taste authentic German Bratwurst. The stall is decorated in accordance with the Christmas spirit, which you will love!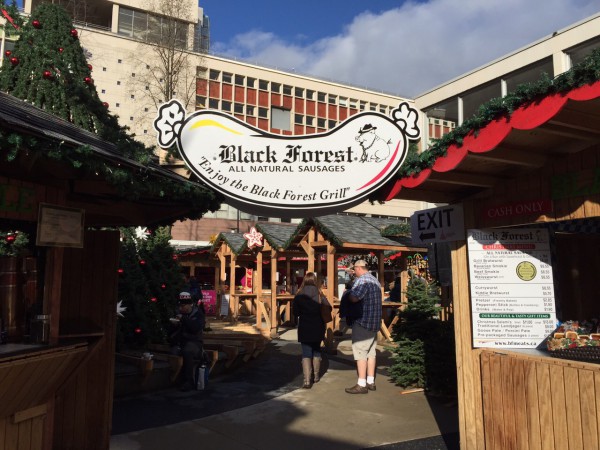 Das Schnitzelhaus has become a favorite of Vancouverites however I did not get a chance to taste it. (It is definitely on my MUST HAVE list for next time) Schintzel is a famous German delicacy served with meat and covered with mushroom gravy and hot potatoes. It looks mouth-watering and I am hoping it tastes even better from what I have heard.
Live Band and other family activities- The live band at the market will truly get you into the holiday spirit. You can stand under the small wooden huts constructed for visitors to enjoy your meal filled with Christmas delicacies and watch the live band right in front of you. The Carousel is right beside the eatery where your kids can create Christmas memories and get excited for the holiday season. The photo hut serves as a convenient spot to take fun and festive pictures with your family and friends. You can also make your own Herrnhuter star or build a ginger bread house with your family. HoneyBee Centre is a store based in Surrey that produces fine quality honey. If you get the time, you can visit their Kiosk for some free honey tasting session and learn more about top quality honey.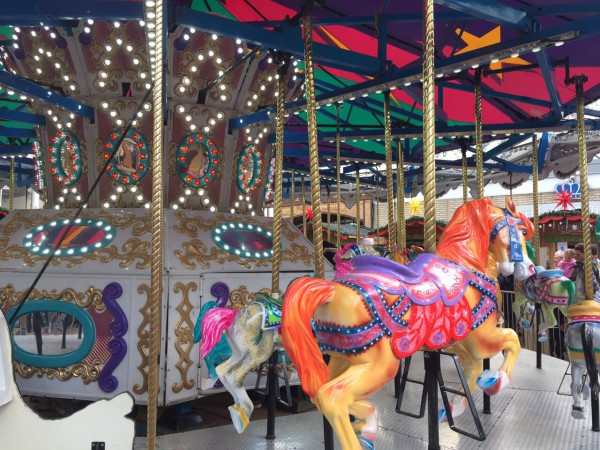 Käthe Wohlfahrt- Last but not the least is Käthe Wohlfahrt, the     biggest vendor at the Christmas market. This family owned company is the most famous and one of the largest manufactures of Everything-Christmas. This year they are celebrating their 50th anniversary! They sell everything from delicate Christmas decorations to hand-made wooden toys, candles and much more. It is pricey for sure but if you are a collector and love Christmas, Käthe Wohlfahrt is known to provide a unique experience for their customers. It is definitely the highlight of the Christmas market so make sure to check it out. Unfortunately, you cannot take pictures inside the store.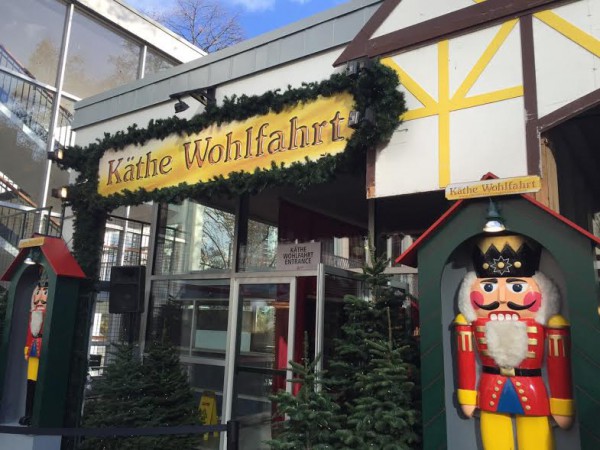 Overall, this years Vancouver Christmas Market does not disappoint. Make sure to visit at least once this season. I would strongly recommend visiting during the evening so you can experience the beautiful Christmas lights, as they are one of the biggest part of the whole experience even if it will be more crowded and you might have to wait in line-ups.