Odd Society Spirits Release Limited Edition Salal Gin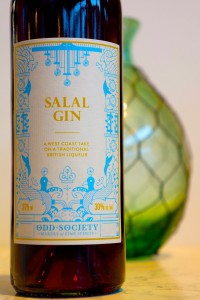 Once again, Odd Society Spirits looks to Europe for inspiration in an old but not forgotten recipe to which they have reinvented with ingredients and ideas from the Pacific Northwest. This time, the distillers have experimented with a traditional British liqueur called sloe gin to create a product that is completely unique to the West Coast of British Columbia. On February 1, 2015, Odd Society Spirits will release their first-ever Salal Gin.
With a mandate to source locally grown ingredients, Odd Society Spirits co-owner and distiller Gordon Glanz set out to find a berry that grows in abundance in British Columbia. Instead of utilizing traditional hard-tasting blackthorn berries, Glanz used salal berries harvested on the Sunshine Coast and Cortez Island.
"We tried Sloe Gin, liked it and wanted to make our own," says Gordon Glanz, Odd Society Spirits founder and distiller. "Sloe berries don't grow here in B.C. Fortunately, salal berries grow plentifully on the west coast and have the earthy taste we were searching for — like blueberries meet Italian spice."
Handpicked salal berries were steeped in Odd Society Sprits' Wallflower Gin for many months to create a brand new liqueur that is complex, sweet, tart and herbaceous, with a natural hint of oregano. It can be enjoyed as an aperitif or digestif on its own, on the rocks or with lemon and club soda to create a 'Salal' Gin Fizz.
With only 45 bottles of the inaugural batch available, curious drinkers will have one shot to get their hands on it. The Salal Gin is sold in 375ml bottles for $30 and can be purchased only at the Odd Society Spirits distillery located at 1725 Powell St. on Sunday February 1, 2015 from 1PM – 6PM. With a one bottle per person limit issued on a first-come, first-served basis, fans might want to get there early.
About Odd Society Spirits:
Odd Society Spirits is a small-batch craft-certified distillery located in the heart of East Vancouver. Dedicated to combining old world distilling traditions with new world ingredients and ingenuity, Odd Society Spirits has created a family of spirits that entice and intrigue.  Open Thursday through Sunday, the Odd Society Spirits distillery and cocktail lounge is located at 1725 Powell St .
Contact Odd Society Spirits:
F: facebook.com/OddSocietySpirits 
T: @oddspirits 
E: info@nulloddsocietyspirits.com
P: 604.559.6745