The majority of residents surveyed (60%) support a new, affordable sedan car service that would meet provincial regulations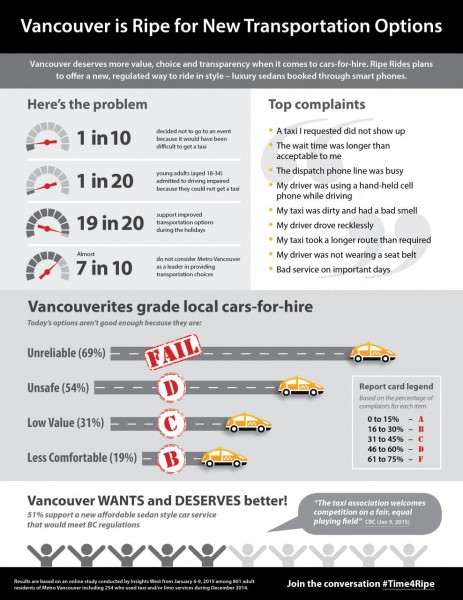 A new survey, Metro Vancouver Attitudes to Transportation Options, commissioned by Ripe, a Vancouver-based company proposing to offer mid-level luxury car- for-hire service accessed and validated through smart technology applications, reveals that while the majority of residents use bus, sky train and taxi service, they feel Metro Vancouver lags behind other Canadian and U.S. cities in offering a variety of transportation choices to residents and visitors.
The research, conducted by Insights West, indicated that bus and sky train are the main modes of transportation (24% and 20% respectively) for once a week or more and taxis are used by Metro Vancouverites (38%) who use the service a few times a year or more.
Despite the popularity of these modes of travel, survey results show that residents find them to be unreliable – bus (66%), sky train (50%), taxis and limousines (43%). As well, there are significant gaps in hired car service – taxi and limousine – quality:
 More than one third of respondents encountered a busy dispatch line (38%) and longer than acceptable wait times (37%).
 More than one-in-four say their taxi ride took longer than required (29%) and had a taxi driver who used a hand-held cell phone while driving (28%).
 Almost a quarter had a driver who drove recklessly (24%) or were told all the taxis were full.
 About 1 in every 5 people were left without a way to get home (19%), called a taxi that did not
show up (17%), or rode in a dirty taxi (16%).
 1 in 10 said their personal safety was at risk because they could not get a taxi (9%).
Residents cite cost (64%), value (60%), safety (58%), speed of service (52%) and transparent transactions (48%) as the key characteristics they are looking for in a hired car service.
The majority of residents surveyed (60%) support a new, affordable sedan car service that would meet provincial regulations. It would also be their preferred mode of transportation (66%) when celebrating a special occasion over other modes of transportation including limousine, taxi, sky train and bus. Support is decidedly lower (32%) for a private car or rideshare service that does not meet B.C. transportation regulations.
"These survey results clearly indicate that Vancouverites are hungry for clean, safe, reliable and fairly- priced rides to get around the city, in essence it's time for Ripe," said local entrepreneur Otis Perrick, President and Founder of Vancouver's Disruptive Publishers and Ripe. "Ripe is ready to be the option of choice that surpasses current levels of marginally satisfactory service by filling the gap between taxis and limousines, providing a transparent customer experience, while following the rules and regulations set out by the Province of BC."
Earlier this month, Ripe presented evidence to the Passenger Transportation Board in its application for twenty licenses to provide mid-level luxury sedan for hire services in the city and called several expert witnesses, including UBC Professor Dr. David Gillen, a noted transportation economist, who has been sought out globally for his expertise. During his testimony, Dr. Gillen noted, "Vancouver's population and average income is growing and with it will come a need additional flexible, transparent and value- based transportation options. Ripe is well suited to meet this need in many ways; this service can co- exist in the market today and will effectively grow the demand for mid-level car hire service."
A decision is expected from the Passenger Transportation Board by the end of January 2015. If approved, Ripe will work with the City of Vancouver on the next steps in the process of delivering more transportation options to Vancouverites.
To keep up to date on Ripe, join the conversation online @riperides using the hashtag #Time4Ripe and at www.riperides.ca
Survey methodology
Results are based on an online study conducted by Insights West from December 9 to December 12, 2014, among 795 adult residents of Metro Vancouver—including 401 frequent taxi and/or limo riders. Results have a margin of error of +/- 3.5 percentage points (full sample) and +/- 4.9 percentage points (taxi/limo riders), 19 times out of 20.
About Ripe
Ripe is a Vancouver-based company applying to launch a mid-level, point-to-point luxury car service in Vancouver, using smart phone integration to bridge customers and drivers. A middle ground between existing transportation in Metro Vancouver – taxis, limousines and public transit – Ripe gives Vancouverites more options for point-to-point transportation around the City. Through smartphone integration, customers have accurate wait and trip times and can see how much their ride will cost based on real time GPS. After each trip, both the customer and the driver rate each other on service, cleanliness, and other factors. Customers can see a driver's ratings before requesting a trip, and make decisions based on previous riders' reviews.