It's big news for Vancouver. On Jan 22nd, Marcon Homes announced a large donation to North Shore Rescue  – which will help the volunteer-run wilderness rescue organization buy a much-needed long line and will go a long way towards providing some financial stability for the new Tim Jones Legacy Fund.
The fund was established after the death of Tim Jones last year and this is the first time a real estate developer has made a donation – and NSR hopes – not the last. At the event on Jan 22, Marcon will be making public the details of its donation. As well, the event will kickstart the NSR's 50th anniversary year.
This is big news for Vancouver – because the NSR is constantly in the news about its rescue efforts, but few people understand what it takes to dedicate one's life to this volunteer group. At the event, there will be volunteers showcasing the long line that the donation will help purchase, and there will be film clips from a recent CBC documentary shown to help understand the sacrifice that goes into making these rescue operations possible.
For Marcon – a developer that has sold the outdoor lifestyle to many homebuyers on the North Shore, the donation is based on a portion of home sales from their Lynn Valley development called Mill House.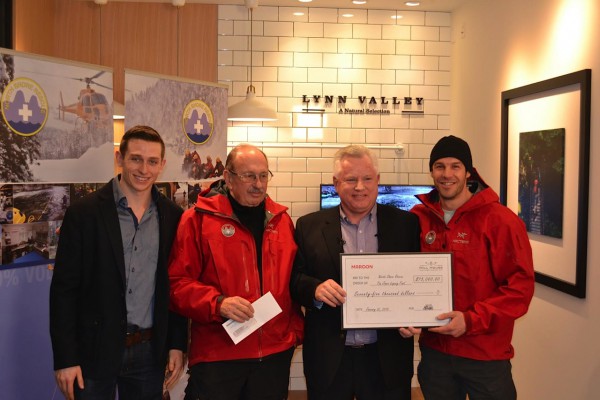 North Shore Rescue (NSR) is made up of approximately 40 volunteers that perform upwards of 90 search & rescue operations each year in mountain, canyon and urban settings.
Marcon is making a donation to North Shore Rescue through a new program which pairs home buyers with local, charitable giving.
A portion of every home sold at Marcon's Lynn Valley, North Vancouver project – Mill House – will contribute to a corporate donation to the NSR's Tim Jones Legacy Fund. We have built over a thousand homes on the North Shore, and a big part of why people chose this area as their home is because of the outdoor lifestyle provided by proximity to mountains and ocean.
By partnering with NSR, Marcon wants to give back and spread awareness about NSR initiatives that keep outdoor adventurists safe.