Tasting Plates North Van kicked off at the Pier 7 Restaurant with registration and a map/passport card. Then it was off to explore the culinary delights of Lower Lonsdale.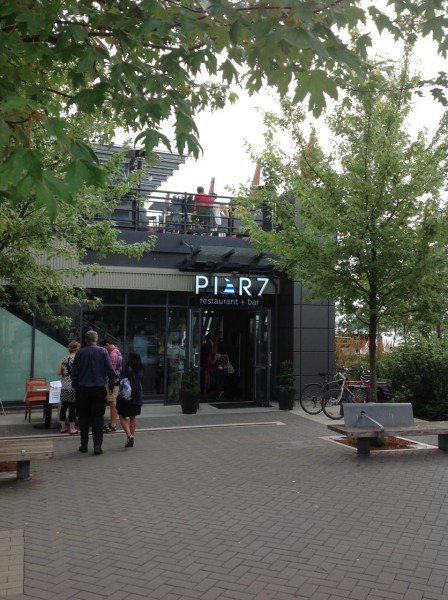 We started off at Pier 7 Restaurant. The restaurant is located just east of Lonsdale Quay, tucked in behind the Tap and Barrel. It was beautiful sitting on the outdoor patio overlooking the harbour.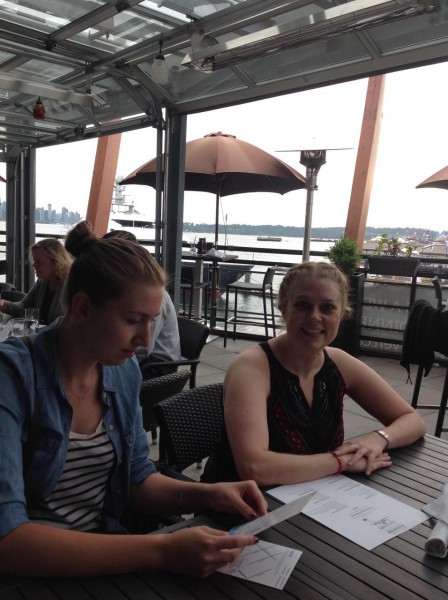 Pier 7 offers a west coast menu. For this event, they offered a three-sample plate. We started with the Oyster shooter with tomato jelly, celery foam. I would have preferred the oyster to be cold. I didn't find the warmish temperature appealing. Next was the salmon tataki with grand fir crème fraiche and pea shoots – very delicate and lovely. The final bite was Una tartar with ponzu ginger on a taro root chip. – very nice flavour. It seemed mild at first and then morphed into a gingery barbecue flavour at the end. This was many people's favourite.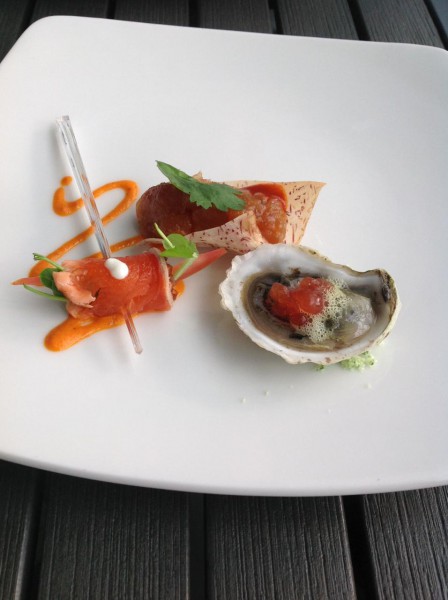 We then walked a across the plaza to the Pinnacle Hotel at the Pier – my favourite spot of the evening.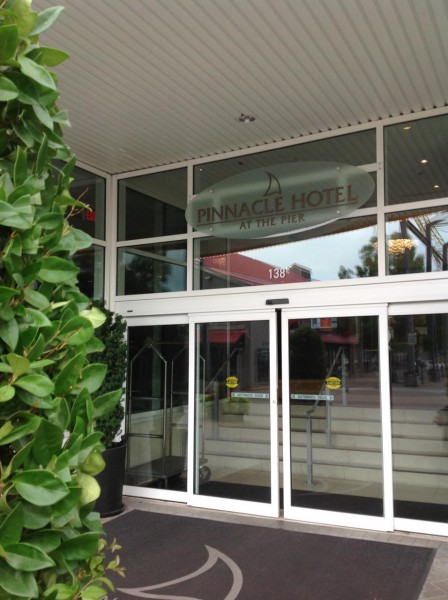 This is another west coast cuisine restaurant and one that features an extensive wine list. Pinnacle offers 40% off selected wines on Wednesdays – whoo hoo!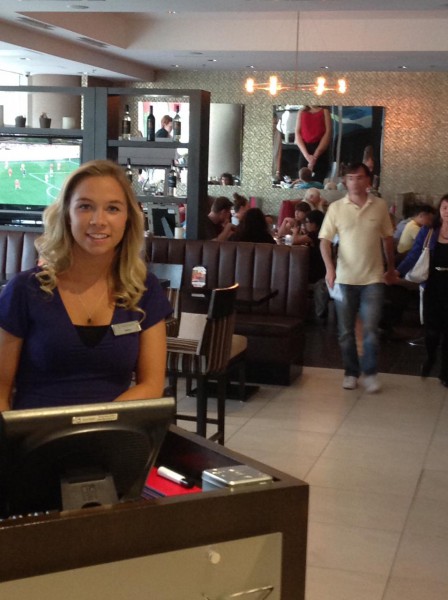 Here we began with togarashi seared Ahi tuna tataki with cucumber, edamame, beet curls, carrot, arugula, and spinach with a cilantro orange soy reduction – great presentation, very colourful. I loved the cilantro orange soy reduction. Up next, jicama fish tacos – pan seared cod, pickled fennel coleslaw, pico de gallo in a thin jicama shell – very flavourful. The pickled fennel was a nice compliment. These two dishes complimented each other very well. All the ingredients contributed something to the overall flavour. Accompanying the food was a glass of saporous sangria – tasty and refreshing.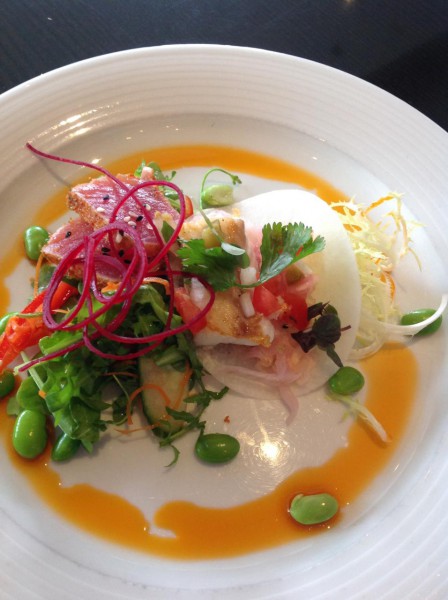 Next, it was across the road to Lonsdale Quay and the next three stops, the first of which was Green Leaf Brewing Co.
Green Tree offers craft beers and bar snacks. Growlers are also available. They offer a choice of five draft beers – Wisenhower, Lloyd's Lager, Pie Hole Pale Ale, Chain Link IPA and Tap 5 (an ever-changing experimental selection). Other beers are available for Off-sale.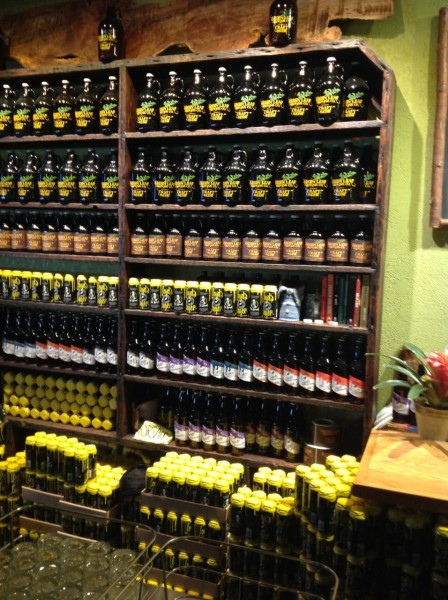 It was nice sitting on their outdoor patio, enjoying a flavourful Chain Link IPA, watching the people walk by on the warm summer evening.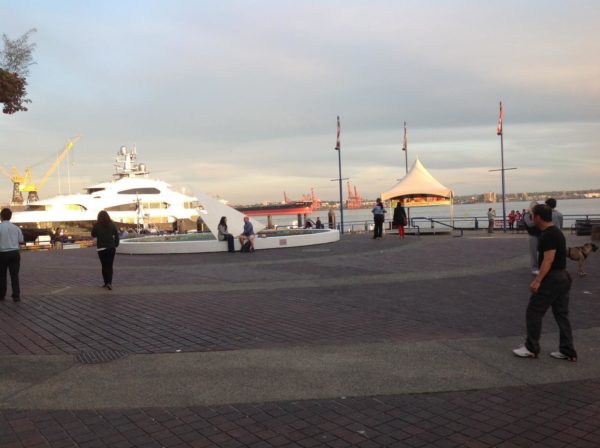 Then it was time for more food. A few steps outside the door was Bowen Island Pizza Company and Melanie McCready, owner and pizza maven.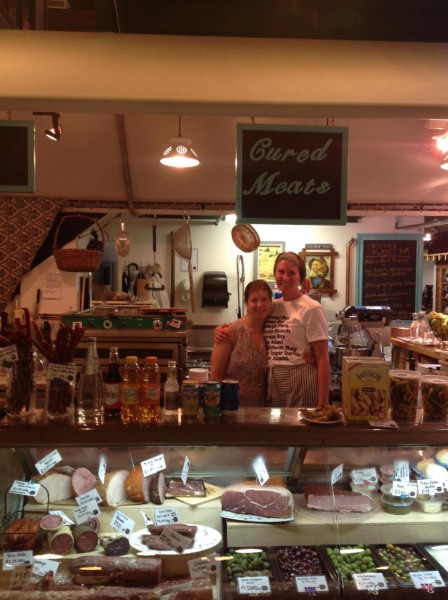 Bowen Island Pizza is a recent addition to the Quay, having opened just three months ago. Melanie offers a great selection of deli meats and cheeses as well as delicious pizza. We were offered a slice of their signature pear and Brie pizza – fabulous, as well as slices of Two Rivers charcuterie and a wedge of cheese. I'll be sure to be back soon to see Melanie and her delightful staff.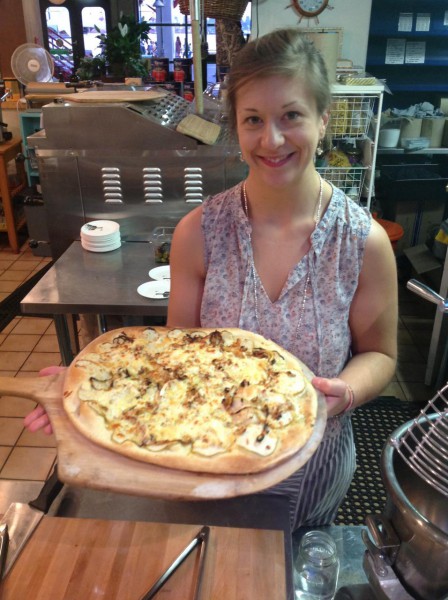 Right next door was Frux Frozen Yogurt.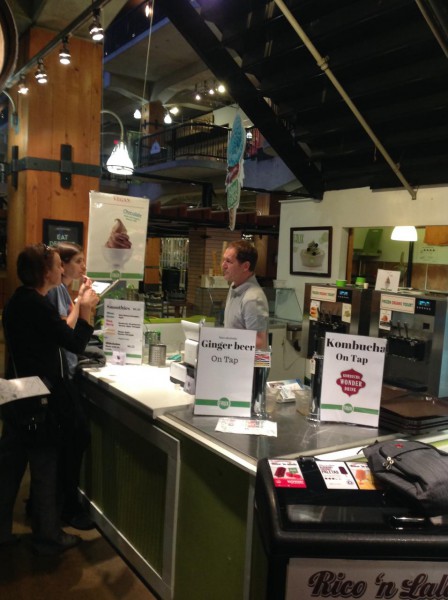 Here, we tried kale frozen yogurt – very interesting, vegan chocolate frozen almond milk, strawberry frozen yogurt sweetened with honey and Kornbucha (lemon grass tea beverage) ice pop. It was hard to pick a favourite among these; just remember to exercise caution and avoid a brain freeze. Frux also offers many other frozen fruit bars and sandwiches.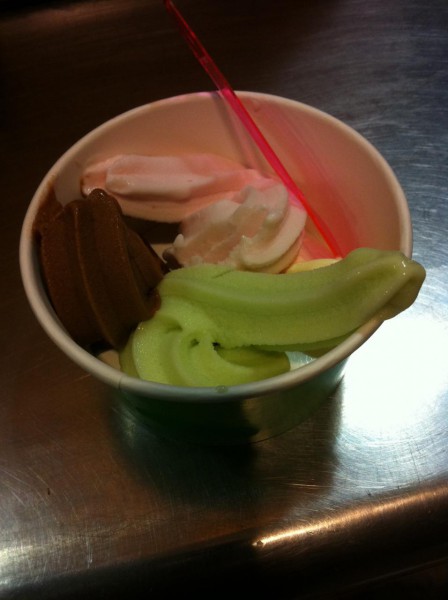 Then it was time for a short walk before our final stop of the evening at Two Daughters Bakery, in the alley of east 1st Street, just off Lonsdale, where we sampled an organic blueberry raspberry tart and a savory spinach scone. It's well worth searching for this gluten-free bakery.
Tasting Plates – what a great way to sample the wares of your local eateries. Get a group of friends together for a fun night our exploring neighbourhood places that you may never have known about. Vancouver Foodster, Richard Wolak, has been organizing these tours for many years now and he has it the organization down pat.
Previous Tasting Plate events have taken place in New Westminster, East Village, the Olympic Village, Cambie Village, Yaletown, Chinatown / Strathcona, and West 4th. Here are some You Tube clips of earlier Tasting Plates events:


Tasting Plates Commercial Drive takes place on August 12, you can get early-bird tickets here:
https://www.eventbrite.ca/e/tasting-plates-commercial-drive-tickets-17767092853
Also check out the Vancouver Foodster web site, which features other upcoming events:
http://vancouverfoodsterevents.com/