The 10th annual Easter Seals Drop Zone event produced by the British Columbia Lions Society for Children with Disabilities raised a total of $188,000 yesterday. The funds raised through this unique event will help support Easter Seals programs and services throughout British Columbia.
Sixty five superheroes from across the Lower Mainland and a few as far as Nanaimo and Chilliwack committed to raising a minimum $1000 each to earn the exclusive right to rappel 200 feet down a downtown office building at the corner of West Hastings and Burrard Street.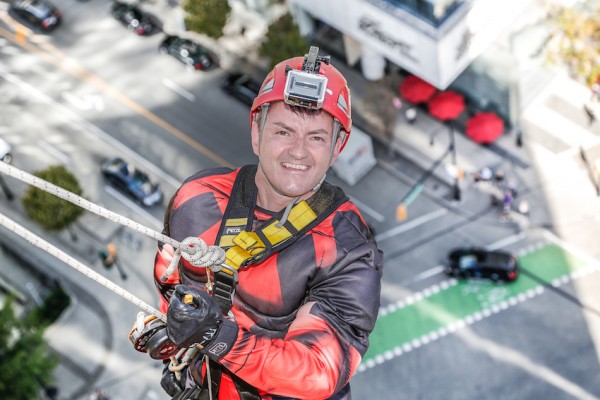 This year's top individual fundraising superhero was Archie Campbell who raised over $13,000 in donations, while the top fundraising team was "The ACL Superheroes" who raised over $16,000 in donations. Special mention goes to the "Silver Stars" for their fundraising towards Easter Seals programs and services. The best individual costume went to Huck Baldwin who dressed as 'The Hulk', and best team costume went to 'Damsels in these Dresses'' who dressed as Supergirl and Supermom.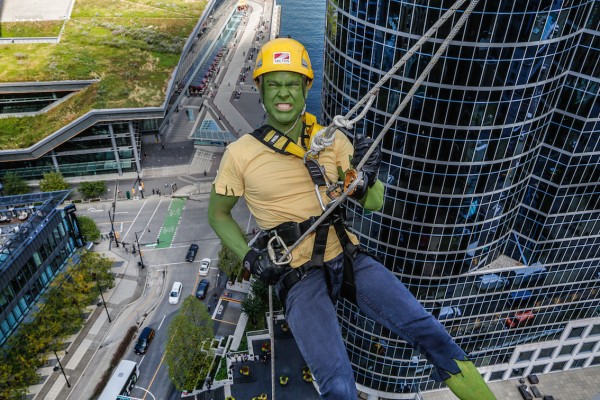 "We're extremely pleased with the success of this year's Drop Zone event, the incredible support of donors and the enthusiasm of our participants is what makes this event the success it is", says Stephen Miller, President and CEO of the BC Lions Society for Children with Disabilities.
Easter Seals also known as The British Columbia Lions Society for Children with Disabilities has been a registered charitable organization since 1952.  The Society assists children with all types of special needs through programs and services, such as their Easter Seals House and Easter Seals Camps.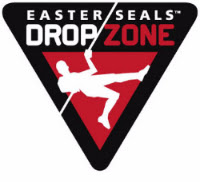 About Drop Zone: Drop Zone is Vancouver's original charity rappelling event, raising funds to benefit Easter Seals services in British Columbia. The event challenges participants to step out of their comfort zone, and rappel down a 20-storey office building in Downtown Vancouver. Register today at www.thedropzone.ca/vancouver or call 604-873-1865 for more information.