Ultimate Upcycle Challenge gives sustainable design a front-row seat at the Vancouver Home + Design Show
14 local tastemakers breathe new life into pre-loved pieces to raise funds for Habitat for Humanity Society of Greater Vancouver,  October 22-25 at the Vancouver Convention Centre West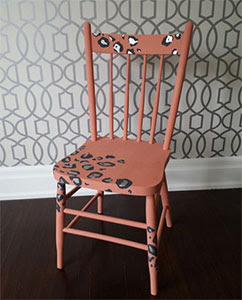 Ultimate Upcycle Challenge: Take A Seat, a creative project designed to promote sustainable design while raising awareness and much-needed funds for Habitat for Humanity Society of Greater Vancouver and its affiliated ReStores, is back. 14 local tastemakers were tasked with sourcing and upcycling one furniture item from ReStore Burnaby into a seat, with each piece to be exhibited and auctioned at the upcoming Vancouver Home + Design Show, happening October 22-25, 2015 at the Vancouver Convention Centre West.
According to Vancouver Home + Design Show manager Tyson Kidd, 100 percent of auction proceeds will directly benefit Habitat for Humanity Society of Greater Vancouver and its affiliated ReStores.
"It's design, with a conscience," explained Kidd. "So many great benefits come from the Ultimate Upcycle Challenge. It's a terrific opportunity to get creative and have fun, while raising needed funds for an important cause. And we love to show people how you can give pre-loved pieces a new lease on life – it's often less expensive than buying new, and prevents things from winding up in the landfill, too."
All 14 seats will be up for bids at a silent auction on the show floor at the Vancouver Convention Centre West. Interested buyers can stake their claim to pieces designed by a host of local talent, including:
•Norma Reid, CTV Vancouver
•Leigh Kjekstad, Global BC
•Bianca Solterbeck, Shaw TV
•Peter Verge, Shaw TV
•Dunia Tozy, Shaw TV
•Laurie Logan & Tara Jean Stevens, 96.9 JACK FM
•Stacey McLachlan, Western Living
•Julia Dilworth, Western Living
•Karen Daniels, Clay St. Thomas & Stewart Purvey, JRfm
•Carlle Chatten, A Leather Bound Journal
•Christie Lohr, Style Nine to Five
•Crystal Carson, Crystal Carson Style
•Jamie Banfield, Jamie Banfield Design
•Nicolle Hodges, Vancity Buzz
Each participant chose their item(s) directly from ReStore Burnaby, then completed the makeover using only a randomly assigned mystery box of Rust-Oleum Consumer Brands Canada products and a $50 design budget. Wannabe upcyclers can get first-hand inspiration both at the exhibit, and at the Main Stage, where Rust-Oleum spokesperson and DIY expert Leigh-Ann Allaire Perrault will appear on Saturday, October 24 at 6:00 p.m. and Sunday, October 25 at 12-noon.
''For almost a century now, we have been educating, inspiring and helping Canadians cross the DIY finish line,'' said Lawrence Genga, Senior Director of Marketing and Research and Development at Rust-Oleum® Consumer Brands Canada.  ''By challenging Vancouver's tastemakers to rethink and reinvent a simple item, we hope to show that with the right products and a little elbow grease, anyone can create a statement piece on a small budget.''
To save $3 on tickets for the show, purchase them online at www.vancouverhomeshow.com.
Leigh-Ann Allaire Perrault's Painted Rust-Oleum Chair
About the Vancouver Home + Design Show: The Vancouver Home + Design Show has been a staple in consumers' calendars since 1983, attracting more than 35,000 qualified visitors every fall. Produced by Marketplace Events, the show features high-interest exhibits, high-profile industry personalities and the latest home and lifestyle trends. Marketplace Events produces 42 events in 21 markets that collectively attract 1.5 million attendees and another 1.5 million unique web visitors annually.
About Marketplace Events: Marketplace Events creates vibrant expositions connecting enthusiasts with experts, products and services in dynamic face-to-face environments.  The company now produces 42 home shows annually in 21 markets including: 28 consumer home shows in the US and 13 in Canada that collectively attract 13,600 exhibitors, 1.5 million attendees and another 1.5 million unique web visitors annually. From 13 offices, the 110-person staff produces some of the most successful and longest-running shows in North America, including market-leading home shows in Montreal, Vancouver, Calgary, Minneapolis, Philadelphia and Washington, D.C. –some of which have thrived in their markets for more than 75 years.  www.marketplaceevents.com
About Habitat for Humanity Society of Greater Vancouver: Habitat for Humanity Society of Greater Vancouver is a non-profit organization working towards a world where everyone has a safe and decent place to live. Our mission is to mobilize volunteers and community partners in building affordable housing and promoting homeownership as a means to break the cycle of poverty. Habitat for Humanity is an international organization spanning over 100 countries and has built over 600,000 homes. Locally, Habitat for Humanity Society of Greater Vancouver has recently completed a 27-unit townhome complex in Burnaby and has a new build in the planning stages in Richmond. Habitat for Humanity Society of Greater Vancouver operates four ReStore locations, which sells donated new and used building materials, and sells them at 50-80% below retail. Money raised through sales at our ReStores covers 100% of Habitat's operational costs and contributes to the build fund. Products sold at the Greater Vancouver ReStores divert over 2,400 tons of waste from local landfills each year.
About Rust-Oleum Consumer Brands Canada: For over 90 years, the Rust-Oleum® Corporation has been the industry leader in rust preventative coatings. Today, Rust-Oleum® produces market-leading brands in small-project paint, woodcare, automotive and high-performance coatings. From brand names you trust such as Tremclad, Varathane, EpoxyShield, and Zinsser, our products and services are based on a legacy of knowledge, innovation and commitment. Whether your project goal is to prevent rust, restore a worn-out surface, create a showroom finish your garage floor or stain and protect your wood floors, Rust-Oleum® has solutions for both professionals and Do-It-Yourselfers. For more product information, visit http://rustoleum.ca/ and to get inspiration for your next DIY project, visit http://HelpingYouFinish.ca/.