The Food Pedalers have one of the world's most unique urban farming systems – growing microgreens year-round in a greenhouse built out of a modified 40-foot shipping container. Chris Thoreau, Jaymie Johnson, and Ross Jarvis are the member-owners of the Food Pedalers Co-op and are supported by a great staff team.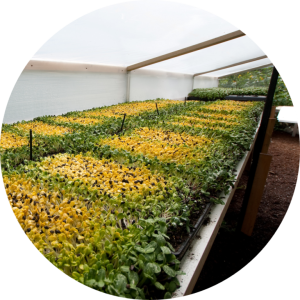 Established in 2009 by Chris Thoreau, the business started off growing just sunflower shoots on covered benches for the summer season. Chris sold these shoots to Farmers markets and friends this first year. It was slow start but it showed there was interest in locally-grown microgreens in Vancouver and that was enough to keep us going…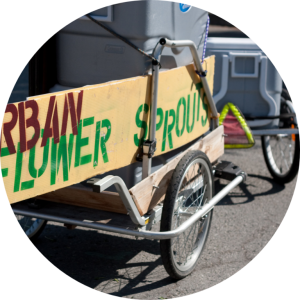 An important part of the business was transportation by bicycle. Not only was this a sound environmental choice, but it also made economic sense. Bike deliveries are cheap and fast! A variety of trailers pulled in tandem got the products to the farmers market each Saturday and drew lots of attention as they made their way through East Vancouver to the Trout Lake Farmers Market! Nowadays our trailers are a bit more refined with three cargo trailers for our restaurant deliveries and a specialized display trailer for our farmers market stall.
Over the years the business grew and so did the crew – while pea shoots, buckwheat shoots, and radish shoots joined the sunnies on display at the market. But they also started appearing on menus throughout Vancouver as we moved into restaurants and some small grocers in an effort to expand our sales.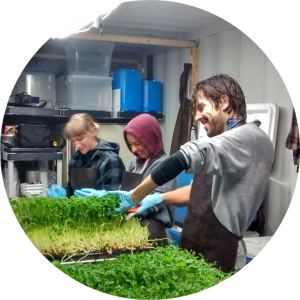 Major change happened in 2013 after becoming a registered co-operative and receiving a generous grant from Vancity to build a unique shipping container greenhouse. This allowed us to further expand our production as well as our season – giving us the capacity for year-round production and greatly increased climate control.
Now in our eighth year, the Food Pedalers are looking forward to another year of providing Vancouver residents with the freshest microgreens you can buy!