Rocky Mountain Flatbread and friends are thrilled to offer a unique Harry Potter Adventure for families in celebration of the release of the new Harry Potter script book Harry Potter and the Cursed Child.
What: Harry Potter Adventure
Date: Sunday, July 31
Time: noon – 2 pm
Location:  Park Royal South Shopping Centre, 2002 Park Royal South, West Vancouver, BC
Start your adventure at Indigo Books where children will make a magic wand and learn to play Quidditch. Pick up your map to continue the Harry Potter Adventure with stops at Rocky Mountain Flatbread for Fortune Telling Drinks, Creepy Crawly Candy and pizza tastings; Toy Jungle for magic tricks and Bertie Bott Bean Tastings; and Murchies Tea and Coffee for Wizard potion tastings.
Accio! See you there!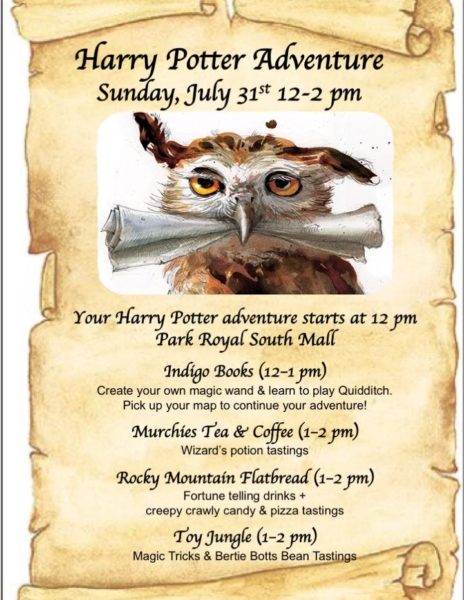 About Rocky Mountain Flatbread Rocky Mountain Flatbread takes pride in providing sustainably produced, local food that connects the farm, family and community. Visit ourtwo Rocky Mountain Flatbread restaurant locations in Vancouver (Main Street & Kitsilano) or the original restaurant that started it all inCanmore, Alberta. Food court locations include Rocky Mountain Flatbread Express in Banff and Rocky Mountain Flatbread Food Court in West Vancouver. For more information, visit rockymountainflatbread.ca.
About the Toy Jungle The Toy Jungle has been seeking out 'the right toy for the right child' in West Vancouver since 1999, and incredibly since 1972 at the Toybox! Toys made with such great quality that parents continue to step on them even today! (Ouch!) Our uniquely branded stores are themed to make your shopping experience with us a memorable one. Our Toy Jungle store looks like a jungle – from the giant tree at the entrance to the store, to the giant airplane crashed into a mountain of plush in the rear.
About Murchies Tea & Coffee John Murchie immigrated to Canada from Scotland in 1894 and founded Murchie's Tea & Coffee in New Westminster, BC. Using only the finest quality loose teas direct from some of the world's premier gardens, John Murchie's tradition of quality and distinction continues to this day. Whether to celebrate a special occasion or for your daily "cuppa" Murchie's has a full selection of teas, coffees, spices and more that will allow you to enjoy your favorites, and to discover new ones!
About Indigo With books always at our heart and soul at Indigo we are about telling stories and creating experiences. Indigo is Canada's largest purveyor of ideas and inspiration to enrich your life, with books, gifts, specialty toys and lifestyle enhancing products that affordably offer intrinsic quality, beauty and timeless design. As the largest book and specialty retailer in Canada, Indigo operates in all provinces under different banners including Indigo Books & Music; Indigo Books, Gifts, Kids; Indigospirit, Chapters, Coles and the online channel, www.indigo.ca.
About Park Royal South Shopping Centre
As Metro Vancouver's premiere shopping experience, Park Royal has redefined the standard of shopping in Canada. With over 275 shops, restaurants and services minutes from downtown Vancouver, Park Royal is home to some of the world's best fashion brands including BC's only Simons location. Park Royal offers a unique shopping experience with an unmatched combination of indoor and open-air shopping in an upscale, yet relaxed atmosphere.