Shirlene Coté, Vegetable Farmer
Owner, Earth Apple Farm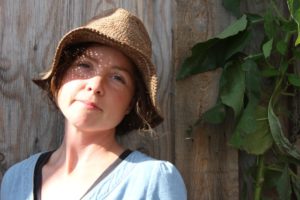 Shirlene has been growing vegetables for the lovely people of the lower mainland in BC for 5 years now.  What started as a small obsession with growing several varieties of potatoes, has turned into a full blown life commitment to growing over 50 varieties of fruits and vegetables, raising hens and ducks for eggs, and growing herbs and cut flowers on the side. She is dedicated to offering high quality produce and more and more has become known for growing important staple foods, such as delicious potatoes, carrots, squash, beets, onions and other winter storage crops.
Earth Apple Farm recently joined Glen Valley Organic Farm in Abbotsford.  Thus, Year 6 will be an exciting expansion to 5.5 acres of field production and certifying organic!  The farm continues to offer a CSA Harvest Box program, attend regular Vancouver farmers markets throughout the year and provide to talented Chefs offering farm to table menus and catering.
Mission Statement:
Earth Apple Farm was formed with the intention of directly contributing to local food security; maintaining healthy environments; fostering healthy communities; and growing high quality, great tasting, nutritious produce for local communities.  We are dedicated to ecologically sound growing methods, and fair wages for farm workers.
Inquire about Earth Apple Farm's CSA Harvest Box Program and visit us at Summer and Winter Vancouver farmers markets. Chefs interested in regularly receiving high quality local produce, email us for a weekly fresh sheet.
Trout Lake Farmers Market | Saturdays, 9am to 2pm, May to October
Winter Market at Nat Bailey Stadium | Saturdays, 10am to 2pm, November to April