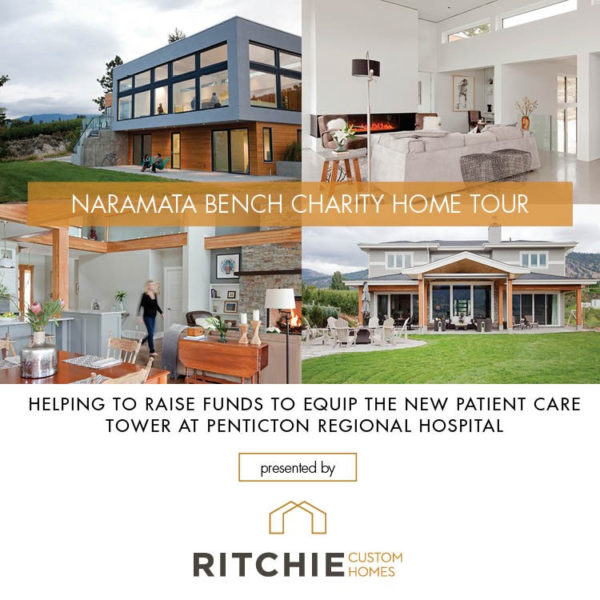 Liquidity Wines is proud to be one of the sponsors for the Naramata Bench Charity Home Tour, helping to raise funds to equip the new Patient Care Tower at Penticton Regional Hospital.
Penticton-based builders Ritchie Custom Homes are partnering with several top local wineries for a breathtaking Naramata Bench Charity Home Tour with all proceeds to benefit the new patient tower at the Penticton Regional Hospital.
For more than 20 years, Ritchie Custom Homes has been passionate about creating homes designed for our local lifestyle. During the self-guided Naramata Bench Charity Home Tour on Saturday, September 10th, attendees will be inspired by the spectacular beauty of three custom-built homes on the scenic Naramata Bench. At each residence, guests will also be treated to a tasting from one of our partner wineries (Liquidity Wines, Little Engine Wines & JoieFarm) to complete the Okanagan experience.
"We pride ourselves on creating truly unique homes that integrate seamlessly with the natural beauty of the Okanagan," states Ritchie Custom Homes President Nicholas Hill. "The Naramata Bench Charity Home Tour brings together our passion for design and our local community, and we are thrilled to be able to give back to the community that has supported us for over twenty years."
Tickets for the tour are $75 per person plus tax, with a full charitable tax receipt, and all guests will be entered to win one of four spectacular prizes including a case of wine from one of the three participating wineries and the Grand Prize of a return-trip for two people to any scheduled WestJet destination. Tickets can be purchased online at www.naramatacharityhometour.eventbrite.ca or in-store at one of our sponsors (NuFloors Penticton, Robinsons Lighting & Bath & Liquidity Winery).
For more information about Ritchie Custom Homes, visit them online at RitchieCustomHomes.com and follow them on Facebook, Twitter and Instagram.
> our new menus
> wine tasting notes
> scenes from the vineyard
T (778) 515-5500  |  [email protected]