Join Broomelda at the Haunted Witches Academy before a flight across Canada!
We're giving away two passes to FlyOver Canada Halloween. To enter please "like" us and leave a comment on this post.
https://www.facebook.com/myvancity
http://instagram.com/myvancityca
Everyone's favourite witch Broomelda is back and ready to take you on a spellbinding journey across Canada. Aspiring witches and wizards will take part in the Haunted Witches Academy where graduating is easy… just survive! Broomelda will welcome you to the academy before leading you onto the Ultimate Flying Ride.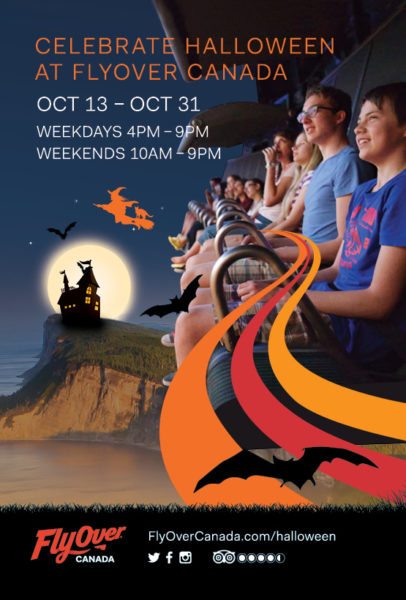 The complete Halloween at FlyOver Canada experience will last between 20 – 25 minutes including:
The Ultimate Flying Ride FlyOver Canada, a breathtaking 8-minute flight ride experience
Broomelda's Witch Academy Themed Pre-Show
Your very own Official Witch Academy Diploma to take home
Halloween theming and spine-tingling decorations
Witches and Wizards of all ages are encouraged to dress up!
This annual, family-friendly tradition has a 'spook-factor' suitable for those aged 4 years and up. Children must be at least 102cm (40″) to participate on the ride. Children 12 and under must be accompanied by an adult or guardian aged 14 years or older. Guests of all ages are encouraged to dress in costume. Don't miss this special seasonal offering at Vancouver's must-see attraction FlyOver Canada. Get your tickets on-site or online at www.FlyOverCanada.com.
Date: October 13 to October 31, 2016
Time:
o   Original FlyOver Canada Film 10am – 3pm
o   Halloween Special 4pm – 9pm
Saturday's

, 

Sunday's

and 

October 31st

 – Halloween Special 

10am – 9pm
Ticket prices are as follows:
General Admission
Adult $19.95 plus tax
Student / Youth / Senior $16.95 plus tax
Child $11.95 plus tax
FastLane
Adult $21.95 plus tax
Student / Youth / Senior $18.95 plus tax
Child $13.95 plus tax