First North American store to open in Vancouver, B.C. 
TWG Tea, the finest tea brand in the world and one of the fastest growing luxury brands in history, is expanding with its first North American Tea Salon & Boutique opening this fall in Vancouver, British Columbia.
An iconic global brand, TWG Tea opened its first headquarters in Singapore eight years ago to initiate trading with plantations across Asia (Singapore's geographic placement is ideally situated for TWG Teas to receive goods faster than European or American-based teahouses, which means consumers benefit from a richer, fresher and more flavourful cup). The strategic move, as well as the brand's continued focus on quality and sourcing the finest teas from every tea-producing country in the world – currently, TWG Tea's exclusive collection includes more than 800 varieties of elegant blends and harvests – has contributed to its impressive expansion into 56 locations in 17 cities, including London, Shanghai, Tokyo and Dubai.
Launching in North America is a key component of the company's global expansion strategy, particularly since the continent is showing a rising thirst for the coveted commodity. In 2015, tea sales in Canada amounted to $1.3 billion CDN and consumption is expected to grow an additional 40 percent by 2020. North American consumers are also willing to pay more for premium teas, including organic and luxury brands, due to their high quality standards*. In fact, a recent report published by Bain & Company identifies North America as the world's largest market for luxury products with over 113 billion CDN dollars worth of retail goods sold in 2015.
TWG Tea's decision to debut its flagship North American store in Vancouver resulted from a careful analysis of the market, and is primarily due to the city's existing tea culture, large Asian population, and local appreciation for niche and artisanal beverages. The TWG Tea Salon & Boutique will be situated within the downtown core of Vancouver's upscale luxury retail hotspot. The primary goal for TWG Tea is to cultivate an even stronger tea culture in North America, which is why the Vancouver TWG Tea Salon & Boutique will not just be a retail venue but also a resource for interested consumers to learn more about teas around the world, properties of different varieties, and the many high quality seasonal tea blends available. The store will also carry TWG Tea exclusive blends such as 1837 Black Tea and Silver Moon Tea; deluxe varieties like the Haute Couture Tea Collection and Gold Yin Zhen; and will integrate a myriad of these signature teas into savoury recipes and exquisite tea-infused patisseries to be at the forefront of tea gastronomy.
TWG Tea President, CEO & Co-Founder Taha Bouqdib says: "In response to demand for exquisite quality tea, TWG Tea continues to extend its reach globally. Our latest expansion will see TWG Tea opening in Canada, a burgeoning market where tea consumption is on the rise with a growing shift towards fine teas among North American consumers. We are looking forward to an extremely exciting year ahead."
TWG Tea Boutique & Tea-infused Patisserie Counter              TWG Tea Design Teapot Collection in White & Gold 
TWG Tea Salon & Tea-infused Gastronomy                          TWG Tea Collection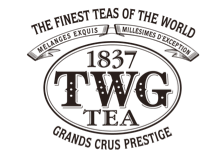 About TWG Tea
TWG Tea
, the finest luxury tea brand in the world, was established in Singapore and celebrates the year 1837 when the island became a trading post for teas, spices and fine epicurean products. TWG Tea, which stands for The Wellbeing Group, was founded in 2008 as a luxury concept that incorporates unique and original retail outlets, exquisite tea rooms and an international distribution network to professionals. Committed to offering teas directly from source gardens, TWG Tea's collection is the largest in the world, with fine harvests from every tea producing country and exclusive hand crafted tea blends. Internationally recognised as a true innovator with the creation of new varieties of tea every season in collaboration with the world's most renowned estates, TWG Tea also offers exquisite signature modern tea accessories and delicate tea-infused sweets and savouries.
After launching its first Singapore tea salon & boutique at Republic Plaza in 2008, TWG Tea has opened in iconic destinations such as ION Orchard, Marina Bay Sands and Takashimaya Singapore. Expanding its presence internationally, TWG Tea has heralded the opening of exquisite Tea Salons & Boutiques in Bangkok, Dubai, Guangzhou, Hong Kong, Kuala Lumpur, Taipei, Tokyo, Manila, Jakarta and Shanghai.  In addition, TWG Tea's exclusive collection of the finest teas of the world is available from TWG Tea Boutiques in Harrods Knightsbridge, London and Dean & DeLuca Madison Ave, New York. The premier tea supplier to the finest hotels, restaurants and international airlines, TWG Tea is retailed around the world in gourmet épiceries, including El Corte Ingles in Portugal, Feinkost Kaefer in Germany, David Jones in Australia and GUM in Moscow, Russia, and served in Business Class, First Class and Suites and in the Lounges of Singapore Airlines and Nippon Airways.
TWG Teas are available in Singapore, Australia, Azerbaijan, Belgium, Cambodia, Canada, China, Czech Republic, Denmark, Estonia, Germany, Hong Kong, India, Indonesia, Japan, Kuwait, Macau, Malaysia, Maldives, Mauritius, Mexico, Morocco, New Caledonia, New Zealand, Pakistan, Philippines, Portugal, Qatar, Russia, Saudi Arabia, Seychelles, South Africa, South Korea, Spain, Taiwan, Thailand, Turkey, Ukraine, United Arab Emirates, United Kingdom, United States of America, and Vietnam. European online orders can be made at 
Harrods.com
; online orders within the USA can be made at 
DeanDeluca.com
; Canadian orders may be made online at 
UrbanTea.com
; Canadian orders may be made online at 
UrbanTea.com
; worldwide online orders can be made directly from the TWG Tea e-Boutique and m-Boutique at 
TWGTea.com
.
About VanSing Distribution Group Ltd

VanSing Distribution Group was founded in Vancouver in 2012 by Tom James (CEO) and Karinna James (President, COO) as an importer and exporter of fine gourmet products and accessories. The principles have over 24 years of combined experience in the restaurant and catering industry, in experiential retail through high-end stand-alone boutiques and shop-in-shops, and in HORECA wholesale distribution to luxury hotels & resorts and ecommerce customers across Canada.
VanSing Distribution Group is pleased to be the exclusive franchise partner and distributor of TWG Tea in Canada.
All images supplied by: TWG Tea