Gingerbread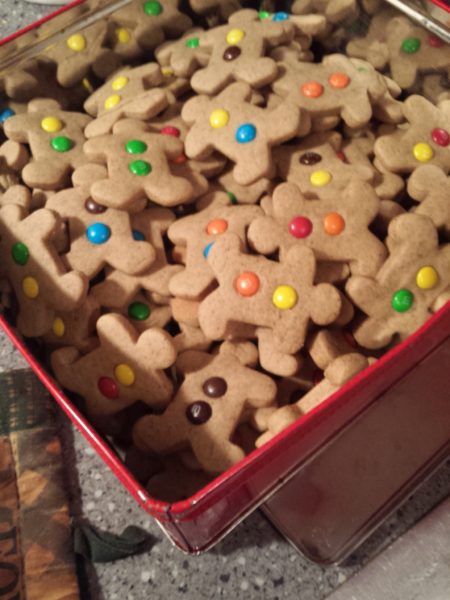 Makes 15 – 30 cookies (depending on size)
Recipe:
4 – 5 cups flour
2 cups brown sugar
2 tsp baking soda
1 tbsp cinnamon,
1 tbsp ginger
1 tsp all spice
1 tsp salt
½ tsp cloves,
½ tsp nutmeg
½ cup corn syrup
1 cup melted butter
½ cup boiling water
Directions:
Mix the corn syrup, melted butter and boiling water together in a bowl.
In your mixer add 4 cups of flour, sugar, baking soda, salt & spices and mix lightly.
Add your wet ingredients into the dry and mix until smooth. You don't want your dough to stick to your finger. If your dough is still sticky add ½ cup of flour more at a time until mixture does not stick to your finger.
Preheat your oven to 290.
Sprinkle your work surface with flour and roll your dough out to ½ inch. Cut out into desired shapes and decorate.
Decorating tip: Pre-decorate with chocolate chips or M&Ms or wait until after they have cooled to ice.
Bake for 8 – 12 mins until firm but not hard, your fingerprint should bounce back up. If you want the crunchy type of cookie leave for 12 – 15mins.
Allow to cool before icing and enjoy!
Want to learn how to make these great cookies and more? Baking classes and private cookie parties at Uncommon Cafe.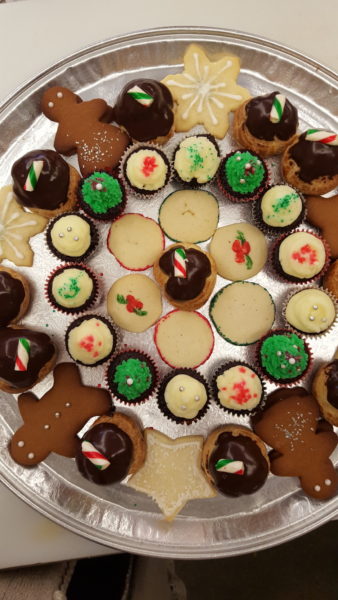 The Uncommon Café
The Uncommon Cafe is owned and operated by husband and wife sustainably minded team, Lisa & Luc Leimanis. The goal is simple – make great homemade food while attempting to be 90% sustainable. You won't find mayo jars or ketchup here and almost all of the take out containers are bio-degradable. They even went so far as buying 90% of their décor and equipment from pre-owned sources. They are joined by French Baker, Valentine Kitamura of Tartine & Maple.
Lisa Leimanis
Owner, the Uncommon Café
Lisa comes from a family of bakers and decided to take this passion of food to make and serve it to others. She has a background in hospitality and admin management and takes a lead on all business aspects of the café.
Her passion for good home-made food along with the genes of generations of good hostess's ensures your visits to the café are yummy and home felt.
Luc Leimanis
Chef & Owner, the Uncommon Café
Luc graduated from the Pacific Institute of Culinary Arts in 2004 and never looked back. His passion for well made food and good ingredients lead him to work numerous seasons as the Head Chef at Nanook Fishing Lodge, on Stuart island B.C. and finally as the Head Chef at the Brixton Caffé.
He is the creator of all foods Uncommon and you can find him in the kitchen working his behind the scenes magic ensuring your tummy's remain happy. His Jalapeno Jelly dance is one of the best things you will see on You-Tube.