Coworking brand announces official plans to launch its second location in Coquitlam, featuring all-new amenities for members
CMPNY is coming to Coquitlam, and like its flagship location in Burnaby, Spacekraft by CMPNY, it's set to redefine traditional coworking. Located at 300-3007 Glen Drive in the bustling Evergreen neighbourhood, CMPNY Coquitlam is just steps from the new Evergreen Line SkyTrain station, making it a convenient commute for Tri-Cities residents. The brand-new 13,225 square-foot coworking space is set to open in March 2017 and will feature 63 desks, 32 offices, and other top-of-the-line amenities, including a video and photo room for content creators, and a child-friendly room for members with kids.
As a shared, membership-based workspace that fosters the growth and goals of solopreneurs, entrepreneurs, small businesses and startups, CMPNY's second location invites local changemakers to work fearlessly.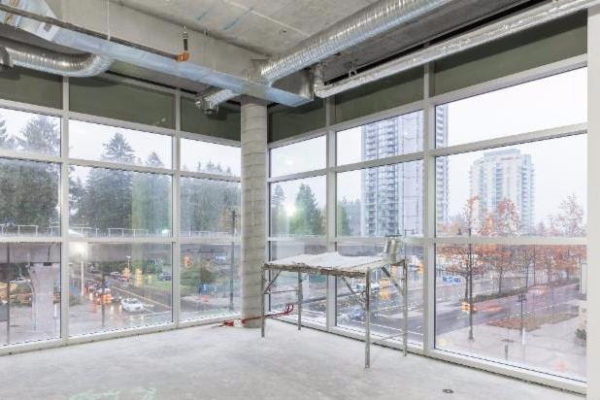 "We are proud to implement innovative concepts to CMPNY Coquitlam by bringing a workspace to the Tri-Cities that thrives on a unifying culture of support, grit, accountability and determination" says Darryl Bosa, founder of CMPNY, in a blog post. "One of the keys to growing a business is to have an inspiring work space that you can be proud of, a place where you get energized. We recognize that entrepreneurs, solopreneurs, freelancers and businesses are run by all types of people – including parents with young children – and we're thrilled to offer a state-of-the-art space for people who fall in that category to work and thrive in, especially in a suburb like Coquitlam that's home to many young and growing families."
For one day only, on Wednesday, November 23, new members can sign up to join the CMPNY Coquitlam community online and receive 40% off their hot desk, private desk or private office purchase. CMPNY Coquitlam members will also be able to tap into the unrivalled perks and benefits that CMPNY offers, including:
• Amenities – CMPNY provides a wide array of first class physical amenities, including complete access to enterprise-grade IT infrastructure, chill rooms, foosball and ping-pong tables, multiple kitchens and meeting spaces
• Benefits – CMPNY offers access to comprehensive benefits and wellness plans
• Community – CMPNY operates with a dedicated staff whose genuine desire is to keep their members happy, including the facilitation of extensive networking opportunities
• Continuing Education – CMPNY offers regular educational workshops and seminars that are accessible and relevant, to help members achieve their work-related and personal goals
• Unique Programming – CMPNY offers purpose-driven programming designed to enhance perseverance and grit, and to drive member success
"Our members and their company's unique needs always remain top of mind for us and with every new location, one of our biggest goals remains to provide them with the tools they need for unparalleled productivity and engagement," says Clare Linton, CMPNY's Director of Marketing and Sales. "Our Coquitlam location reflects our desire to foster a new, adaptable platform for members to work in that's innovative and flexible for entrepreneurs of all types, which is why one of the amenities we're most proud of at the new location is the offering of a child-friendly space. We want to equip working parents with the tools they need to strive for business excellence alongside their peers without having to compromise on personal priorities."
CMPNY's only current and flagship location, Spacekraft by CMPNY, is located five minutes from Patterson or Metrotown SkyTrain stations at 201-4501 Kingsway in Burnaby, B.C. To learn more about CMPNY, get a free day pass, or become a member, visit the website or call 778-826-1086.
About CMPNY: Accomplishing something great takes more than just scribbles on a napkin – it takes drive and desire. Audacity and grit. Knowing that starting something is easy, but stopping is even easier. CMPNY gets that. By creating and curating communities through design, brand building, and the creation of programs that appeal to those who want to belong to something bigger than themselves, CMPNY fuels entrepreneurs to create successful, financially sustainable businesses on their own terms. Think well-designed, expansive coworking spaces with varied work areas and physical amenities, enterprise-grade IT infrastructure, educational workshops and seminars, comprehensive benefit and wellness plans, and connections with other hustlers, rebels, doers, and dreamers who dare to be different. This isn't the future of coworking. This is CMPNY. Work fearlessly. Join us at www.cmpny.com. #thisisCMPNY
Social Media: Follow CMPNY on Instagram, Facebook or Twitter for the latest news and updates. #thisisCMPNY