Ticket discounts for donations and $1 from each seasonal pint to the Food Bank
This holiday season, Red Truck Beer and STOMP are teaming up to support the Greater Vancouver Food Bank with their STOMP Out Hunger campaign to raise money and gather donations to support the important work done year round by the Food Bank.
The promotion works like this: everyone who drops off a cash or non-perishable food donation at the Red Truck Brewery before January 13th will receive a coupon good for $5 off a ticket to see the touring production of STOMP during its January 13th-15th run at Queen Elizabeth Theatre. In addition, Red Truck Beer will donate $1 from each pint of its seasonal beers sold in the Truck Stop during the month of December to the Vancouver Food Bank.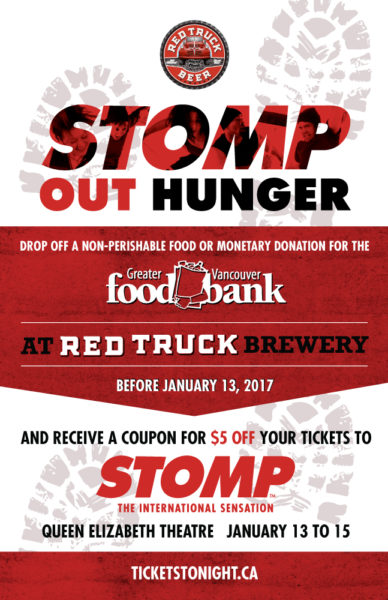 Great beer, a great show, and a great cause all come together in one seasonal campaign.
The Red Truck Beer Brewery and Truck Stop are located at 295 E. 1st Avenue and are open 7 days a week for donations and delicious beer. For more information on Red Truck, visit www.redtruckbeer.com. For more information about STOMP, visit http://www.stomponline.com.