What Is The Drum Is Calling Festival?
In partnership with Vancouver's three Host Nations- the Musqueam, Squamish, and Tsleil-Waututh-the City of Vancouver has launched the Canada 150+ anchor event, The Drum Is Calling Festival which will run July 22 – 30 in and around Larwill Park in the heart of downtown. This is a nine-day, immersive festival of Indigenous and diverse arts and culture.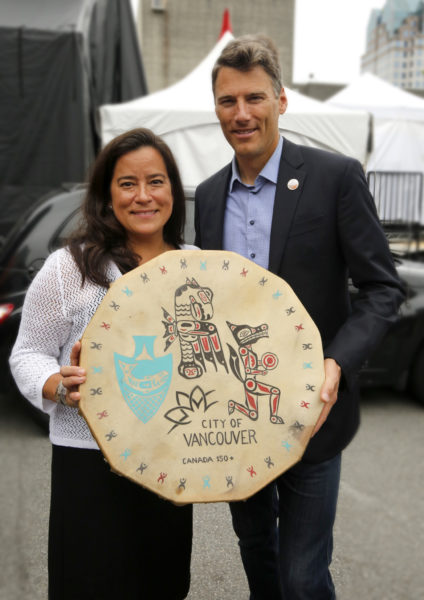 Festivalgoers will have a vast selection of events to enjoy including diverse musical performances, carving exhibitions, dance, sports, workshops, films, fashion, food, and crafts, all organized around a daily theme.  Activities and performances will also take place on adjacent streets and plazas, and at other venues such as Queen Elizabeth Theatre Lobby and QET Plaza, Vancouver Playhouse, and the promenade of the Vancouver Public Library.
All events are free, with a small number of events where advance online registration is requested including:
Vancouver Indigenous Fashion Week (QET Lobby)
Drum is Calling Feature Film Series (Vancouver Playhouse theatre)
Storywaves: Remembering Our Sacred Responsibilities- Presented in partnership with the David Suzuki Foundation (Vancouver Playhouse theatre)
xREDx Talks: Full Circle (Vancouver Playhouse theatre)
From Oral to Written: a Launch of Tomson Highway's new book, Presented in partnership with Talonbooks & the Vancouver Writers Fest (Vancouver Playhouse theatre)
Drum is Calling: 3-on-3 Basketball Tournament and Basketball Workshops (Cambie St)
Evening Performance Schedule
Monday July 24: Amanda Rheaume, Susan Aglukark, Tanya Tagaq
Tuesday July 25: Shamik Bilgi, Boom Booms with Ta'Kaiya Blaney, Midnight Shine
Wednesday July 26: Mob Bounce, Dj Kookum, Slings n' Arrows, Snotty Nose Rez        Kids
Thursday July 27: The Jerry Cans, Drums over the Salish Sea (a cross-cultural collaborative drumming event)
Friday July 28: Donny Parenteau, Sierra Noble, Chantal Kreviazuk
Saturday July 29: George Leach, Kinnie Starr, DJ Shub
Sunday July 30: Leonard Sumner, Leela Gilday, Shane Koyczan and The Short Story Long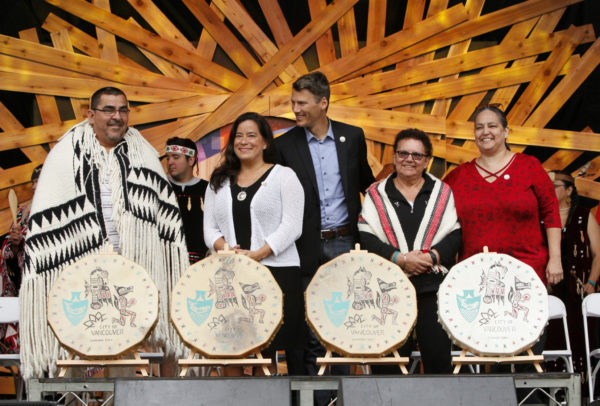 Additional Highlights 
Hands-on workshops and live programming will take place inside the Indigenous housing forms built by the Kanata Festival on Turtle Island.
The inaugural Vancouver Indigenous Fashion Week is the brainchild of former international model Joleen Mitton. The shows will feature the established and emerging artists of Indigenous fashion design and modelling.
From Oral to Written features Tomson Highway and his invited authors Ian Ross, Michael Kusugak, Marilyn Dumont, Richard van Camp & Joséphine Bacon.
Storywaves: Remembering Our Sacred Responsibilities features Elder Amy George and her grandchildren, Emcee Kamala Todd and footage of Debra Sparrow's weavings.
xREDx Talks: Full Circle brings together Order of Canada recipient Margo Kane and graduates of the Full Circle: First Nations Performance Ensemble Training Program
While Having Soup is a powerful installation where, over the amount of time it takes to consume a bowl of soup, Indigenous and non-Indigenous Vancouverites will engage in a "three-course" dialogue about charged issues during Canada 150+.
Canada 150+ Downtown Walking Tours will look at brand new Canada 150+ Indigenous murals and talk about Indigenous theatre, sports, journalism, arts and local history.
Shaw Communications Inc will present Theatre for Young Audiences show Th'owxiya – The Hungry Feast Dish, by Joseph A. Dandurand, and 3-on-3 Basketball Tournament and skills workshops.
Carving and weaving workshops, NFB Indigenous short films curated by local filmmakers, and the best of authentic Indigenous artisans, vendors and food.
Drums over the Salish Sea will ignite the thunderous power of dancers and drummers from around the world, to be led by renowned percussionist and cultural collaborator Sal Ferraras.
Theme Days
Each day of the festival has a theme that will be reflected in the artistic and cultural programming, starting July 22 with 3-Host Nations, and followed up with Our Elders, Matriarchs, 7 Generations – Youth Presented by Shaw Communications Inc., Warriors, Friendship, Gathering Our Relations, Transformation and closing the festival on July 30 with Intertribal In Action.
Location
The Festival's main venue is Larwill Park which features a festival zone with a mainstage, community stage and cooking stage (presented by cities changing diabetes), food vendors, artisans, exhibits and more. Activities and performances will also take place on adjacent streets and plazas, and at other venues such as the Queen Elizabeth Theatre and Vancouver Playhouse.
Events are free, however some individual events may require advance registration. For more information on the Drum is Calling Festival and other Canada 150+ programming, please visit canada150plus.ca/drum
Artistic Director
Margo Kane (Cree/Saulteaux) is an interdisciplinary artist and a leading figure in Indigenous performing arts. Over the past forty years, she has been recognized as a storyteller, dancer, singer, animator, video and installation artist, director, producer, writer, and teacher. Her body of work has been recognized in June 2017 with the Order of Canada. Her desire to create work that has meaning for her people is the catalyst for her extensive travels into both rural and urban Aboriginal communities across Canada, and fuels her commitment to performance that is socially relevant and empowering.
Curatorial Team
Am Johal (Settler) is the Director of SFU's Vancity Office of Community Engagement, within the SFU Woodward's Cultural Unit where he organizes over 100 talks, screenings and cultural events annually. He has worked on the Vancouver Agreement, was a co-founder of UBC's Humanities 101 program, and the chair of the Impact on Communities Coalition. He has also served on the boards of the Vancity Community Foundation, Vancouver City Planning Commission, and the Downtown Eastside Neighbourhood House.
Janet Rogers (Mohawk/Tuscarora) is a writer from the Six Nations band in Ontario. She was born in Vancouver and has been living on the traditional lands of the Coast Salish people in Victoria, British Columbia, since 1994. Janet works in the genres of poetry, spoken-word performance poetry, video poetry, recorded poetry with music, and script writing. From 2012 to 2014, Janet served as Poet Laureate of Victoria.
Joleen Mitton (Plains Cree/French/Scottish) is the Founder of All My Relations Entertainment where she produces Aboriginal fashion shows, arts and cultural events, and basketball tournaments that promote the strong, positive, and connecting force of Indigenous culture. She started her career as an international model. She now uses that global perspective on a local level with her community-engaged work with Indigenous foster children at the Pacific Association of First Nations Women.
Rebecca Duncan, Tsitsayxemaat (Squamish) is a Squamish Nation language expert and translation specialist. She is also a Cultural Instructor and Ambassador using multidisciplinary arts—as a storyteller, singer, dancer, Salish cedar and wool weaver—to increase cultural awareness and understanding.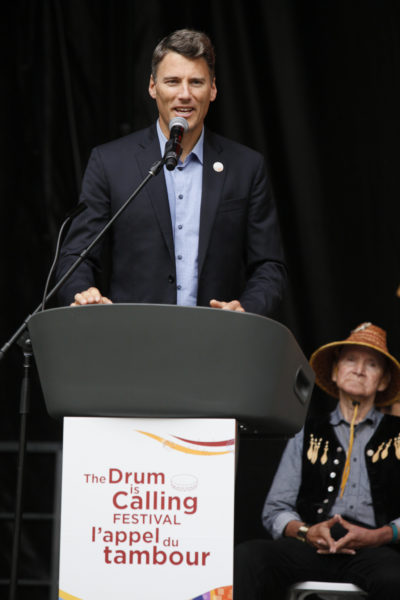 Photo Caption
From Left to right:
Photo 1:
·        
At the podium Chief Sparrow from Musqueam Nation and
H. Jody Wilson-Raybould Minister of Justice and Attorney General of Canada, emcees Sadhu Johnston, City Manager, City of Vancouver and Daniel Roberge, Director of Engineering, City of Vancouver and speakers Mayor Gregor Robertson, City of Vancouver,
Chief Maureen Thomas, Tsleil-Waututh Nation and Karen Joseph from Reconciliation Canada
Photo 2
·        
H. Jody Wilson-Raybould Minister of Justice and Attorney General of Canada receives a commemorative drum to celebrate the collaboration between the Federal and City government in the making of Canada 150+. The20-inch drum was made by Stuart Nahanee and hand painted by Michelle Paul
Photo 3
·        
Mayor Gregor Robertson addresses the crowd
 Feature image
·        
Chief Sparrow from Musqueam Nation,
H. Jody Wilson-Raybould Minister of Justice and Attorney General of Canada, Mayor Gregor Robertson, City of Vancouver,
Chief Maureen Thomas, Tsleil-Waututh Nation and Karen Joseph from Reconciliation Canada