If you are a foodie like me you know how tough it can be to keep up with a number of restaurants opening and closing. It can also be challenging to organize a restaurant or a pub crawl with a group of friends especially when you have to worry about getting reservations and booking a table.
Richard Wolak from Vancouver Foodster makes this part of the task very easy for foodies and people looking to explore eateries in neighbourhoods they haven't been to before. The Tasting Plates are also great as you can explore the different eateries at your own leisure within the time permitted on the date of the event.
Recently I attended Vancouver Foodster Tasting Plates event in the Stadium district of downtown. Richard selected a great variety of eateries to explore.
We started our tasting plates event at Stretch Roman Pizza, an Italian Pizzeria. They specialize in Roman style pizza that is about a meter in length! We were able to choose 3 different slices that were cut into rectangular servings of 4"x7". We decided to have the Paprika Chicken Pesto and Primavera. The pizza slices feature a thicker dough and their rectangular size make it easy to eat.The pizzeria is wonderfully decorated with Black and yellow accents and their long pizzas are certainly made for the Boomerang app, as quoted by DailyHive.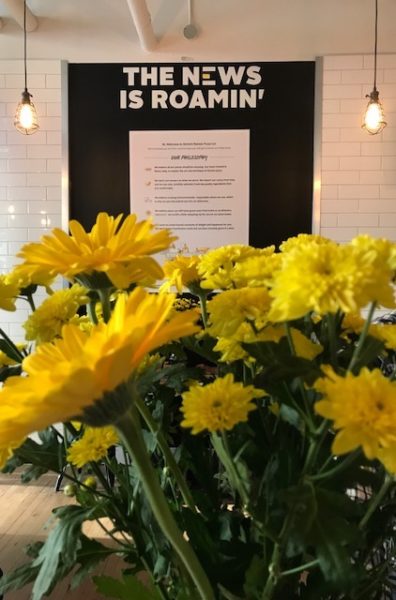 We decided to hit The Poke Guy next which was quite refreshing! Vancouver has certainly seen an increase in poke eateries come up in the past year. Upon questioning what sets them apart from the other Poke eateries in town "The Poke Guy" responded by stating that they are the only Poke Eatery that specializes in traditional Hawaiian style Poke and the salt they serve on their dishes are imported from Hawaii. They offered us a lovely poke tasting bowl served with Ahi Tuna, Sockeye Salmon and Sassy Shrimp complete with rice and toppings.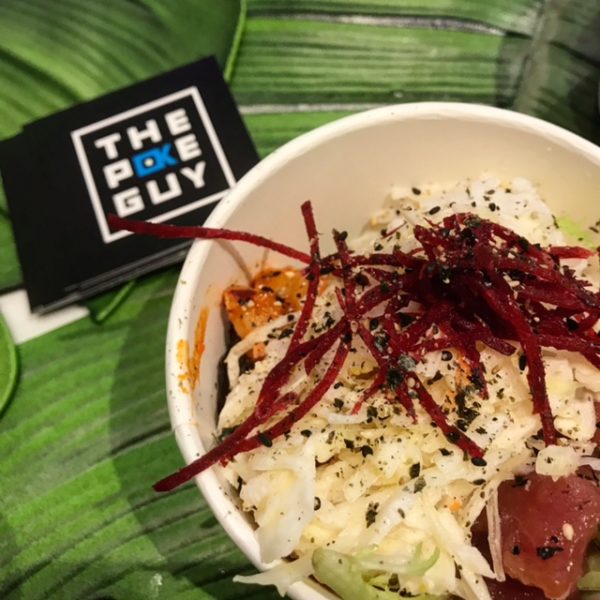 After a refreshing bowl of poke we took a walk down to the Hendricks Resto-Lounge located in the Westin Grand Hotel on Robson Street. The walk from the poke guy also gave us enough time to work an appetite for the next eatery. Upon entering the Westin Grand Hotel, right away you feel a sense of luxury. Upon climbing the grand staircase at the Westin Grand Hotel, we were greeted warmly by our server who then seated us. The food arrived very quickly and tasted outstanding, my pictures certainly doesn't do justice. We were served a ginger beer braised short rib on a celery root croquette and a buttermilk brined crispy chicken slider.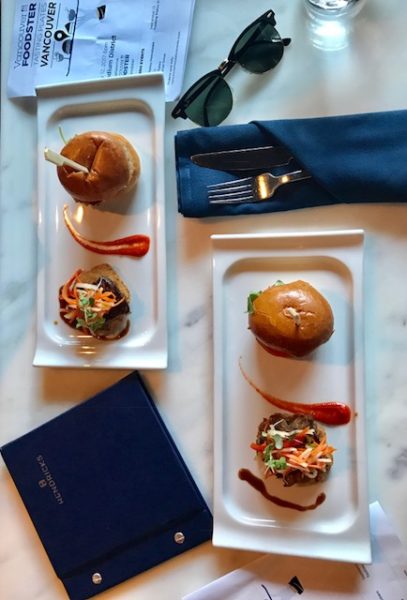 Our next stop was Elements Diner and they feature a fusion cuisine ranging from East to West. Chef Joe brings a wealth of experience from working at luxury hotels like the JW Marriott in Hong Kong and the Shangri-La Hotel Vancouver. He was inspired to create international fusion dishes after meeting many people of different ethnicities. This is definitely reflected in his menu  that also features influences from Hong kong. The most unique dish on the menu is the rice pizza which is also Gluten-Free! For the Tasting Plates tour we were served a Roasted Beet Salad, a warm salmon avocado salad, chinese golden egg french fries and a thai chicken pineapple rice pizza. They also serve bubble tea and we had a Lemon Glass bubble tea with Glass Jelly.
Our final stop was Papparoti at their newly opened location in Chinatown. Papparoti was started by a mother in Malaysia about 12 years ago and they have been able to expand very quickly to locations all across the world. They specialize in buns freshly made hot out of the oven. The centre of the bun has a secret pocket of salted butter making it quite delicious. Have I mentioned that this definitely is one for the gram. To make your choice even more difficult they have several toppings to choose from. PappaRoti also serves their signature Malaysian Karak tea which tastes very similar to Masala chai tea from India. In addition the cafe serves a great selection of other teas including Matcha tea.
For the tasting plates tour we were served a Coconut Rollie and their signature original bun topped with coffee caramel. I enjoyed my rollie with the signature Karak Tea and forgot to take a picture unfortunately but good thing PappaRoti has two convenient locations in downtown to enjoy them again.